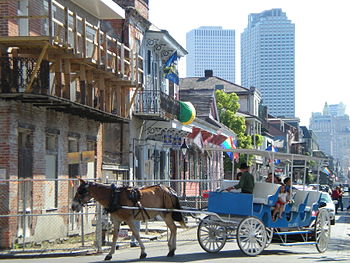 By Nicole Brewer
New Orleans — or the "Big Easy " — is home to the famous French Quarter, Mardi Gras, excellent live music festivals, and some of the best southern cuisine due to being a melting pot of African and French cultures. There are plenty of things to do and see while visiting the Big Easy. Therefore, it's necessary to know which hotels in New Orleans can accommodate travelers of various styles. Check out this list of best places to stay on your New Orleans visit.
Bask in History at the Hyatt French Quarter
The historic Hyatt French Quarter is right in the heart of New Orleans' French Quarter. It is near the French Market, Jackson Square, and loads of jazz bars. Enjoy not only a fantastic site with doors opening right out to Bourbon Street, but also amenities like a fitness center, outdoor swimming pool, and even a wedding hall.
Sophistication Abounds at Bourbon Orleans Hotel
Bourbon Orleans Hotel is in central New Orleans, thus being a perfect choice for those visiting here for Mardi Gras. It is near Jackson Square and a haunted house tour of New Orleans. It offers amazing amenities, including a saltwater pool, concierge services, and a fitness center. Rooms feature wireless Internet, MP3 docking station, and even balconies to enjoy Mardi Gras fun on your visit.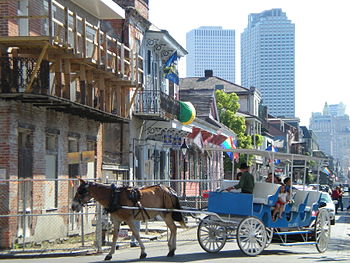 Photo by Sami99tr via  Wikipedia.org
Have a Rich Experience at Le Richelieu in the French Quarter
Le Richelieu in the French Quarter is only two blocks away from rich history in New Orleans, including jazz clubs, local restaurants right on Bourbon Street, and great little shops to find traditional French style gifts on your visit. Rooms offer great amenities including beautiful brass ceiling fans, lovely décor featuring artwork by local artists, and climate controlled rooms. Unwind in the charming courtyard or take a dip in the outdoor swimming pool.
Historic Decadence at Hotel Provincial
Hotel Provincial is right in the French Quarter near Riverwalk Marketplace and Café Du Monde. It offers conveniences such as a fountain, two outdoor swimming pools, and a picturesque courtyard for relaxing. Rooms feature modern amenities including designer toiletries, climate controlled rooms, and stunning French paintings. Have no worries with the 24-hour front desk staff being available to take care of all of your needs such as planning excursions around the town for a fun night in New Orleans.
Enjoy the Glamorous Life at Omni Royal Orleans Hotel
Have a smashing time at Omni Royal Orleans Hotel, as it is just a block away from Bourbon Street. It offers modern luxuries such as a heated rooftop pool, a poolside bar, and a well-equipped fitness center to work off the pounds from all the delicious southern cuisine available in New Orleans. Rooms feature stunning marble bathrooms, iPod docking stations, and even jet tubs. Enjoy classic luxury with a stay Omni Royal Orleans Hotel.
So no matter if you are looking for a luxurious stay while partying in New Orleans or a simpler fare, you have your pick of the litter of where to stay in New Orleans.
**This is a sponsored post opportunity via Hipmunk with their #HipmunkBoutiqueHotels Project. The content is my own.**