By Nicole Brewer
Greetings globetrotters and EID Mubarak! I know it has been a trying time for globetrotters all around the world. I've been feeling pretty happy and safe here in Oman overall. I'm thrilled with the measures that they are taking to keep us expats and locals alike safe during the coronavirus Covid-19 pandemic. I know I've had several people asking me about the precautions Oman has been taking so I thought I'd compile a list of what is being done here. Please do stay safe, social distance, wear your mask, and wash your hands globetrotters.
Closure of Borders 
Oman took steps pretty early on to close the borders. Once the Level 4 Health Alert was announced by the end of March, Oman had already closed the borders of the country. I received alerts from the US Embassy in Muscat in the last weeks of March counting down till when the border would close. Emails from the embassy had strongly encouraged those expats in Oman to take remaining international flights available before noon on March 29, 2020. Speaking of the US Embassy, I highly encourage American globetrotters living abroad and traveling (for future trips) to register their travels and living conditions with the Smart Traveler Enrollment Program STEP. I'm grateful to have been on the list to be updated of any health and travel alerts. Only repatriation flights are available on occasion to those expats looking to return home currently.
2. Stopping Movement between Governates/Williyats (city borders)
As of Wednesday, April 1st restrictions were put into place throughout the country to stop movement between cities or williyats in order to slow the spread of the virus. The Sultan's Armed Forces (SAF) and Royal Oman Police (ROP) enforced strict checkpoints and roadblocks on roads throughout the region in order to stop non-essential movement in the country. Exempted vehicles included ambulance and emergency cars, vehicles transporting commercial/construction materials, and petroleum derivatives. Also, vehicles transporting foodstuffs and other essentials. Closer to May these restrictions were lifted for all regions excluding Muscat, which has the highest outbreak of the virus and is currently still on lockdown.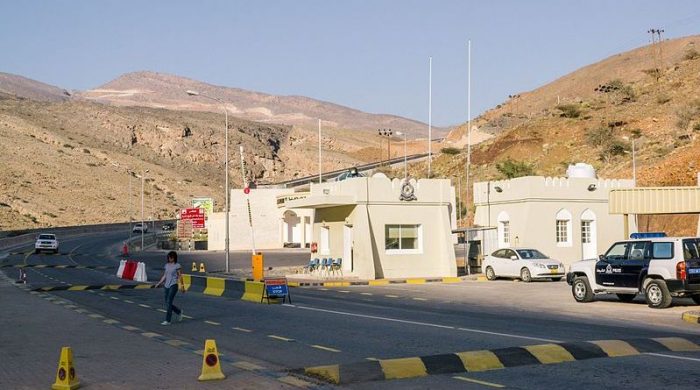 3. Testing Procedures 
Oman has allowed for anyone who may have been exposed in Oman to get free testing, regardless of if you're an Omani or an expat. Expats aren't required to provide ID at the testing centers, but tracking is required if they do test positive. A hotline was set-up initially to call and process inquiries about testing. Since the numbers have been increasingly higher in Muscat than in other regions, the Ministry of Health in collaboration with Mwasalat transport system launched COVID-19 screening mobile buses in support of the national effort to combat the spread of coronavirus, according to the Times of Oman.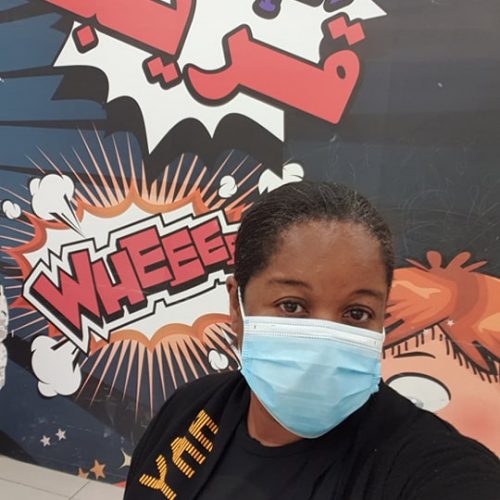 4.  Transparency in Numbers Reporting
One thing that I'm very grateful for is that the Ministry of Health has been very transparent in giving updates daily on various social channels such as Facebook, Instagram, and the local newspapers. Every day I am getting tweets with detailed information on how many new cases are tested and a breakdown of who. Additionally, out of respect for families they send their condolences once an expat or Omani passes away due to the virus. As of May 24h, Oman reported there highest number of infections in one day totaling 513 cases.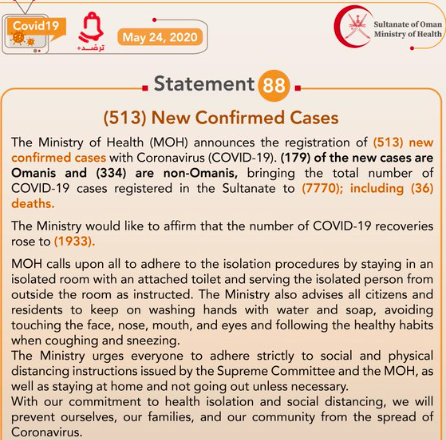 5. Fines and/or Arrest for Not Wearing Masks 
Most recently with Ramadan ending and EID starting, Oman instated that the wearing of face masks in public places is mandatory until further notice. For those who do not follow the Supreme Committees' decision, an administration fine of OMR 20 (aprox. 70 USD) will be imposed on those violating the decisions.
All in all, I'm very grateful to be located in Oman during these times. While it has indeed been difficult being away from family and friends back in USA, at the very least I can say I'm in a country that is taking as many precautions as they can to slow the spread of this horrific virus. I hope that you all are doing what you can to stay safe and healthy globetrotters. Until we can fly the friendly skies again freely, please be happy staying safe closer to home, my new motto for the summer of 2020.
If you are living abroad, what are some measures they are taking in your current expat location globetrotters? Please feel free to comment below.