Tribes Dubai Restaurant Review
By Nicole Brewer
Greetings globetrotters! After my most recent trot to Dubai, I've been on a natural high full of excitement for whats to come this month of June and planning the Maldives trip for next month. Dubai is Always a fun time and I ate some of the best meals, from the scrumptious food at Eat Greek to the numerous courses of divine Indian food at Signature by Sanjeev Kapoor.
Next up in my restaurant review series is for Tribes, which is located in the Mall of the Emirates.  I'm pretty sure there hasn't been a time that I've trotted to Dubai where I haven't ate at Tribes. It is indeed one of my favs. I made sure to head there this spring when we had a meetup for BALA and iluv2globetrot travel community members. It has the coolest atmosphere taking in elements of African tribes from various regions. From the pictures to the wait staff wearing tribal makeup from regions in Kenya and Cameroon, I always feel right at home at Tribes.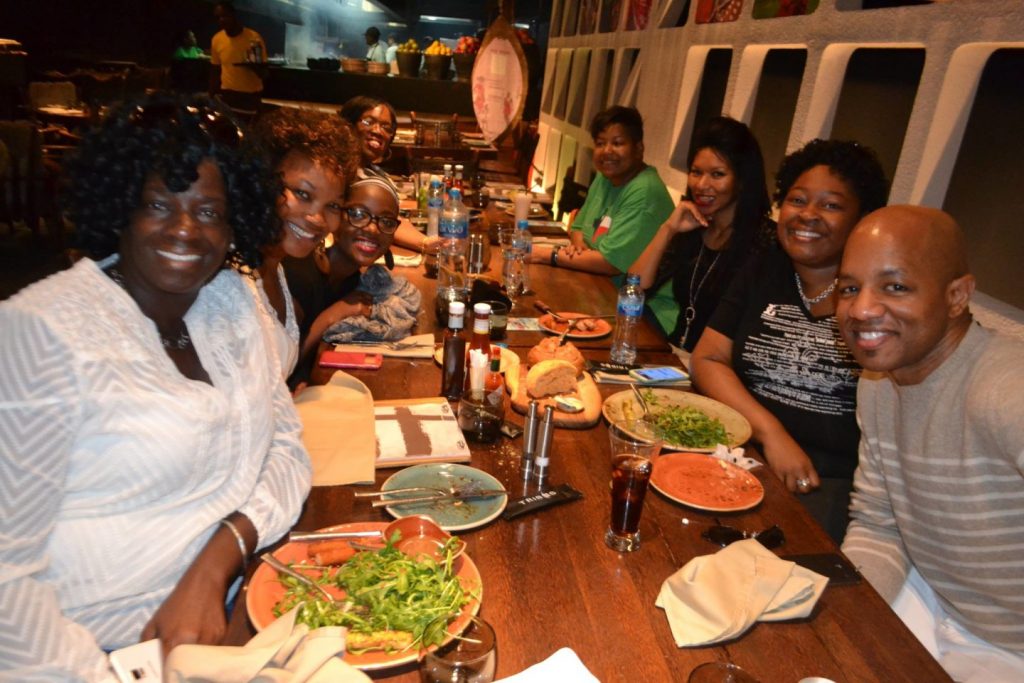 Well on this most recent visit, as usual they did not disappoint once again. After having a massive lunch at Signature by Sanjeev Kapoor, it was difficult to eat all of our meal, but I made a grand attempt because it was so good. I started off by ordering a refreshing mixed fruit mocktail drink that was so delicious. They also brought out some just baked fresh bread that melts in your mouth with a splendid butter spread.  For my main course I had a massive baked salmon fillet, that came garnished with prawns, a mouthwatering sauce and fried onions. I will have to return to Dubai just for this dish along. It was a difficult task, but I tried my best to finish it off.
My friend Sam that joined me, after recommendations from our server, decided to try the Equatorial ½ Chicken. After her meal came out, I Almost wished that I opted for the chicken, almost ;-). It looked amazing and smelled even better. It came with perfectly seasoned potatoes on the side and garnish. After trying a piece of her chicken, I was quite impressed with the flavors and seasonings.  It was extremely succulent and juicy that now I'm craving it as I type.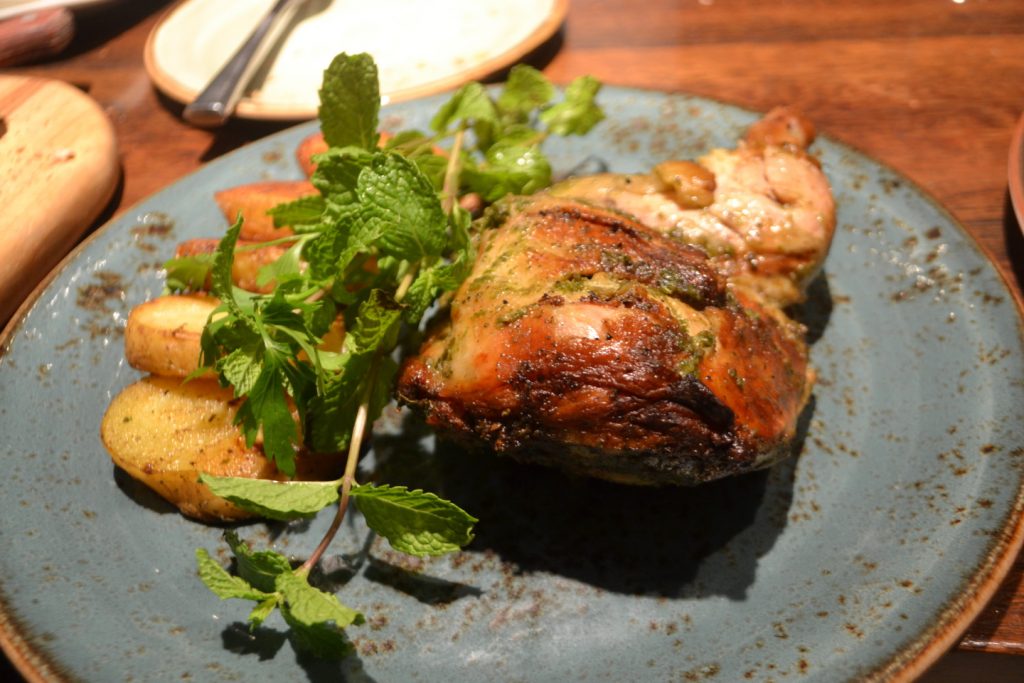 Tribes offer unique specialities that are few and far between to find in Dubai such as ox-tails, Moroccan Spiced Lamb Chops and beef short ribs.  Sadly we were too stuffed after the meal to save room for dessert, but they do offer some great choices like a Nutella Chocolate Waffle Sundae and Warm Koeksisters with raspberry & vanilla yoghurt ice-cream. If you are lucky enough to visit while it's someone's birthday (or hey just make reservations for your own), then you'll see the staff sing a traditional birthday song with African drums and singing. Tribes is a festive place to come with your friends, family or even solo to make new friends. Enjoy globetrotters and as always happy trotting.
***Disclaimer: This was a restaurant review offered by the restaurant. All comments and details are my own.***