Hello globetrotters!! As many of you know I've recently relocated to Oman in the past couple of months. Hard to believe I'm just past the 2 months mark of living in the Pearl of the Middle East i.e Nizwa, Oman! It's been an adjustment from fast city life of Busan, South Korea for sure but a very good decision thus far. I'm rolling along with the punches. I've met incredible people in this short time span and can say I'm really blessed. I've already had 2 vacations in my first 2 months!! Not many more to come as the long haul of the term is nearing as midterms just passed but as a globetrotter you Know I had to make the most of the time I've gotten off work thus far ;-).
This past weekend we had the Islamic New Year here in the Middle East. Myself and a new friend decided to take a road trip to Dubai to enjoy a little fun in the sun, shopping and fine dining.  It was my first time to the UAE but for sure won't be my last.  We started out the commute tailgating a few of my coworkers after work Wednesday evening (when the weekend starts here in Oman) and drove a few hours to Al Buraimi where a fellow coworkers' parents live. Al Buraimi is only a few minutes from the border of UAE and an hour commute from Dubai.  In total we probably drove a little more than 4 hours.  We partied and were treated kindly in our stay over in Buraimi future visits to come I'm sure!!
The next afternoon we made the commute across the border. Since it was the holiday weekend it was a mad house at immigration. It took around 45 minutes to get my first treasured UAE stamp in my well traveled passport.  We stayed at the Holiday Inn Dubai in Al Barsha which is located just a block from the massive Mall of Emirates on Sheikh Zayed road.  Their motto is the Four Star Hotel with a Five Star look.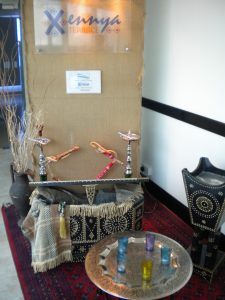 I must say this was by far the most luxurious "Holiday Inn" I've seen to date (and the price point was on a 5 star level as well lol).  They offer complimentary bus shuttles to Jumeirah Beach, a beauty salon, over 6 restaurants with international cuisine, fitness center and rooftop pool along with a rooftop bar/Shisa lounge. You really don't have to leave this place!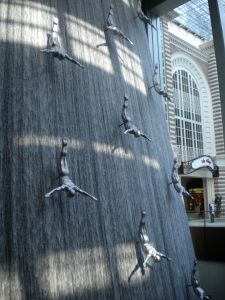 Nonetheless, you probably won't spend much time lounging due to the Extreme malls they have here!! The next day after a fabulous dinner at Tribes restaurant with a fellow expat that lives in Al Ain, UAE we hit up the Dubai Mall which I Totally fell in love with. If you want a mall with an indoor ski resort (in the Middle East heat at that!!); an underground aquarium; an ice rink; Chicago's own Garrett's popcorn along with all the western restaurants one can desire and a Sega game room for the kiddies  then this is the place for you! After living in tiny Nizwa with a population of 70,000 people and no shopping mall or movie theater I must say that this weekend trip to Dubai was exactly what the doctor ordered.  If you can make it to the ME globetrotters then Dubai is The place to visit!!