By Nicole Brewer
Greetings globetrotters! We hope you all are doing well. I'm very excited to bring back our globetrotter (GT) of the month interview series. Following is an interview with the amazing Ashley Bartner, who Co-Founded La Tavola Marche, a farm, inn and cooking school, with her husband in Italy. I'm very inspired by their story and we hope that you are too GTs!
Can you tell the I Luv 2 Globe Trot community a little about yourself (where are you from, what do you do, where are you currently based, hobbies etc).

I was born and raised in Seattle, then after two years of college, with my then boyfriend (now husband) we loaded up a U-Haul and moved to Brooklyn at 19 with dreams of academy awards and michelin stars. We did the daily grind in NYC for almost 8 years, Jason moved up the ladder from a student at the French Culinary Institute to Executive Chef in New York by 25 and I was working in hospitality with small acting gigs on the side. But we started to have a burning desire for something else in life. During our honeymoon in Italy, a seed was planted, we had tasted the good life and discovered a quality of life that was missing in ours.
Within a year and a half of our first trip to Italy, we were living here legally with a self-employed VISA and had a new adventure ahead of us at 26 years old – starting a farm, inn and cooking school! We got our hands dirty and built a wonderfully successful business, while finding that quality of life we were searching for! From the hustle-bustle of life in NYC to organic farmers & inn keepers our life took a 360! The move was almost 14 years ago and we are now in the process of getting our Italian citizenship, our cooking classes have been included in numerous magazines as one of the Top 10 Cooking Schools not just in Italy but around the globe! Jason finds more pride in keeping up the garden than reading accolades and I find great joy in helping others with a dream like ours with our Move to Italy workshops!
How many countries have you traveled to?

20 countries visited and we have lived in the US and Italy, along with Belize, France and Amsterdam (for three months at a time during our winters off).
What is your dream destination and why? (think bucket list destinations).

It's become a bit cliched with so many Instagram photos taken there now, but I grew up dreaming of riding a camel to Petra, what can I say, I was a big Indian Jones fan! Now my big dream destination is simple, visit my cousin living in Australia on Magnetic Island.

What are some challenges you have faced while starting a business abroad?

Luckily we had both worked in hospitality for years and Jason was a professional Chef so we were not worried about executing the business plan. But it was still an uphill battle. The first challenge was learning the language. The second was money – we had spent it all on our wedding and we were started from scratch again. But I was convinced we would either find the money (an investor) or somehow make it work and we did. But the big hurdle was we needed a self-employeed VISA to live and work here.
It's a bit of a catch 22 – you need to have a property and address before they will issue you the 'nulla osta' or no contest for the VISA, that means you have to put the cart before the horse and sign documents and contracts and the downpayment, committing yourself to Italy without the knowledge if you will be granted the VISA. Once we arrived it was a few months of elbow grease, preparing the house for guests and gaining local knowledge so we could become experts on the area! Then it all started to fall into place. I had the mantra, "if you build it, they will come." And sure enough they did!!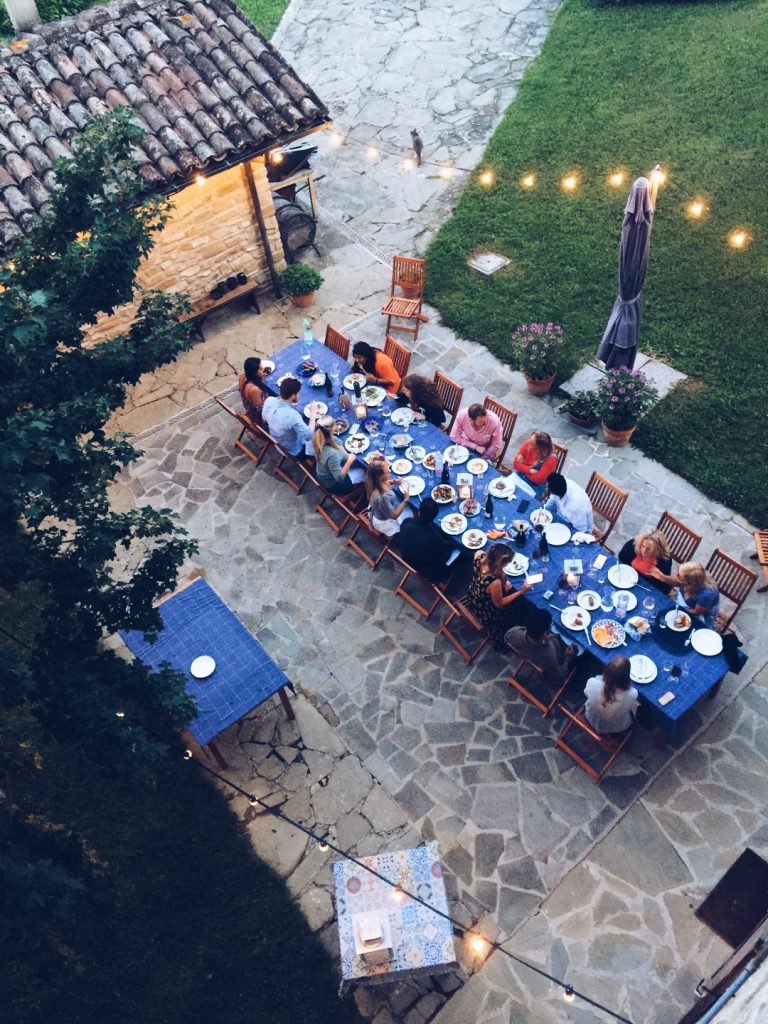 Where was your most recent travel destination you trotted to?

In January, just before the lockdown we went to London for 3 nights for a concert! It was great to eat diverse foods, listen to fantastic music and visit with old friends!
Which, if any, foreign languages do you speak?

I speak Italian and know a bit of Dutch after living there and years of Dutch guests visit us! I started learning French which I really enjoyed but really just enough to apologize for my bad French and to eat & drink well!
What do you have planned for yourself next? (any projects you'd like to promote, etc).

With the lockdown and travel restrictions we decided to stay closed this summer at our farmhouse and cooking school. However, we have started offering our Move to Italy workshops virtually!! It has been a great way to help others in their journey to Italy, sharing our experience and knowledge – the good, the bad, the nitty gritty and the nuts & bolts! https://www.latavolamarche.com/virtualworkshop.html
Plus for travel post- COVID we have our full farmhouse rental which has become even more popular where guests can take over the farmhouse with just their family and friends for a totally customised holiday where we take care of all the details! Think of it as your home away from home in Italy! https://www.latavolamarche.com/private-groups.html
What are some words of wisdom you would like to give to future inspiring globe-trotters and expats?

Do it! Even if it all fails, it will be an experience you'll never forget and will learn from! That being said, if you are planning to start a business (especially in a foreign country) do your homework; learn the language, write a business plan and think outside the box!
We are super social too!follow our expat life on the farm and travel beyonds on Instagram @ashleybartnermore on our farm, inn and cooking school Instagram @latavolamarche or Facebook Page – www.facebook.com/latavolamarcheor listen to our "Podcast from Italy" available on iTunes, Stitcher, etc!!