By Nicole Brewer
Greetings globe-trotters and Happy New Year!! This month we bring to you our January globe-trotter of the month Nadeen White who is currently based in Atlanta, Georgia.  Nadeen is an active member of the iluv2globetrot travel community who is a"blogger by day and physician by night." Check out our interview with Nadeen below. Enjoy GTs and as always happy globe-trotting!
Can you tell the I Luv 2 Globe Trot community a little about yourself (where are you from, what do you do, where are you currently based, hobbies etc).
I am so happy to be sharing my story with fellow globetrotters! I am a proud "Jamerican"-born in New York City and spent part of my childhood in Kingston, Jamaica. Rumor has it I took my first plane ride there at 6 weeks of age! It is no surprise really since my Mother was a World traveler. She ignited my passion for travel at an early age. From an early age I also had an interest in science and "playing doctor". I remember from before the age of 10 saying I was going to become a pediatrician. When I moved to the US I took every step I had to in order to achieve this goal.
I currently practice pediatric hospital medicine in Atlanta, GA. I call myself a "blogger by day and physician by night" since I only work night shifts. So what do I do when I have spare time?  I obviously love to travel, I organize a virtual and live Atlanta book club and I consider myself a cyclist. I have also developed the nickname among my Atlanta friends of "the mayor". This is because I love Atlanta, keep abreast of local events and activities and often organize group gatherings.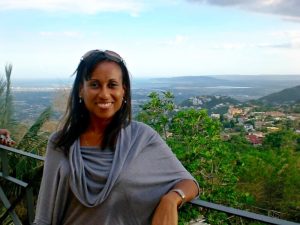 ---
How many countries have you traveled to?
Funny that I have never counted that! Once I did I came up with 20. So many more to go! I have visited several cities in many countries and have made return trips to places I love like Italy and Spain but look forward to exploring new continents in 2015. I made a vow to myself after finishing my residency in 1999 to see at least 1 new place every year and I am proud to say I have accomplished that!
---
What is your dream destination and why? (think bucket list destinations).
I have so many but my top bucket list destinations are South Africa, Thailand and Brazil. I have read, seen and heard so many great things about these countries and look forward to exploring them. I love diversity, history, culture and FOOD and all of these countries have that to offer and more.
---
What made you decide to get into travel writing and blogging?
The "writing" part is very interesting and honestly came out of nowhere surprising me and those that know me. All through my schooling I disliked anything having to do with writing as in writing essays or papers. Since I excelled at memorization and math I much preferred multiple choice exams. Once I was out of training and settled into being a working and traveling adult, I had an idea to document all the interesting experiences my friends and I were having. Most of it was traveling but we also shared interests in food, art and music.
That is how the idea of "The Sophisticated Life" was first born 2 years ago. However, due to moving to a new city and starting a new job I was not able to fully commit to blogging until 2014. I realized I enjoyed writing about my travel experiences to encourage others to travel and give them a real sense of what that city or country is like. I enjoy having guest travel posts on my site as inspiration for me as well.
---
What are some challenges you have faced trotting the globe?
I think my biggest challenge has been navigating myself around certain cities and getting lost. Not a problem if it is in the day time and you find someone who speaks English to ask directions. However, it is a bigger problem if it is late at night and you are walking down dark creepy streets. The next would be the language barrier. After my first few trips I made an effort to learn common sayings in the country I was visiting and having a language book or APP with translations.
I take small maps with me as well as a card with the hotel I am staying which lists the address and phone number. None of these helped in Athens when my friend and I could not get 20 cab drivers to take us to our hotel! They looked at the card and shook their heads no and kept driving. Have you heard that expression "It is all Greek to me?" Well that is absolutely true since unless you know Greek you cannot understand the names of streets or even pronounce them! We finally found a police officer who spoke English and he informed us they didn't pick us up because we were only 3 blocks from our hotel so it would not have been worth their time. We had a good laugh about that one.
---
Where was your most recent travel destination you trotted to?
I just came back from Punta Cana in the Dominican Republic having visited there for the first time. The beach was absolutely beautiful and I look forward to returning there in April for my cousin's birthday. 2 months prior I was on a Mediterranean cruise! This had been on my bucket list for quite some time and it did not disappoint. I visited cities in Spain, Italy and the French Riviera.
---
Which, if any, foreign languages do you speak?
I took years and years of Spanish so I can understand most of it and speak some of it but I am not fluent. I love Italian and French and hope to have time to take classes in both in the future.
---
What do you have planned for yourself next? (any projects you'd like to promote, etc). Would you ever consider the expat lifestyle to assist with your globe-trotting?
I am excited about a new travel project that I have started with exciting and experienced travel bloggers like you Nicole! It is called "Jetsetter Roundups". Once a month we will publish 1 blog post which will include links to several travel bloggers posts about a particular topic. In December three of us gave recommendations on Island Getaways, in January look for a roundup of winter travel destinations and in February we are discussing our favorite hotels, resorts and cruises!
Although I look forward to more globetrotting I don't foresee living abroad anytime soon. Between my career and family obligations I will be stateside for a while. I do imagine taking 6 months to 1 year off in a few years to truly immerse myself in 1 country or travel to several on a very extended vacation! I have now visited 9 cities in Italy and that is a country I could imagine living in.
---
What are some words of wisdom you would like to give to future inspiring globe-trotters and expats?
Take advantage of opportunities when they appear. Do not assume you will have the time in the future. Get out there and start seeing the World when you are young. Be adventurous. I wish I had lived abroad when I was younger and had the opportunity! However, I truly live by the "YOLO" philosophy and will continue to do as much as often as I can. With internet resources and educated and sophisticated travelers sharing all their experiences and tricks of the trade it really is possible to travel the world for less than years ago. When you do, make sure to inspire others to do the same!