By Nicole Brewer
As a globe-trotter currently living in Oman, you all know how much I love to have a weekend getaway to Dubai.  From staying at some of the most luxurious hotels that Dubai has to offer to a spa hotel weekend getaway, Dubai offers it all. There are hotels in Dubai to fit all of your needs as well as a load of things to do in this fascinating city. Check out this guide to resort hotels that are available in Dubai.
Enjoy a relaxing stay at the Regent Beach Resort
The Regent Beach Resort is located near the Dubai Zoo and the Burj Khalifa in Jumeriah. It is also close to the Mercato Shopping Mall and the stunning Jumeirah Mosque. The resort offers an array of recreational activities including a sauna, steam room and an outdoor pool area.  The spa offers various services such as full body massages and facials. Relax at the poolside bar, lounge or while getting your tresses cut at the on-site hair salon. This is a great option for those looking for a resort stay at a reasonable price.
Abundant Luxury at the Hilton Dubai Jumeirah Resort
The Hilton Dubai Jumeriah Residences and Resort is set right in the heart of Jumeriah beach, near the Dubai Marina. It is a marvelous location for those interested in a variety of activities including golf, which is available at the nearby Emirates Golf Club. You can also attend the camel races at the Camel Race Track. For family fun head to the Wild Wadi Amusement Park, which is a few miles away. Room features include high speed internet access, satellite TVs and bidets.  The resort has numerous amenities including exotic gardens, water sports grounds, a health club and supervised kids club, as well as a copious amount of bars and restaurants to satisfy various appetites.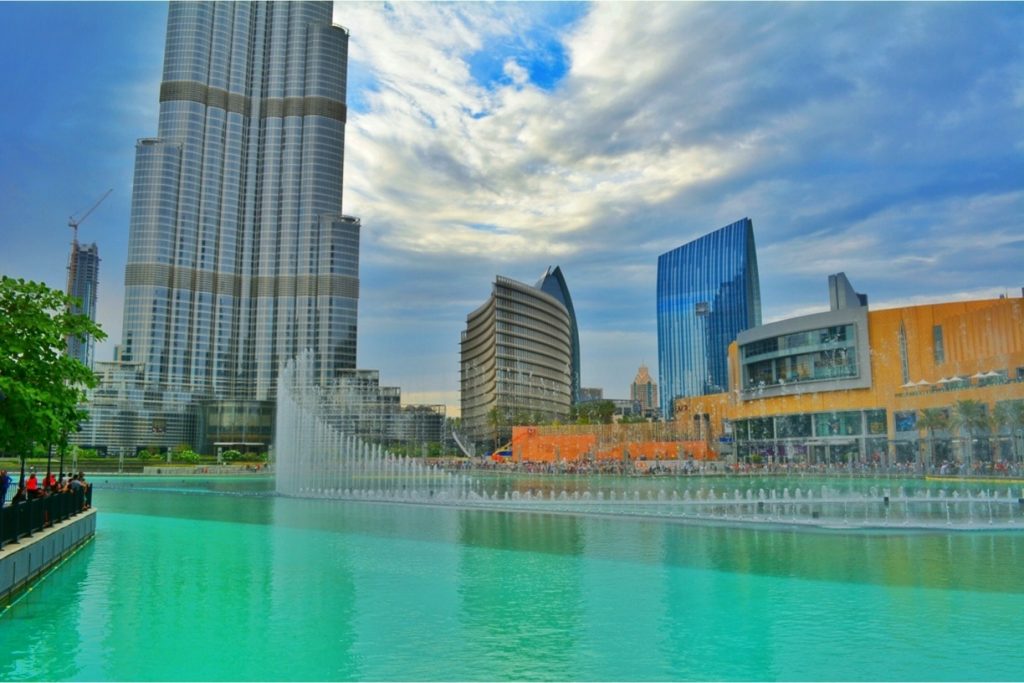 An Elegant Getaway at the Ritz Carlton Dubai
With a stay at the Ritz Carlton Executive Residences DIFC Dubai, you'll enjoy a relaxing stay at the luxurious accommodation which are located in the center of Dubai near the Dubai Mall. This Dubai resort is only 350 meters away from gorgeous white sandy beaches. Modern indulgences include being near prime shopping and a full on-site spa offering facials, massages and body treatments. Lounge in your room on the down bedding and soft Italian sheets or sip a refreshing drink at the pool bar. Additional hotel amenities include limo/town care service, complimentary newspapers in the lobby and an on-site hair salon.
Have an Exquisite stay at the Dubai Marine Beach Resort & Spa
The Dubai Marine Beach Resort & Spa boasts a private beach and features three swimming pools. It is located minutes away from the Burj Khalifa and Dubai Mall. Each room features minibars, complimentary wireless internet and satellite television programming. Unwind at the extensive spa which offers numerous body treatments and massages.  Additional recreational amenities include pools, bars, a nightclub and a fully equipped health club. It also features event facilities like conference space and meeting rooms for those that may need to have a business meeting.
*
*This is a sponsored post opportunity via Hipmunk with their #HipmunkCityLove Project. The content is my own.**