By Nicole Brewer
Greetings globetrotters! I hope you all are having a fantastic summer. A couple of weeks ago I had a fantastic time celebrating my birthday in Marrakech, Morocco. Morocco is a great place to get away from it all and unwind. Some people travel there and tend to be on the go. Nevertheless, I decided to do Marrakech a bit different. I visited luxury resorts such as the Mandarin Oriental, Marrakech and the spa at the Royal Mansour hotel, which was a dream destination of mine for some years.
I also enjoyed the royal treatment staying at the Moroccan Curators riad, located about 10 minutes from the airport. The Moroccan Curators riad is a great option for those that want to get outside of the main square El Jema. Thus, enjoying a bit of peace and quiet in a more residential neighborhood. The riad offered an outstanding full length, indoor pool, which is great to escape the scorching summer heat.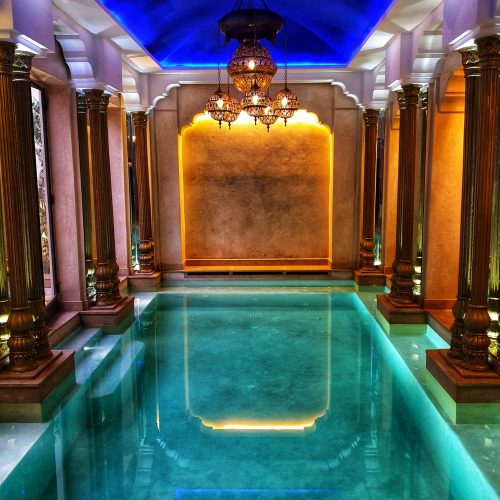 The team at Moroccan Curators not only offers a luxurious place to stay but also curated tour services to visit destinations all over Morocco. One of their clients even included Noami Watts, who enjoyed her birthday celebrations curated by the Moroccan Curators team. They offer custom trips suited to your needs and an on-demand concierge team. I was able to use a driver at my disposable provided by Moroccan Curators and a chef was on hand to provide delicious meals, such as the traditional tagine.
The riad is an ultra-relaxing place. I thoroughly enjoyed my humble abode and room accommodations, which offered a comfortable bed and a traditional Moroccan seating area.
An on-site Hamman is also available for unwinding as well. It really doesn't get much better than chilling at the Moroccan Curators riad after a day of hustle and bustle shopping at the squares and markets in the city center. One of my favorite experiences in Morocco was enjoying luxurious scrubs and baths.
I highly recommend a stay at the Moroccan Curators riad if you are planning to visit Marrakech soon. If you want a trip curated to your needs, then they are the team for you. What are some experiences that you wish to have when you visit Morocco GTs? Feel free to comment below!
***Please note that I was offered a stay in exchange for a review. All views and opinions are my own.***