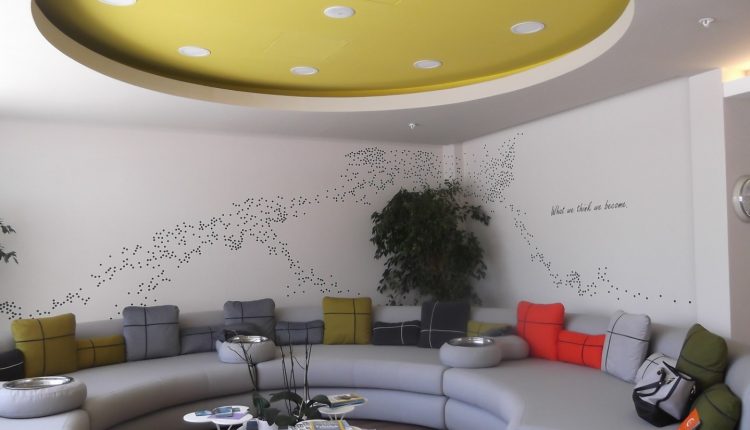 By: Chantal Blake
"Nothing tastes as good as healthy feels" is my new mantra. I first read these potent words on the wall at LifeCo Antalya, one of several Turkish-owned health and well-being support centers, and have been reflecting on my own health ever since. After a brief detox retreat, I've been trying to preserve the light and lively feeling I felt in between green juices, raw meals, yoga, and cleansing. Backing off of sugar, caffeine, and wheat has been easy, but preparing delicious uncooked meals takes preparation and practice. Thankfully, there's a LifeCo day center in the Alacaatlı neighborhood of Ankara where I can dine-in by reservation or order delectable meals, fresh-pressed juices, and nutritious snacks for delivery without stepping foot in the kitchen.
At Güven Çayyolu Healthcare Campus, LifeCo Ankara has found a home where it is welcomed. The hospital has full-functioning clinics and services, including an emergency room, but it uniquely offers resources and support for the very lifestyle changes that patients need to improve and maintain optimal health and wellness. Patients are discharged but return as clients and partners in their health maintenance. LifeCo Ankara's Saf restaurant, detox programs, massage center, yoga studio, and therapeutic services aptly complement the hospital's outpatient gym and rehabilitation center.
As a dine-in visitor, I was welcomed with a refreshing juice combination of beets, green apples, ginger, and lemon, followed up by alkaline, fruit-infused water. Looking at the menu, it was a struggle to decide on my order. I asked my host Tanla for her recommendations and together we agreed to raw zucchini lasagna, a Mexican wrap, a sprouted grain wrap, sprouted buckwheat salad, and the dessert specials of the day.
Yavuz, the raw-vegan food guru at Saf Restaurant, is not only a chef but an artist. Each dish was thoughtfully prepared and beautifully presented. The Mexican wrap was devoured by my daughter who loved the flavorful mashed bean filling. My husband and I both voted that the raw lasagna was spectacular. Though uncooked zucchini never really thrills me, the amazing pesto, cashew cheese, and marinara sauce won me over. The sprouted grain salad and wrap had a nutty crunch but were easily palatable. I never thought of eating these grains uncooked, but I'm glad to know how easy they are to eat once sprouted and tossed with flavorful dressings and veggies. I'm inspired to try some of these dishes on my own.
Eating raw foods can be a bit of an adjustment. The food is filling without making you feel full; energy is given instead of being taken. My stomach definitely wanted more and, thankfully, our amazing raw desserts arrived in time to cap our meal–raspberry and orange cheesecakes that swap a sweet cashew spread for cheese filling and dates and nuts for crust. Slowly savoring each bite, our meal was then complete.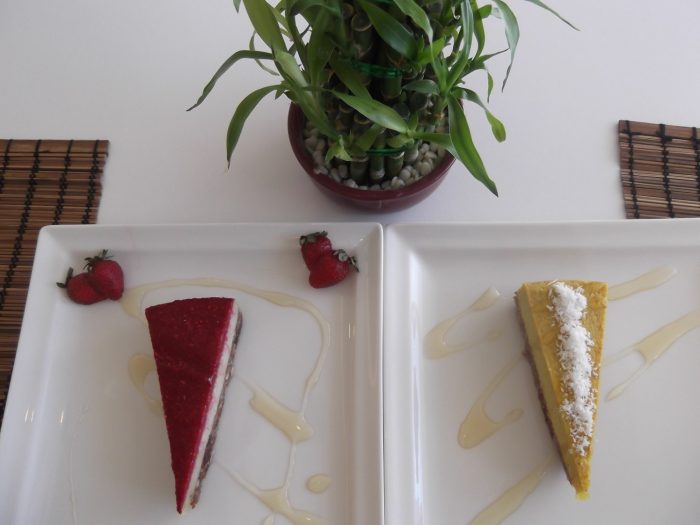 Touring the serene facility was like a retreat amidst turbulent times in the country and world. When Tanla tells me she loves coming to work, I believe her. Her warm and inviting staff members are kind, professional, and proficient. From the yoga teacher to the chef, the juice bar manager to the nurse, each team member operates in harmony with the wellness mission and healing environment. Whether looking for peace of mind or a place to eat, you can find both awaiting you at LifeCo Ankara.
With special thanks to LifeCo Ankara for hosting my visit. All opinions are my own.