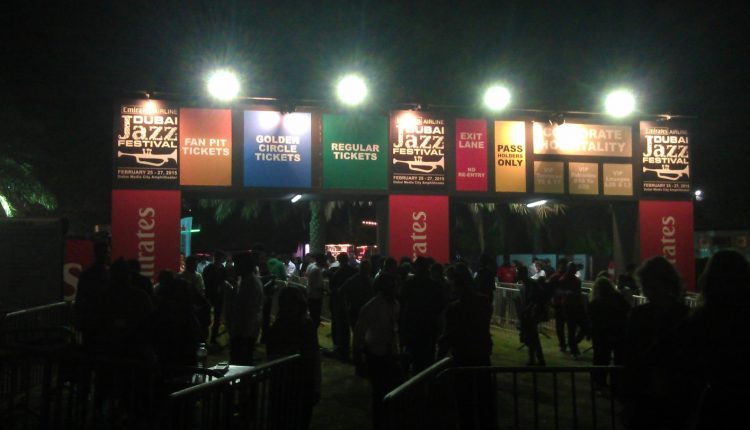 By Nicole Brewer
The resounding question I'm sure people would ask to someone that trotted from Oman to Dubai for the 2015 Dubai Jazz Festival would be was it worth it? The short answer is YES! To see powerhouses like John Legend and Esperanza Spalding perform live in a dynamic city like Dubai was totally worth it.  A few weeks ago I had the pleasure of staying at a gorgeous 5 star resort The Address Dubai Marina in order to attend the Jazz Festival.
The weekend festivities had a stellar lineup from Sting to John Legend.  Sadly, Sting was performing on a Thursday evening and with the work week here in the Middle East, I was not going to make it to see him after heading to Dubai right after work.  The massively long lines at immigration showed just how many people trotted to Dubai for that weekend of events.  Thousands amongst thousands of people came out from various cultures and backgrounds to enjoy hits from the amazing line-up including artist like James Blunt and Lindsey Stirling.
I had a one day ticket to see John Legend and Esperanza Spalding on that Friday, February 27th. Esperanza opened the show with her graceful presence and strong vocals. She is such an amazing spirit and I'm a huge fan, so I couldn't wait to hear her sing live. She did not disappoint At All!! She is a performer, singing her jams like "Black Gold", "Crowned and Kissed", "I Can't Help It" and other songs from her hit jazz albums "Esperanza" and "Chamber Music Society." Her music always moves me, sometimes to tears and hearing her angelic voice live while playing her cello was just amazing.
When I tell you that John Legend's smooth vocals probably incited some newborn babies to be born by the end of 2015.  His voice is like butter and was so amazing to hear live.  He sounded just as good, if not better than the CD.  It was is the 10 year anniversary of his chart- topping album "Get Lifted" and boy did he left my spirits and the rest of the crowd singing classics like "Ordinary People" and the title track "Let's Get Lifted." 
The crowd totally lost it jamming to tracks like "Green Light" and the beautiful Billboard Chart Top 100 hit "All of Me." The only disappointing thing about the show was that it had to end.  People wanted to hear a bit of the Golden Globe Award winning hit "Glory", but there just wasn't enough time for John Legend to go through Allll of his amazing songs.  Was it worth it? Yes indeed and I'd do it again to be blown away by such great talent. Check out a few clips from the amazing performances below. Enjoy GlobeTrotters!
Esperanza performing "Black Gold"
John Legend performing "Bridge Over Troubled Waters"
 John Legend performing "Ordinary People"
John Legend performing "So High" with a bit of Prince infusion!