By Nicole Brewer
Last weekend I had a delightful time attending not only the Wedding Fair and Fashion Show that the impeccable Shangri-La Barr Al Jissah Resort & Spa hosted in the Al Bandar hotel, but I also managed to dine on a special menu that Michelin starred chef Igor Macchia offered for a limited time at the resort's Italian fine-dining restaurant, Capri Court. Igor Macchia has had a passion for food and decadent dishes that expands many years. He has worked for restaurants across Italy and Europe including La Credenza so it was an honor to dine on his signature dishes here in Oman.
From April 20th- 23rd Omanis and expats alike were allowed to dine on his sumptuous signature a la carte menu that featured dishes such as pumpkin risotto, beef tartar and grapefruit gelatine. I started off my meal with a fresh lime mint tea and then moved on to an appetizer of foie gras with lobster and smoked potatoes. The foie gras just melted in my mouth with every bite of the delicious morsels. I absolutely Loved the sumptuous flavor of the pumpkin risotto topped with shrimp as well. It was so rich and creamy that I did not want to leave any left-overs on my beautifully adorned plate.
Prior to this amazing meal was the wedding fair which followed a garden theme and included over 40 exhibitors. Additionally, everyone from local jewelry designers to wedding planners and bakers were on hand for the massive wedding fair. The fair was followed by a fashion show that the Shangri-la team hosted for local VIPs, media and fellow designers based in the region.
Five top designers showcased elegant wedding wear at the fashion show. Designers included French born Mireille ALoughlin, owner of Arushi Fashion Design – based in Dubai; Amal Al Jamali of Sunset Fashion based in Muscat; Omani fashion designer Buthaina Anees Issa Al Zadjali; Kawashi Brand which focuses on abaya and jalabeya designs and Amal Al Raisi of the high end fashion brand 'Dar Al Aseel'. The brands flew in models from all over and they strutted the runway to these gorgeous designs by top local fashion designers.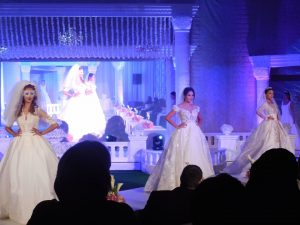 Shangri-La Barr Al Jissah Resort & Spa is a premier place for a destination wedding with it's stunning location. With such high end brands and designs based in the region, there is no wonder that locals flock to this amazing location for their weddings and hopefully more expats will see this resort as a viable option for your luxury getaway or wedding.