By Nicole Brewer
I recently returned from an Amazing trip to the Maldives. I had such a fabulous, relaxing time at the Reethi Beach Resort which is located in the North-East of Baa Atoll, on tiny Fonimagoodhoo Island of the Maldives. I knew that I was coming to paradise upon arrival to Reethi Beach on the Trans Maldivian Airways seaplane, which was booked directly through the hotel. Looking down at the island, I could see that it was no bigger than a 20-30 minute walk around the entire lush, green island. It is shaded by palm trees and has long stretches of white sandy beaches with crystal blue waters. Ahh, I'm missing paradise as I write this.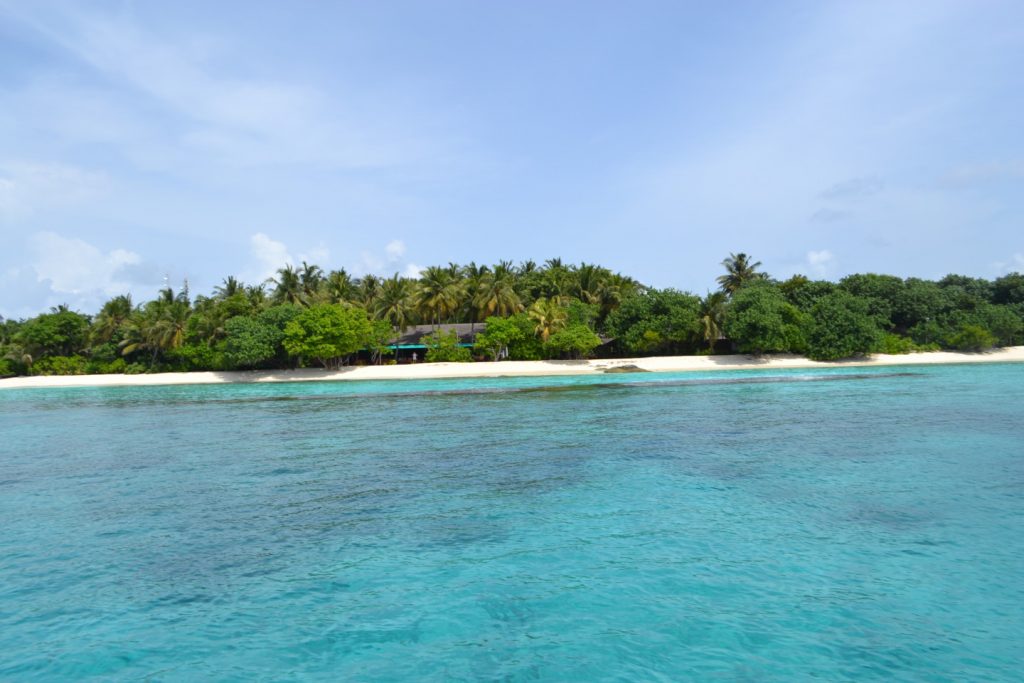 As we approached the island we were greeted by the pleasant hotel staff that took us to the front desk for check-in. We were treated to fresh coconut juice and cold towels to refresh after a steamy flight in. All guests have the hotel procedures explained to them before heading to our rooms, which include details about areas of the island where Wi-Fi is available (no net in rooms, hey but you're in paradise get out and enjoy it), buffet hours, bars and more. I was also amazed to hear that this was a "no shoes" island, as the resort is covered in soft sand so it's encouraged to enjoy it.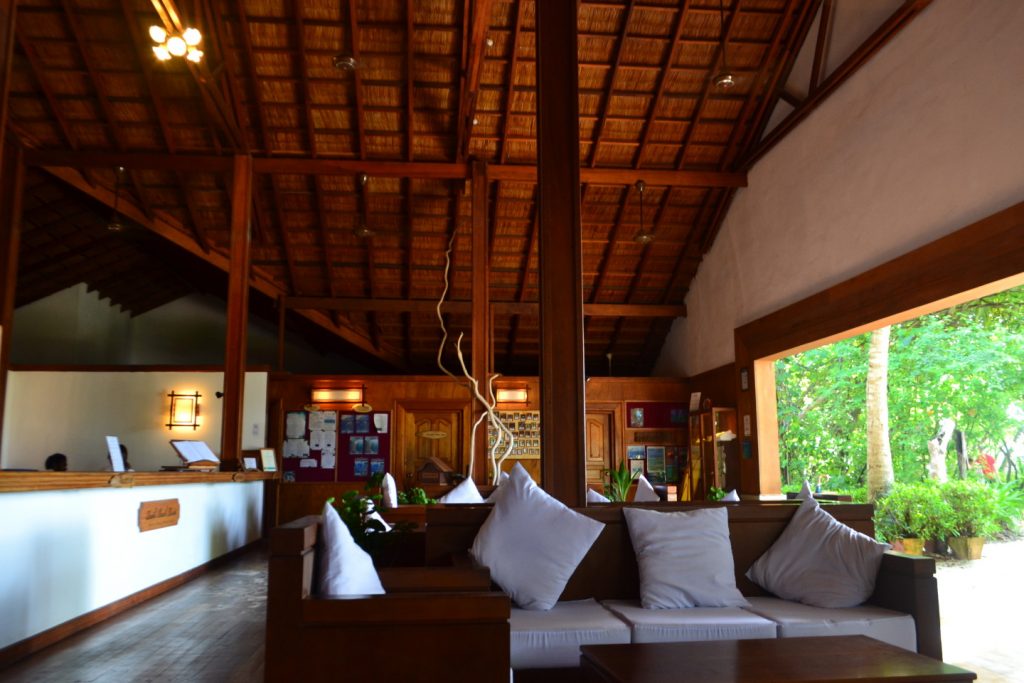 I was then taken to check out my water villa along with others. The water villas are located on the other end of the island so we were essentially taken all together while they pointed out where everything is located including the spa, garden, as well as dining facilities like Moodhu Bar & Restaurant and Reethi Grill.  After around a 10-15 minute walk we arrived at the amazing water villas. They have 30 semi-detached rooms and I was excited to see that the nice couple I chatted with on the seaplane were in the villa right next to mine.
It was beyond relaxing to have a room that is built on stilts over the clear waters of the lagoon. My room had a nice big bath tub, a balcony area for lounging, a full on ocean view and a nice sitting area. The average nightly rate for a stay in a water villa at Reethi Beach is reasonable at $275 a night including breakfast. The average rate for a Reethi villa is $150 a night excluding the seaplane transfer cost.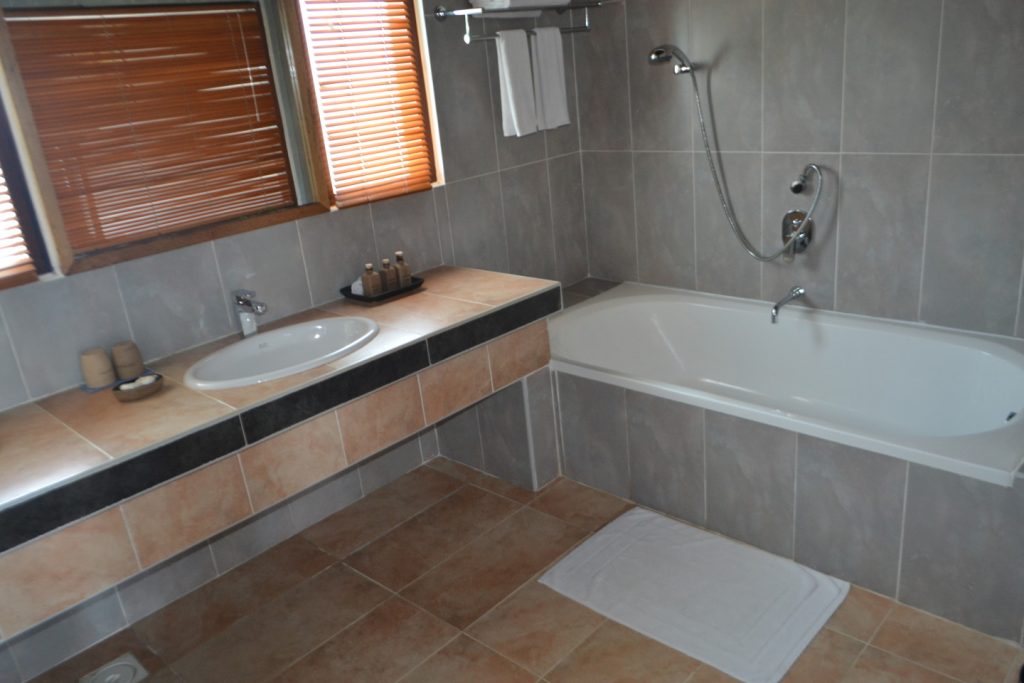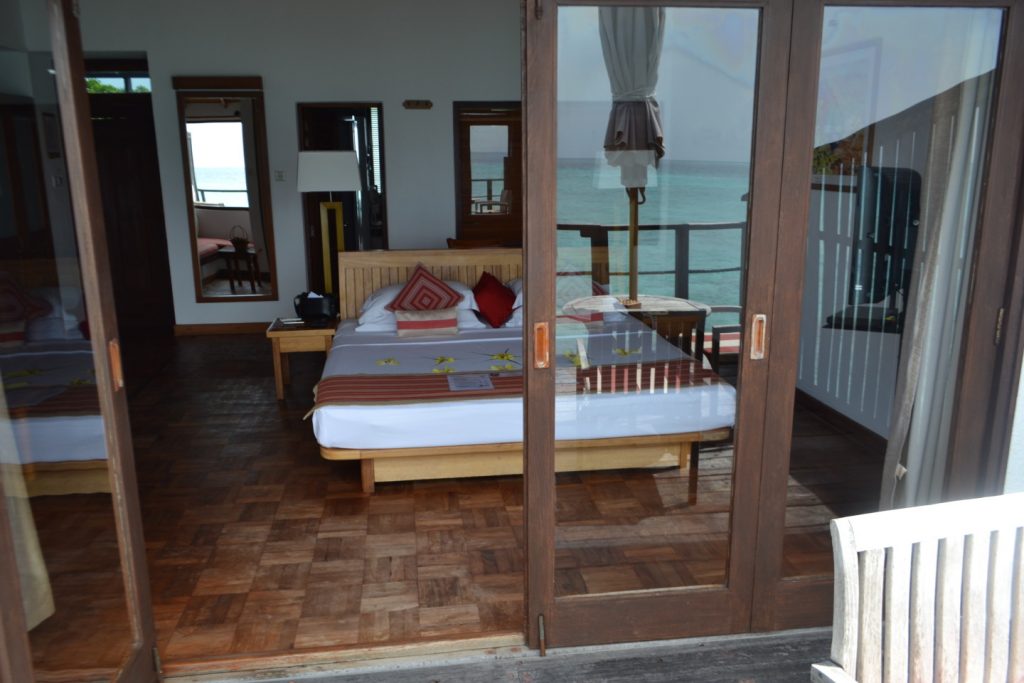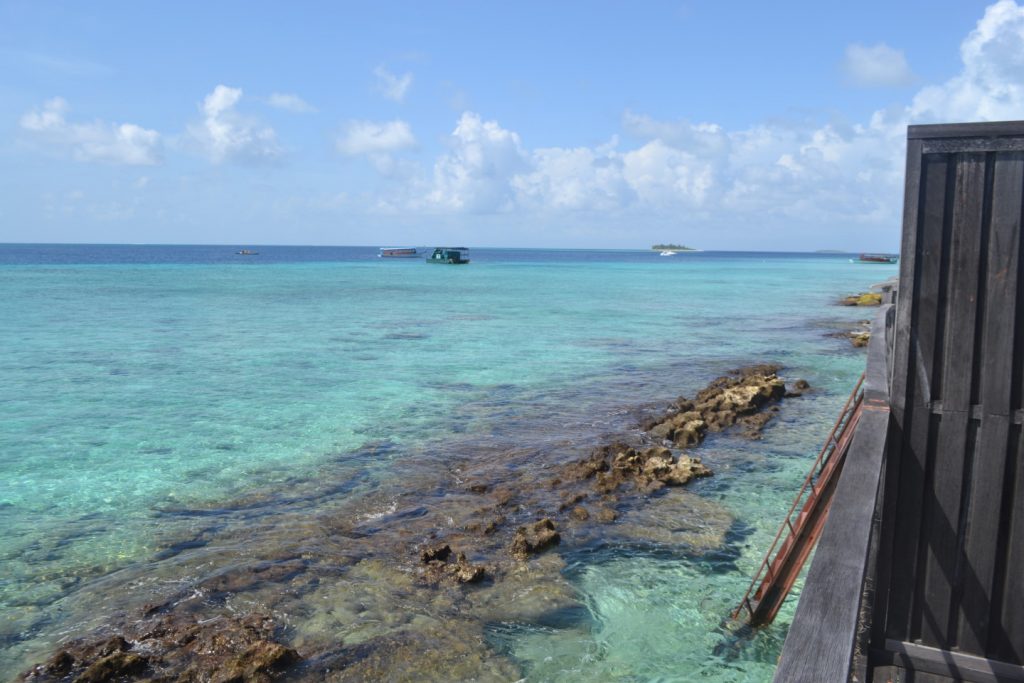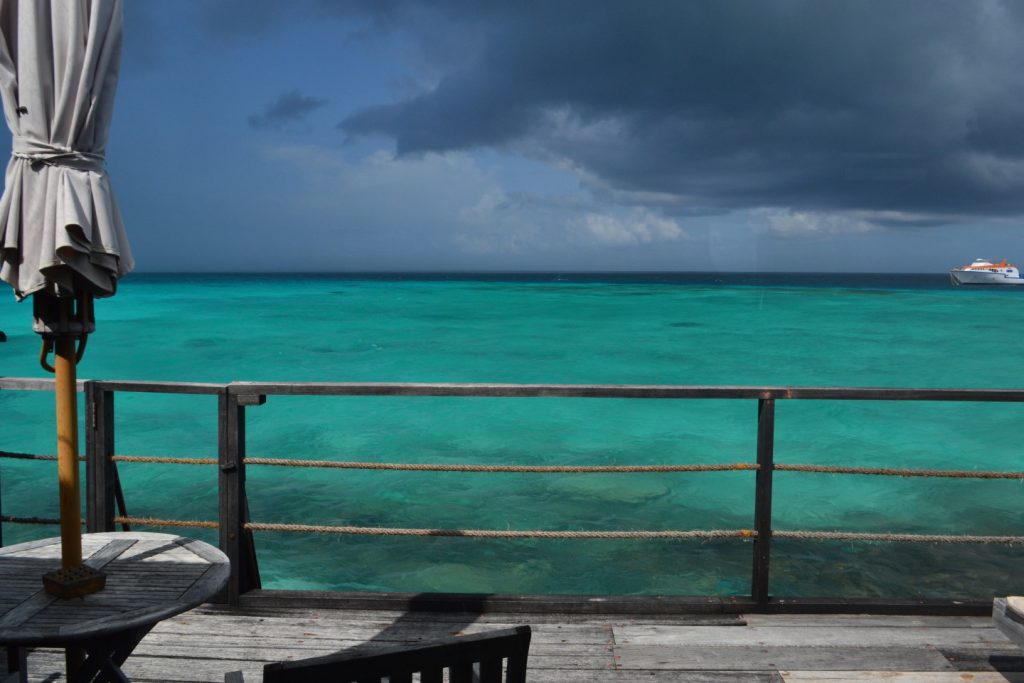 Each water villa includes your own beach bed at the nearby beach, in addition to the balcony with instant access to the water. I opted to relax at the beach and try my hand at the water from the white sands most of my time there. The true definition of vacation is having crystal blue waters, a beach bar at your fingertips and a nice bed to lay in while I read and sipped on a cocktail. This was Indeed a paradise getaway. As a solo traveler on this trip, it was great to see not only couples, but families as well as even other singles. I had a delightful time.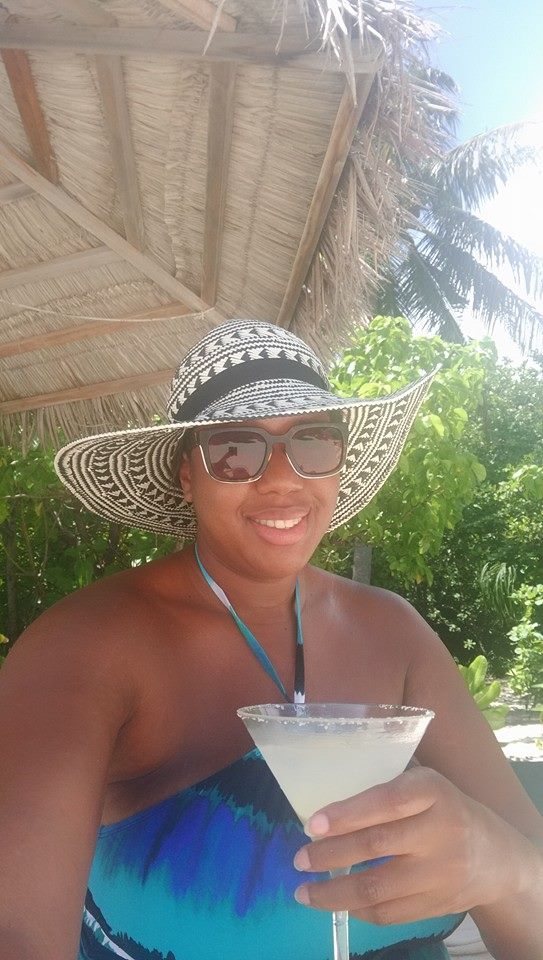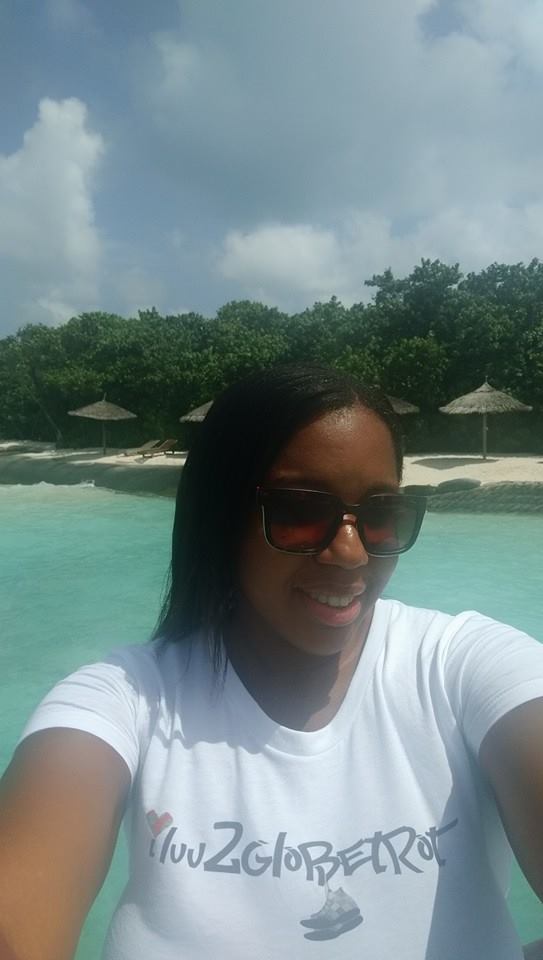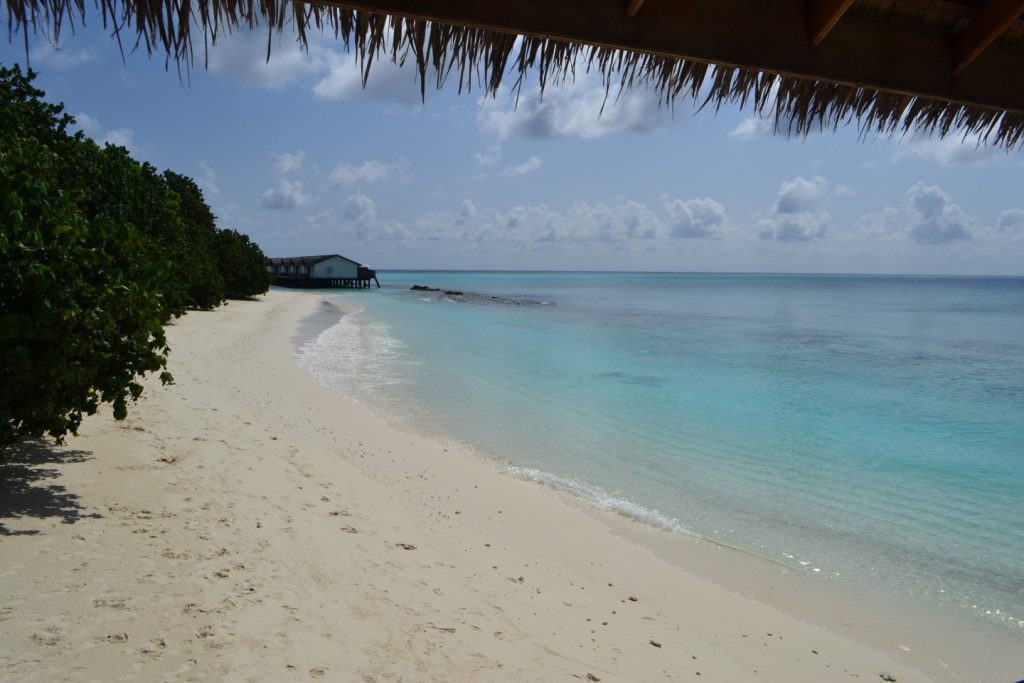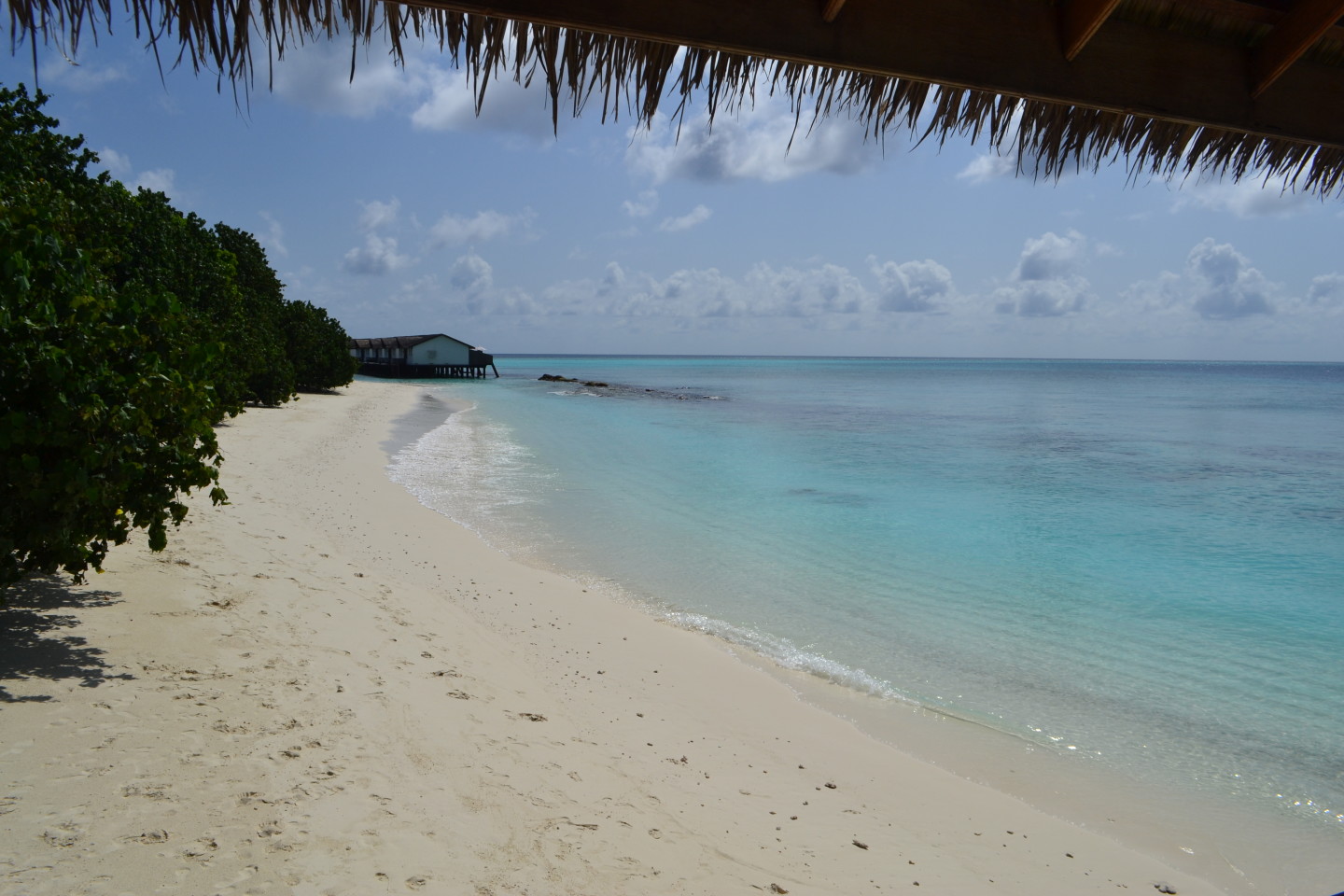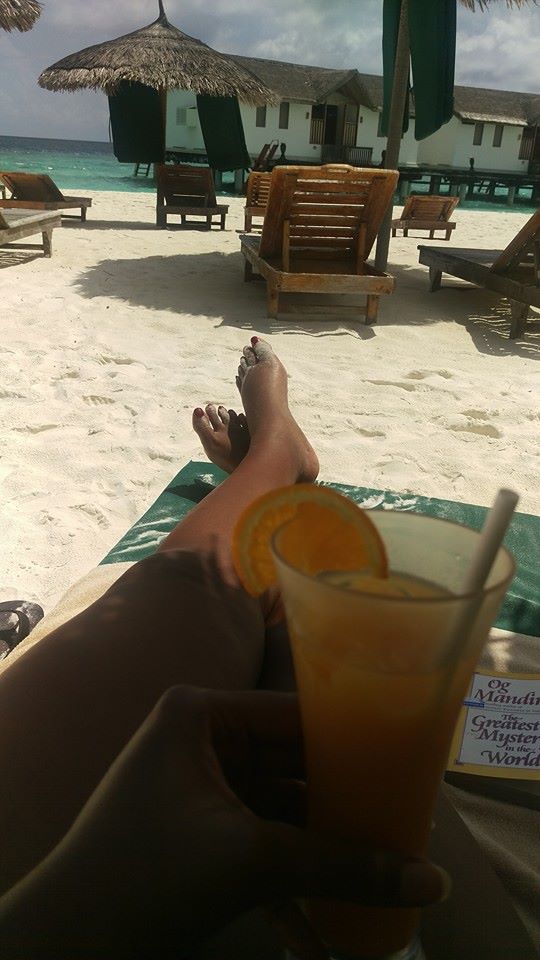 I also thoroughly enjoyed each of the amazing meals that came as part of the full board package. The Rehendhi restaurant which is located in the center of the island offered daily full service breakfast, lunch and dinner. They had modified hours for dinner due to Ramadan which I thought was nice for the servers to have the downtime they deserved. From Italian theme night on my first evening to Chinese and Arabic night (it was almost like I didn't leave Oman), I'm pretty sure I gained several pounds from the food and drinks on paradise island.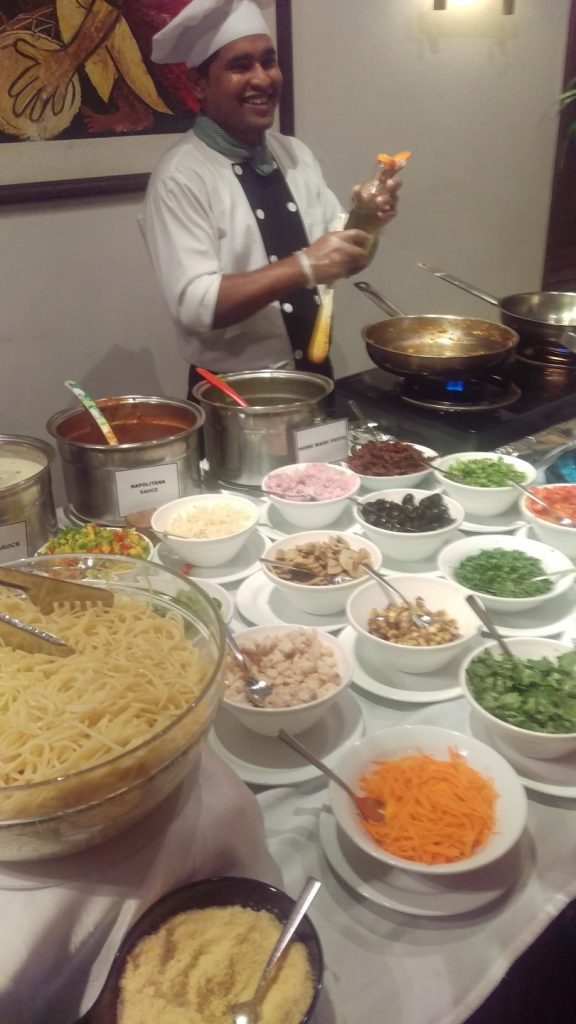 The facility amenities were also top notch.  I decided to indulge in a short 30 minute massage during my stay and was delighted to get an additional 10 minutes free due to a coupon that I received during the manager's welcome night mixer. The spa decorum was soothing and relaxing, it also included a small store to buy gifts or last minute beach needs you may have. The staff were delightful and my balinese massage almost put me to sleep so that is a sign of how good they are at Coconut Spa.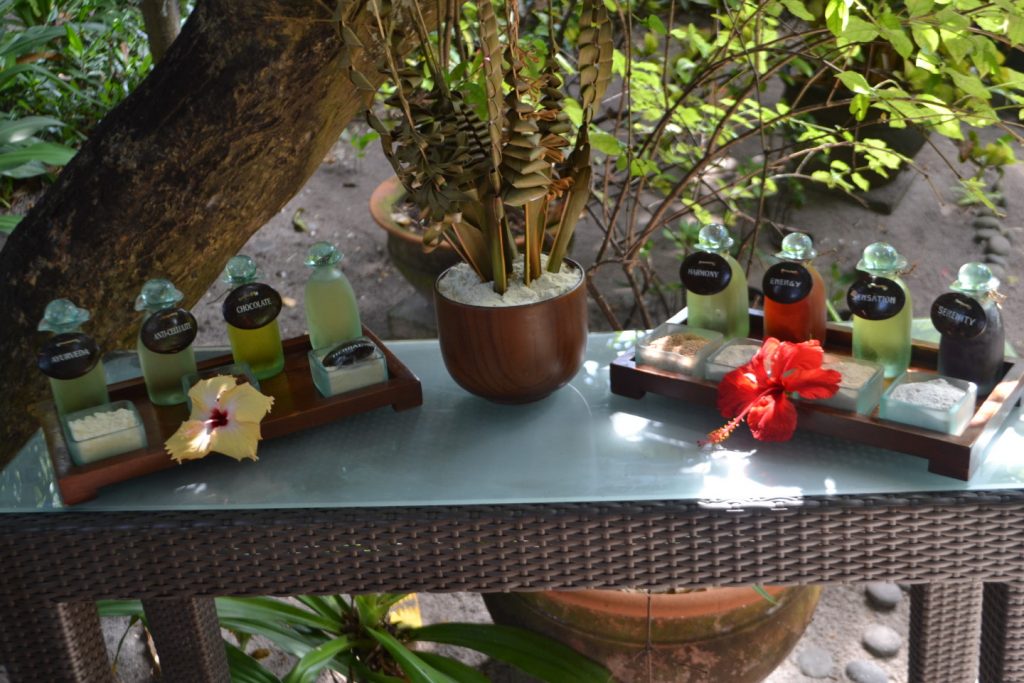 Another perk of being a full board guest is that some of the day tours are included in your package. I enjoyed a lovely sunset cruise out with around 20 other resort guests on a Friday evening.  The next day we went out for a couple hours to visit not one but two of the local villages. Here you can visit the shops as well as see local men and women working on handicrafts. I learned a nice fact that the local women make more than the men. While many of the local men earn their keep by fishing, the women do the hard labor of making the grass roofs that you find on many of the local houses and even at some parts of the resort. As an educator, I also delighted in seeing the local school and knowing that some of the money from the Reethi Beach Resort guests goes to donations at the school, such as those used to build a new computer lab.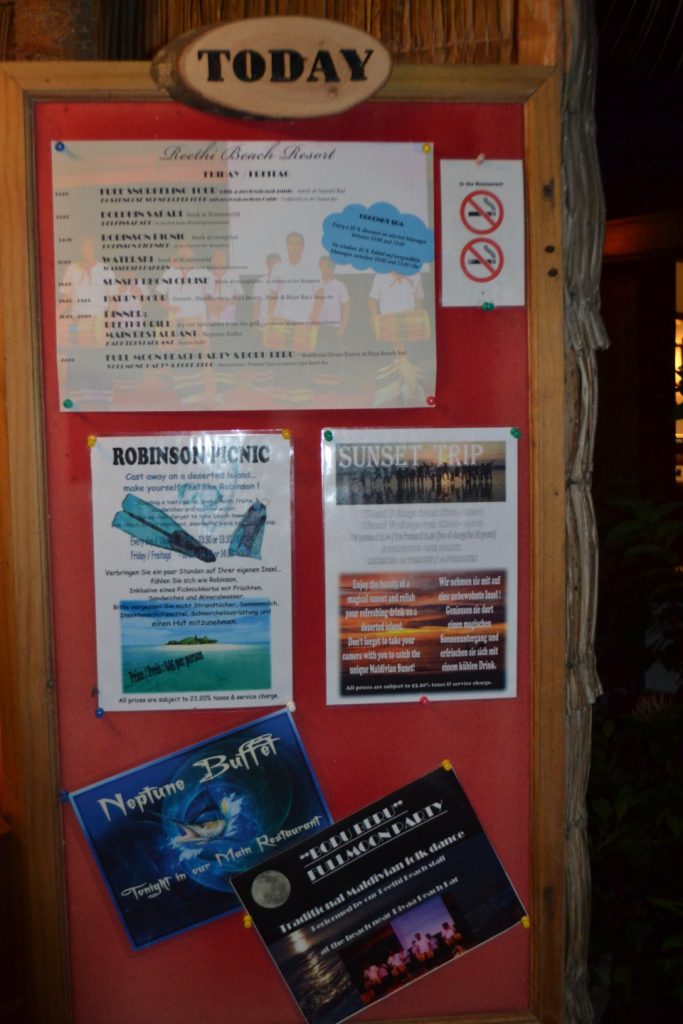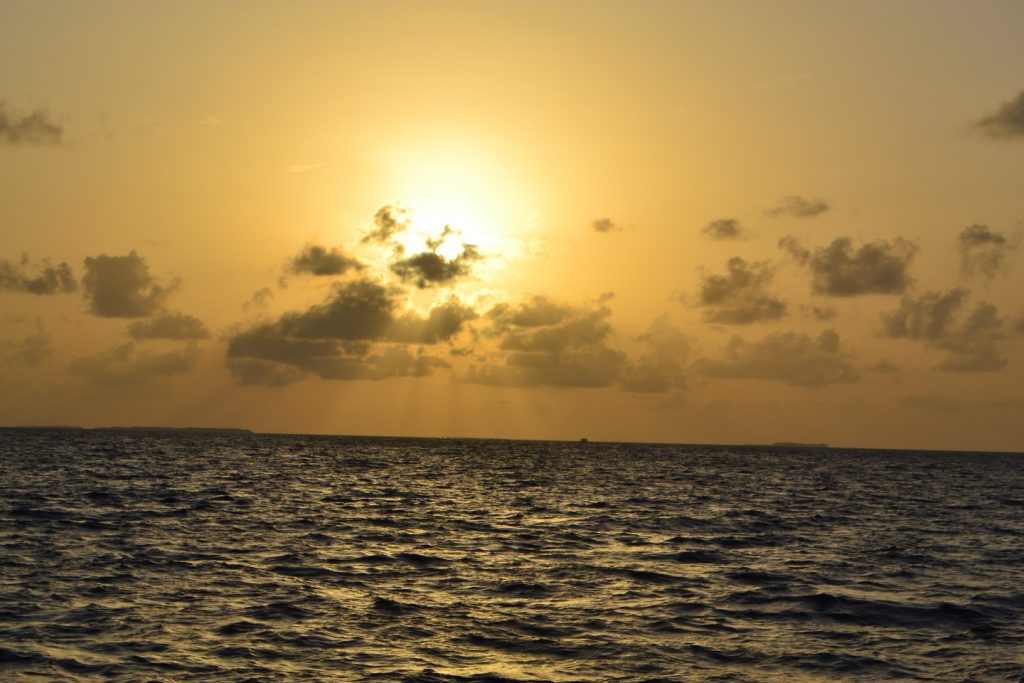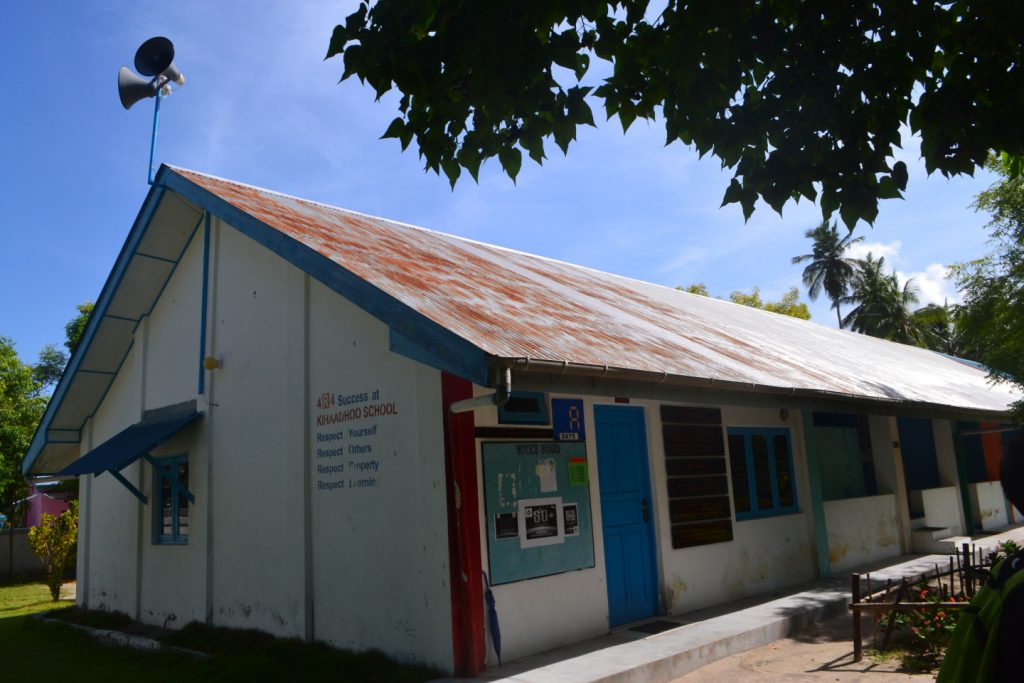 The day was topped off returning to the island by having a couple of dolphin sightings from the boat ride. This was the ultimate trip for relaxing and recouping after a hectic year of working in Oman, finishing up my MA studies and travel writing part time. I'm pretty grateful for the wonderful places have been able to trot to such as Reethi Beach in the Maldives and meeting such amazing people, from the locals to fellow travelers. I hope you enjoyed my roundup of Reethi Beach resort and have the opportunity to trot here in the future. Enjoy globetrotters.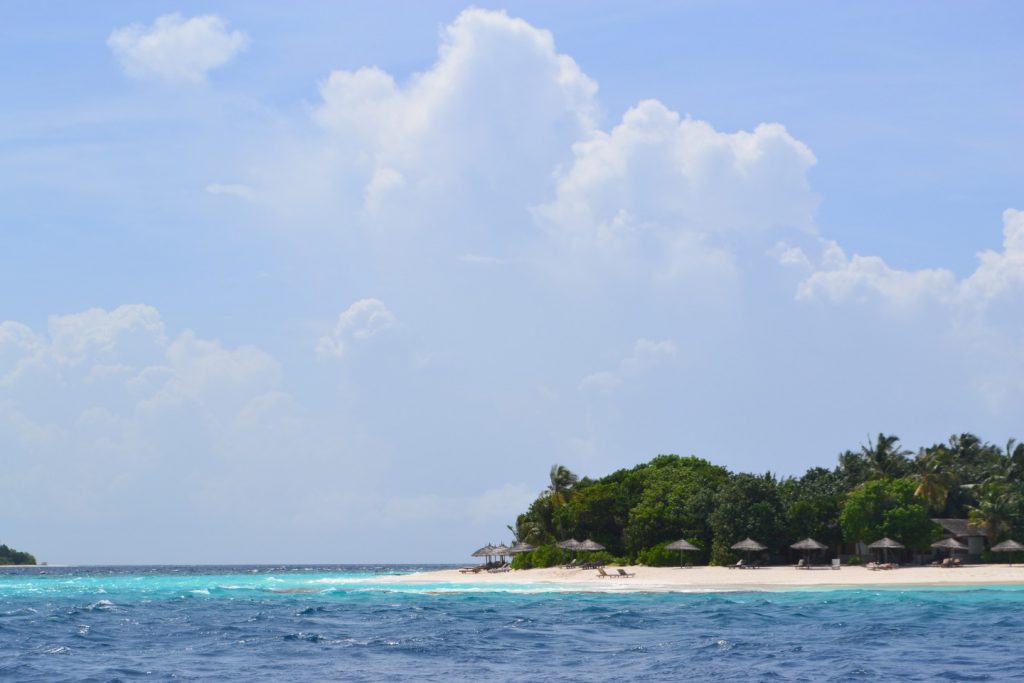 "Disclaimer: This was a hotel review offered by Reethi Beach Resort in the Maldives. All views and opinions are my own."