By Nicole Brewer
I recently returned from one of the most fabulous vacations I've taken in a long time to Jordan. I was fortunate enough to visit not only Amman, but Petra, Wadi Rum and the infamous Dead Sea.  It was a humbling moment to return from Jordan during these difficult times. I was literally sitting at the airport reading about the hostage situation on my return to Oman.  I was blessed to visit this gorgeous country with amazing people full of spirit and heart and happy to share with you fun times I had in enchanting Jordan at the 5 star Mövenpick Resort and Spa Dead Sea.
One of my old friends made in South Korea and a fellow globe-trotter of the iluv2globetrot travel community graciously offered for me to stay with her during my time in Amman. We caught up about life post Korea and the tales of being expats in the Middle East currently.  A good friend of hers offered to drive us to the Dead Sea. If any GTs ie Globe-Trotters want his details on your trot to Jordan please let us know as he's a great guy and driver. As we approached the resort, we were amazed to see there was a stream of bicyclist right along the coast of the Dead Sea in a marathon then to only slightly see up the road bedouins walking with camels, ahh the beauty of the Middle East.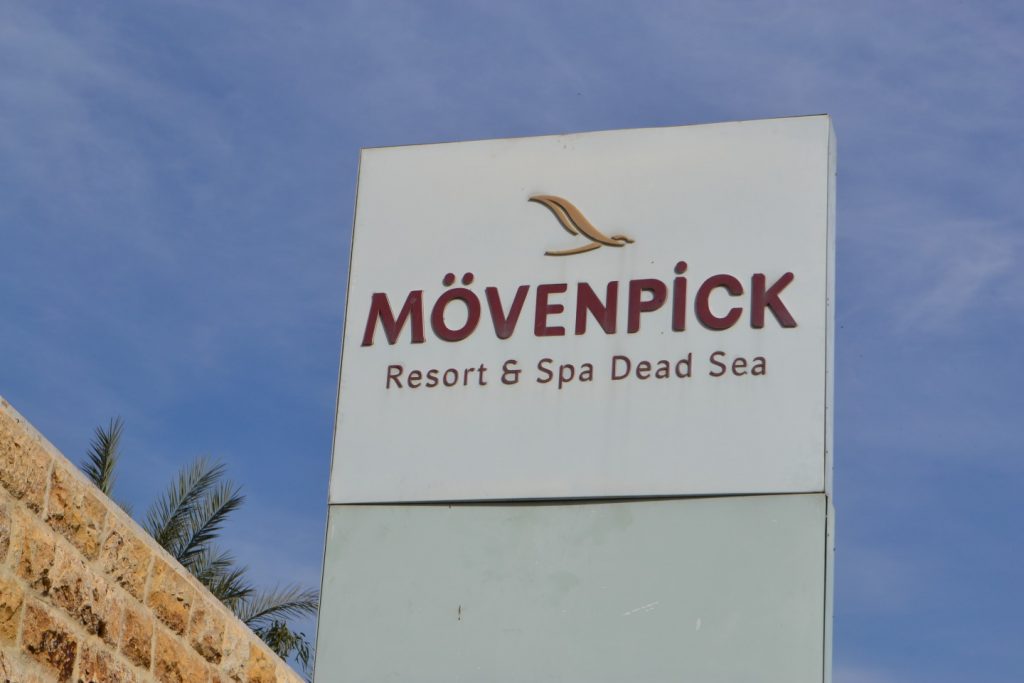 Once we approached the resort and spa from the road, I was uber excited to see the luxuries that this place had to offer.  Sure enough, it did not disappoint! Upon entrance we were greeted by gracious staff and gorgeous decals from an enamorous chandelier to huge bay windows.  After getting checked in, my fellow GT and I were excited to tour the facilities on the way to my room.  The below map just goes to show how massive this resort is and after stumbling around passing a stunning pool of water with fish, restaurants and more, a nice go-cart driving staff member picked us up in order to take me to my room.
My abode had lovely designs and of course amenities like a 42 inch flat screen tv, tons of Dead Sea cosmetics and more.  One of my favorite things about the room was the stunning green wood doors for both the bathroom and other storage areas.  I felt so at easy in this cozy room.  Once I opened the doors to the patio area, it was awesome to see that my suite had access to a jacuzzi area as well. Needless to say, it was indeed difficult to leave this magnificent resort!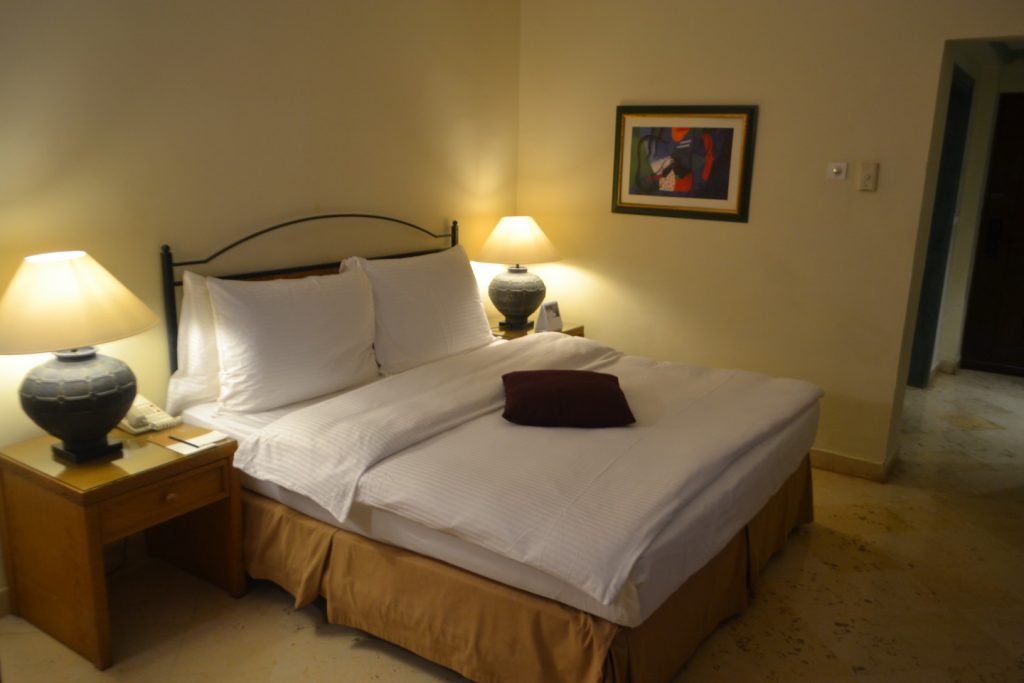 After getting settled in we rushed off to the buffet breakfast before it ended at 11am.  We had a wide selection of meats, arabic breads, hummus, omelettes and more to stuff our bellies before heading over to take a dip in the Dead Sea! After dining on the yummy food, we headed back to get changed so we can go to the beach.  It doesn't get much better than meeting hilarious Iraqi dudes at the beach on the resort, finally making a dream come true to float in the infamous Dead Sea and then lounging at one of the infinity pools overlooking the water.  Ahh, this was one resort stay for the record books! After my friend enjoyed a fun-filled afternoon at the Mövenpick  Resort and Spa, she was indeed sold on bringing her family and friends here once they come to visit her in Jordan.
Once we said our goodbyes, I prepared myself to go to the Zara Spa for a massage and Dead Sea mud facial. Now you know I couldn't stay at one of the top spa resorts in the world and not enjoy a good massage, it was only fitting.  The huge spa has a grand selection of amenities to delight on after getting your Swedish massage or oriental massage like I did.  It features hydro-pools and whirlpools, steam rooms, 2 Dead Sea pools (that's right…float Inside the resort) and another infinity pool inside the spa area.  I had an evening appointment and guest are able to enjoy the facilities for the day. Since I came later after relaxing at the beach earlier in the afternoon, my masseuse was gracious enough to ask if I could return to enjoy the spa facilities in the morning in addition to the short time after my massage since it closes at 8:30pm.  They happily obliged and I did Not complain ;-).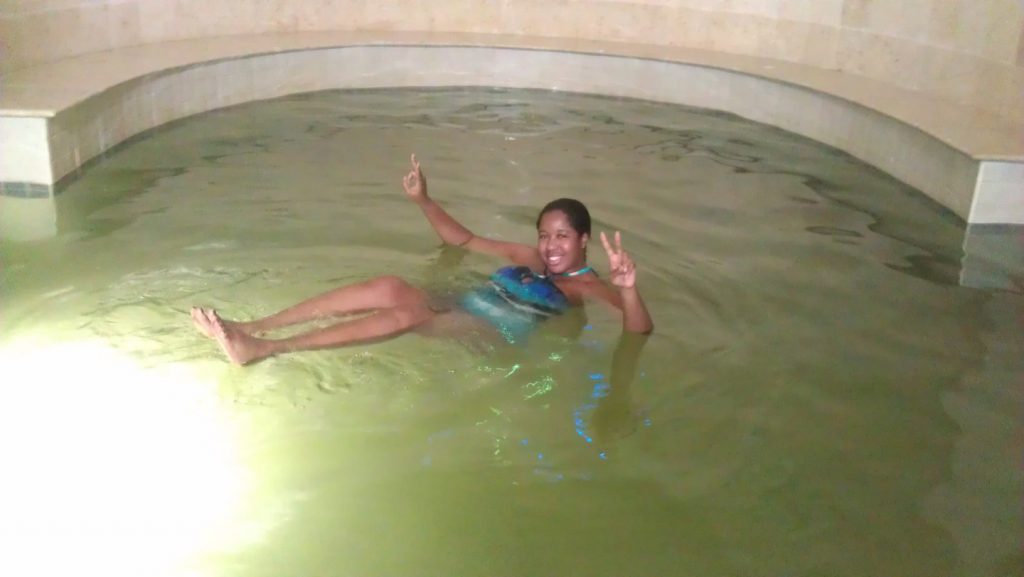 After enjoying time floating in the Dead Sea pool at the resort, I headed back to my room to change for the delicious buffet dinner at the Al Saraya Restaurant.  It had full on cooking stations, a garden terrace and a wide selection of Mediterranean dishes such as Shish Taouk chicken kebabs and lamb.  If you want a different food choice, then you can choose from the varied restaurants like a romantic dinner at the beach lounge or Italian specialties like home-made pasta at Luigi's Restaurant. I had such a fabulous time at the Mövenpick Resort & Spa Dead Sea. I would indeed return if the opportunity presents itself in the future. Check out the below gallery and enjoy GTs! Which image best fits you at this 5 star resort in the gallery??
**All opinions of this Resort and Spa review are my own.**