By:  Chantal Blake
I've never had a bad Turkish meal. The combination of wholesome foods, fresh ingredients and culinary aesthetic, all pulled together with oven-baked bread leaves little room for failure. I thought I just had stellar restaurant experiences, but after a year of living in Turkey, I've witnessed the deliciousness of their signature hospitality reproduced again and again. I've been missing Turkey lately, so I wholeheartedly welcomed an opportunity to dine at an authentic Turkish restaurant in Qurm last weekend.
Visiting Lokanta took me all the way back to Turkey. The décor was colorfully rich like an Istanbul Pazar, with figurines of Konya's dervishes, and detailed ceramics and calligraphy work. There were several tables outdoors, as well as upper and lower level seating options, providing ample room for singles, couples, and families to enjoy the beauty of the restaurant without feeling crowded out. I'm glad we arrived before 3pm because thereafter the upper level is closed until 7pm.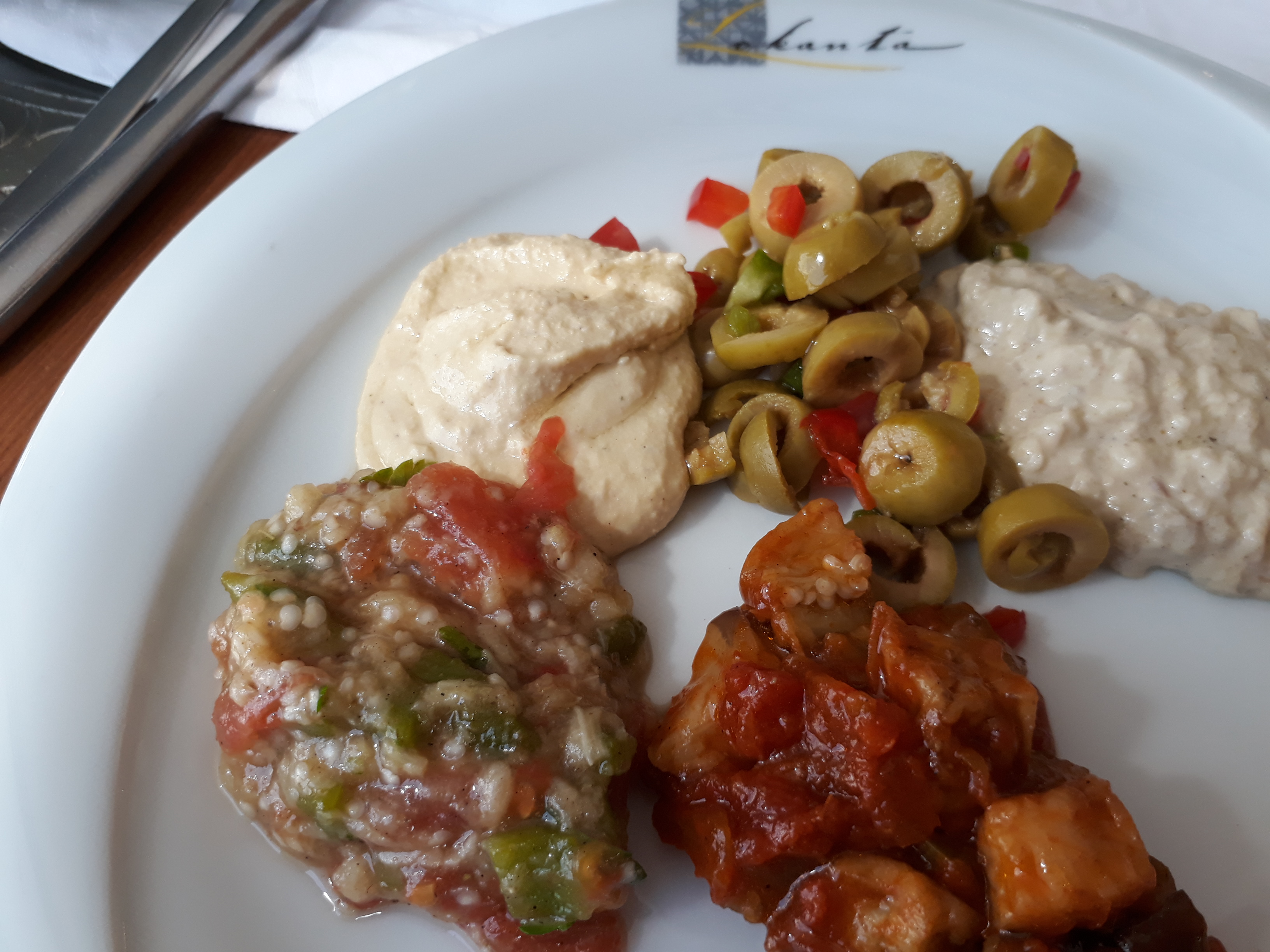 Gazing over the menu, I appreciated seeing the Turkish names of each dish and a dedicated menu for vegetarian diners.
Our meal started with classic cold appetizers like hummus, motabbel spread, olive salad, and baba ghanoush eggplant dip, followed by mercimek corba, a rich lentil-based soup, and fresh salads.
Our hot entrees included tender roasted eggplant and bell peppers and succulent stewed okra, green beans, and cauliflower.  If you thought vegetables were bland, you haven't tasted it Turkish style yet.
Each of the flavorful vegetable dishes were complemented by pilav rice and fresh pide bread dotted with sesame and black cumin seeds.
For dessert, a baked kadayif dish with shredded phyllo dough topped with crushed pistachios and walnuts coated with a light syrup rounded out our meal perfectly.
A highlight for us was meeting the head cook, Chef Rashid, and recalling whatever Turkish we could conjure to convey our delight with his cooking. Much like every staff member I encountered at Lokanta, Chef Rashid was warm, hospitable, and eager to serve us. I look forward to any excuse to return—like enjoying fresh juices outdoors, hosting a catered event in their gorgeous dining room, or savoring another meal with the family when my longing for Turkey surfaces again.
You can follow Lokanta on Facebook and Instagram.
A complimentary meal was offered in exchange for this unbiased review.  All opinions are my own.