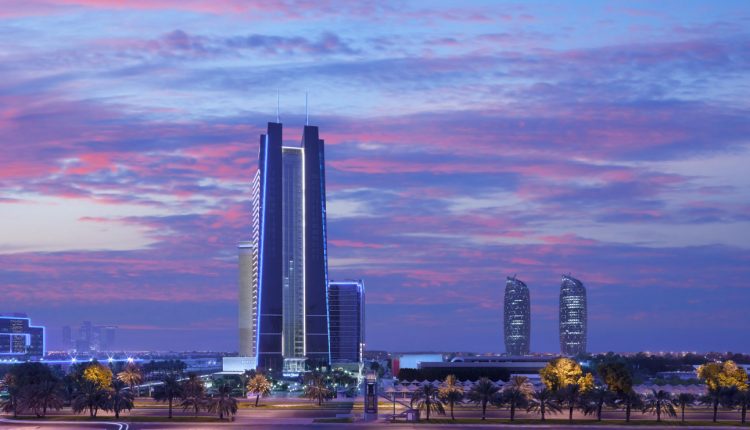 By Nicole Brewer
Greetings globetrotters! I recently returned from a fabulous weekend getaway in Abu Dhabi last week after the EID holiday. There is so much to see and do in the UAE capital, from riding the fastest rollercoaster in the world at Ferrari World to having high tea at Emirates Palace. I had the pleasure of staying at the gorgeous Dust Thani Abu Dhabi for a couple of days during my stay. Dust Thani offers Thai luxury and decadence in the heart of Abu Dhabi.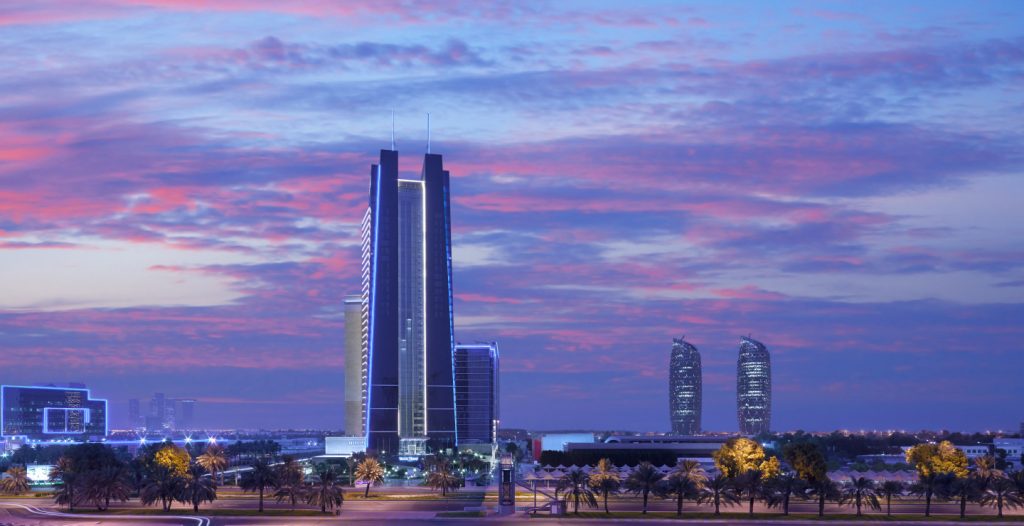 The hotel is centrally located just 10 minutes away from the Abu Dhabi Corniche, the Sheikh Zayed Grand Mosque and additional leisure activities are also nearby. It is ideal for not only business travelers with it's huge conference rooms and meeting spaces, but  also for tourist from near and far due to the luxurious amenities and facilities that it offers on the grounds. Be blown away by the hight lobby ceilings, which is one of the largest hotel lobbies in the region. Dusit Thani offers a calming and beautiful decor, along with a pleasant staff with traditional Thai graciousness.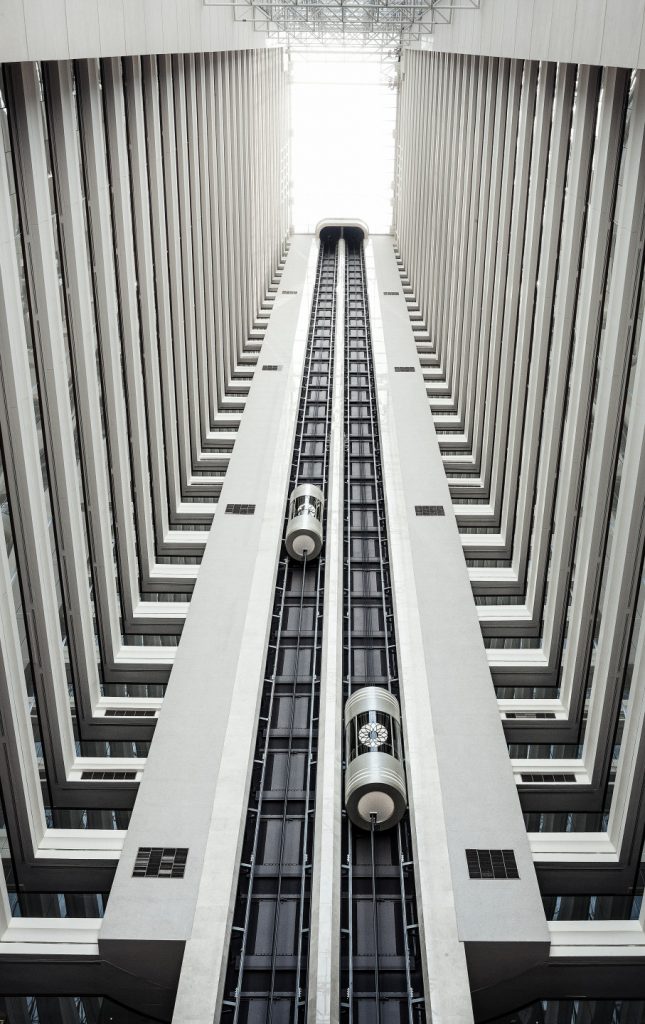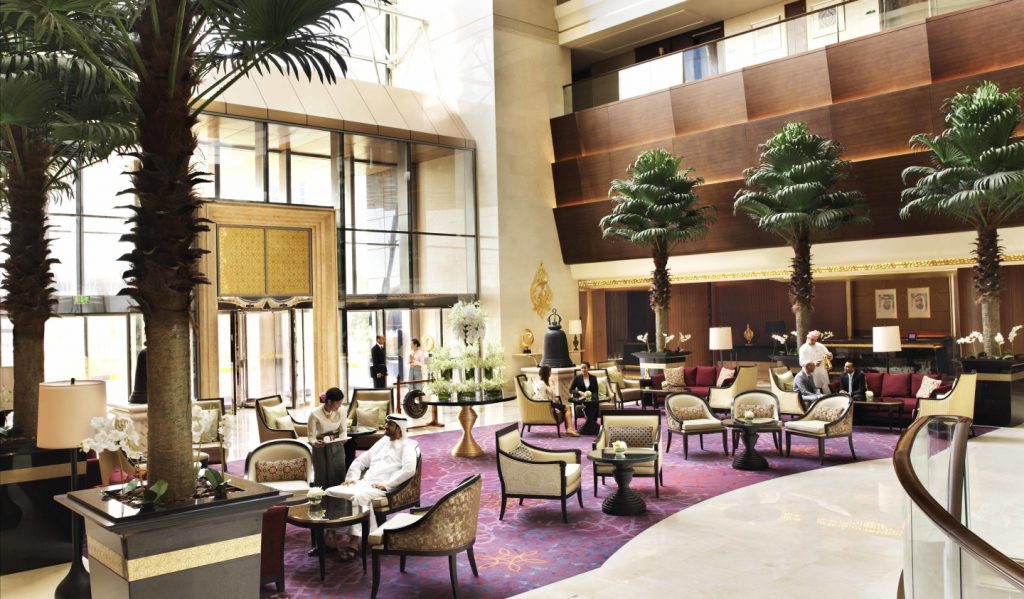 Upon arrival, I was taken to the dusit club on the 35th floor for the checkin procedures. I was greeted with a cool glass of tea and a cool refreshing towel. To my surprise, my suite was located right on the club floor with a fantastic view of the city skyline. Enjoy daily continental breakfast, afternoon tea and coffee, evening drinks, all day snacks and refreshments with dusit club lounge access. Once I entered my room, I felt totally relaxed and happy. In addition to the comfortable and huge king sized bed, I couldn't wait to soak in the deep-seated bath tub. The rooms offer luxury and modern amenities such as complimentary high speed internet, a huge flat screen TV and plush bathing accessories.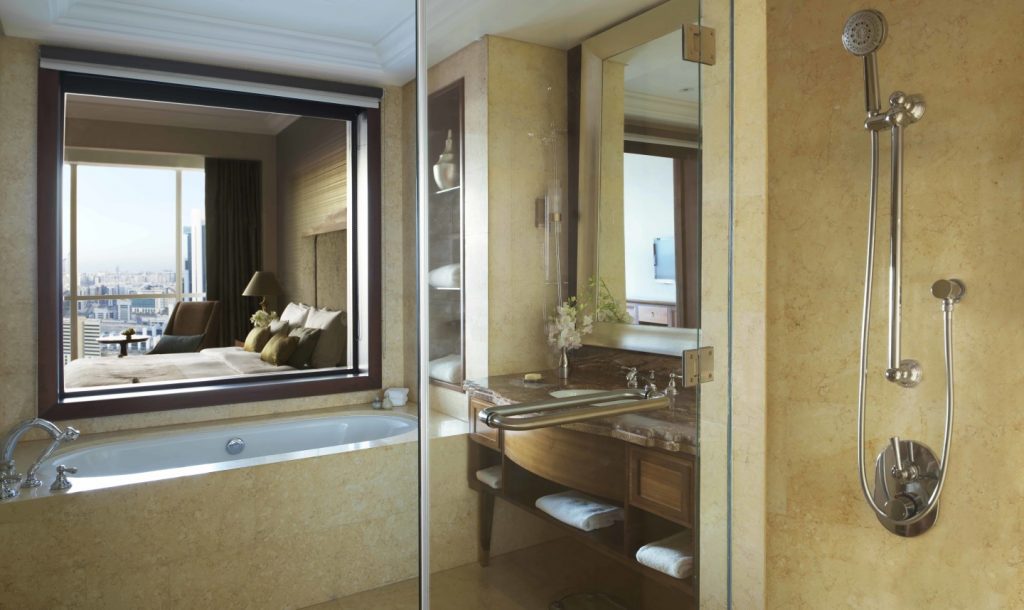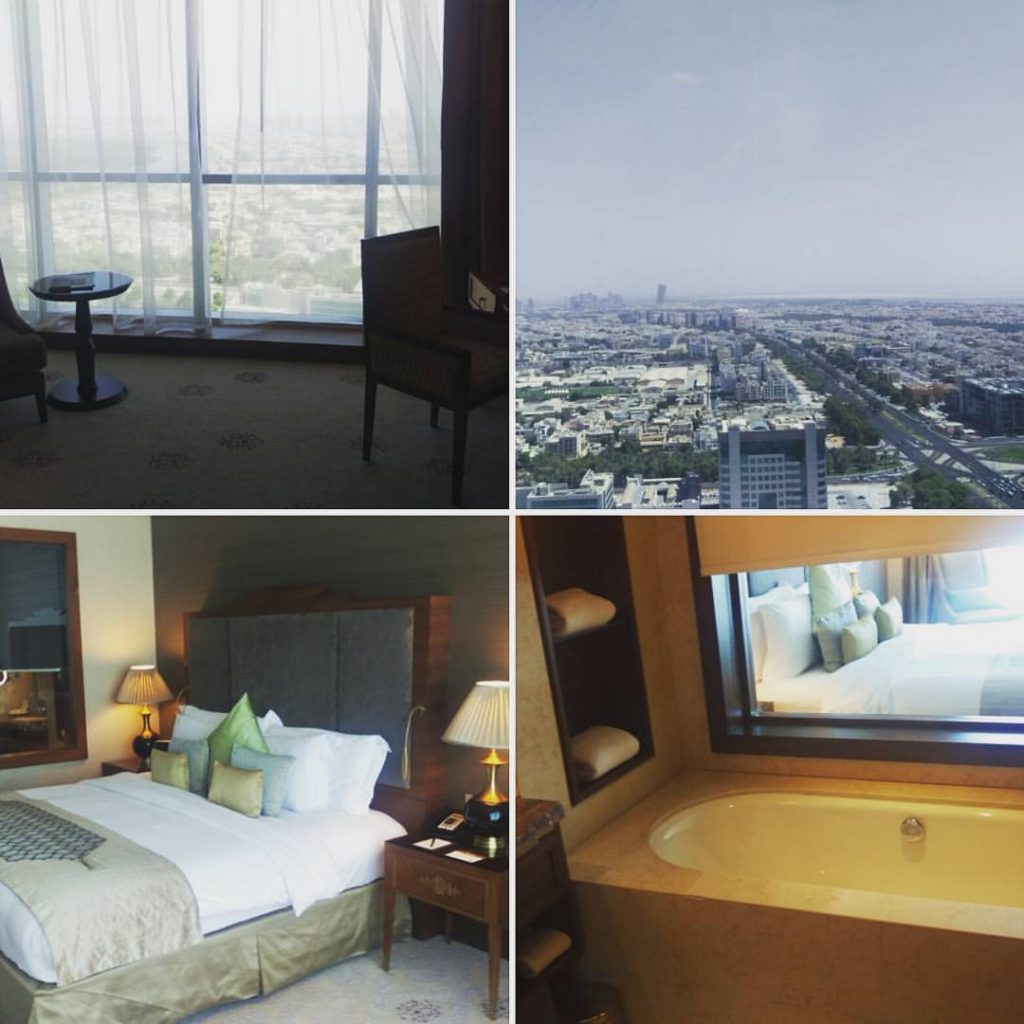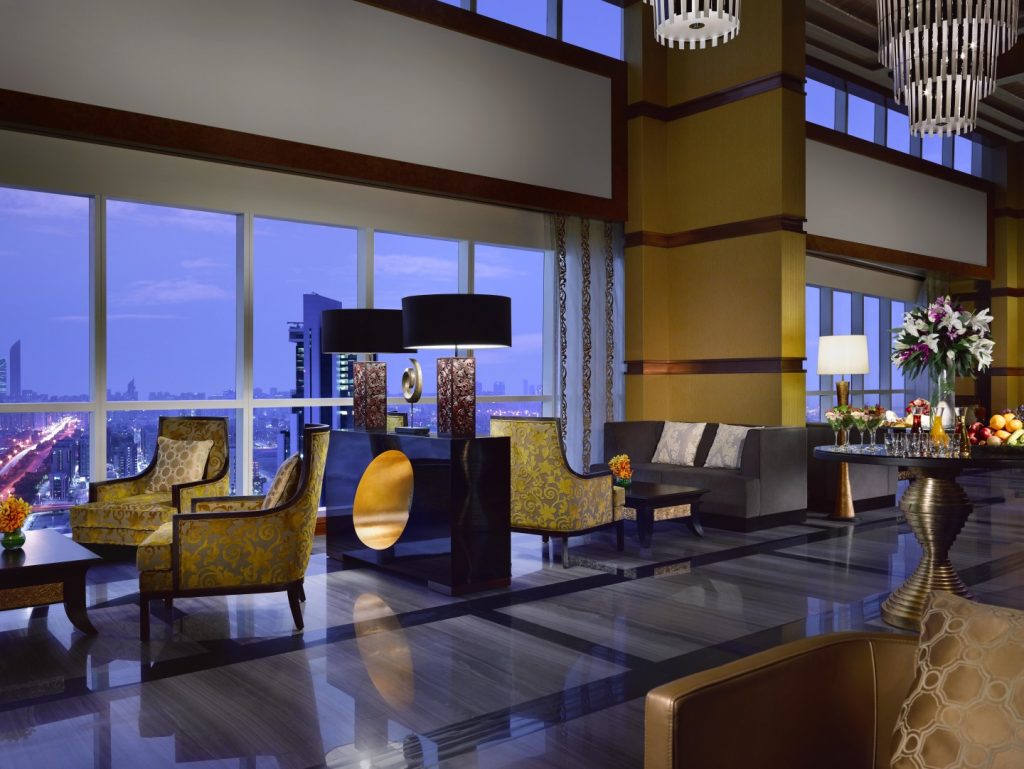 The hotel plays host to a variety of wellness facilities and services, including a rooftop outdoor swimming pool, traditional Thai treatments at Namm Spa, personal training by a personal trainer, spinning and yoga classes at DFiT fitness centre, which features Ganesh, one of the best yoga instructors in the area. Additionally, it features unique designs with a spellbinding conference and events center that has a dynamic glass-panelled Skydome. These features makes Dusit Thani Abu Dhabi the perfect venue to host amazing cocktail receptions or a wedding. Additional bonuses include the wedding planning hall that is onsite and even a cigar lounge for the groom to celebrate.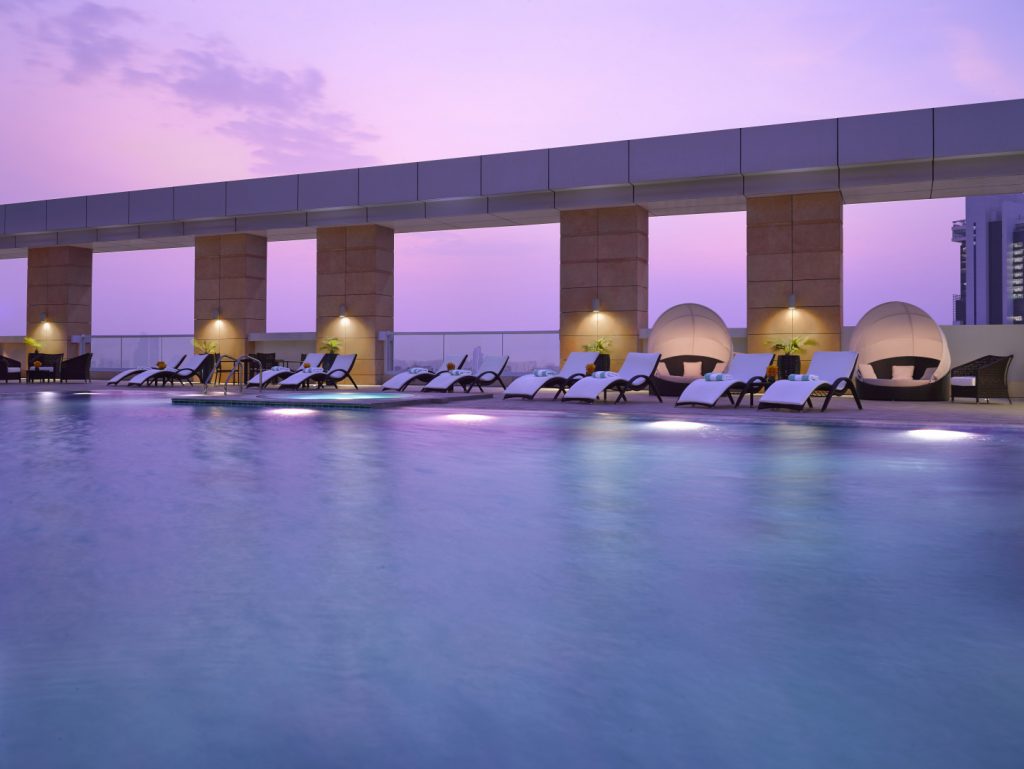 While my ultra busy schedule from the weekend did not permit for me to dine in one of the fine dining restaurants that the hotel offers for dinner, I was able to enjoy the morning continental breakfast that offered an array of dishes for people from various cultures. Eat delicious foods from freshly made omelettes to Arabic treats.  Guest have various restaurant options such as contemporary food at Urban Kitchen that offers weekly barbecue and seafood theme nights; the Capital Grill which is the perfect choice for meat lovers to enjoy "all you can eat" 72-hour cooked Australian grass fed briskets or delight on traditional Thai cuisine like Tom Yum chicken and sticky rice with mango for dessert at Benjarong.
A stay at Dusit Thani will offer you an enriching Thai experience, with Middle Eastern luxury and comforts allowing for a fusion of the best of both worlds. I can highly recommend a stay here, you won't be disappointed. Enjoy globetrotters and as always, happy globetrotting.
**Disclaimer: Please note that a hotel review stay was offered by Dusit Thani Abu Dhabi. All views and opinions are my own.**