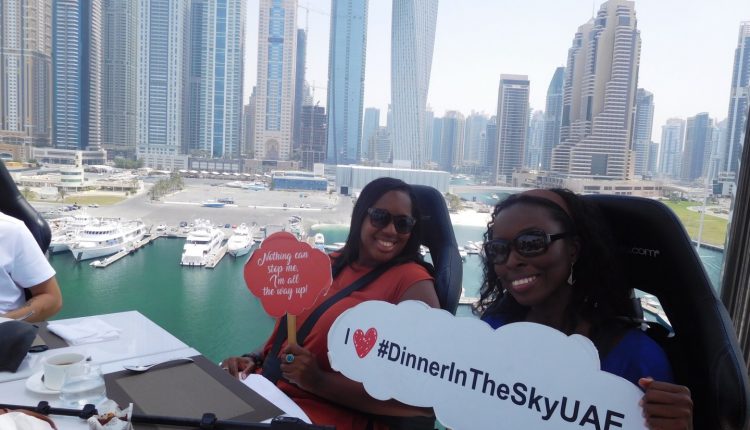 By Nicole Brewer
Greetings globetrotters! The other weekend I enjoyed another fabulous getaway to Dubai. What made it so fabulous you may ask? Well, the fact that I was able to have brunch suspended in the sky from a crane helped to make it enjoyable! Dinner in the Sky UAE is one of 40 available dining experiences of its nature available to the thrill-seeker looking for a unique fine dining experience.
The staff makes you feel like royalty as you grace the red carpet in order to be belted into our seats before being hoisted up in the sky. The staff also made sure to go through the safety procedures with us as well. It is an unique dining experience like no other. I opted for the brunch in the sky option, as I had a full day of events planned ahead. Dining options are available for breakfast, brunch, lunch or the famous 'dinner in the sky' but of course. It was a gorgeous day to overlook yachts, glorious beaches and the amazing skyline at the marina in Dubai.
For brunch, we dined on a scrumptious and filling choice of muffins, croissants, scrambled eggs, chicken sausage and hash browns…all while taking in the glorious views and listening to hip tunes. The staff were very accommodating, taking a host of pictures of us and making sure that we had enough tea, coffee, juice or water to consume.
Dinner in the sky was recommended by Forbes as one of the 10 most unusual restaurants in the world, so of course its a dining experience that others pale in comparison! The views were magnificent and I couldn't stop taking pictures for a bit…but had to in order to enjoy the great food! Time flies when you're having fun and that was surely the case in this instance. I wish it could have lasted a bit longer, but that just means that I need to return back in the fall once it starts back up in October for another fabulous dining experience with Dinner in the Sky UAE.
Due to the soon to come scorching temperatures, Dinner in the Sky UAE will be taking a hiatus during the summer months. Nevertheless, I highly recommend any GTs planning to trot to Dubai in the fall or winter to check out this awesome dining experience. You won't be disappointed!
***Disclaimer: I was offered a complimentary dining experience with Dinner in the Sky UAE in exchange for a honest review. All views and opinions are my own.***