By Nicole Brewer
Happy Easter Sunday GTs! So yesterday I decided to hop on a train back to Aachen, Germany to enjoy one of my favorite past-times from my days in South Korea, bathhouses and spas! Yes, I was informed that Aachen Germany is home to some of the most amazing spas and saunas throughout the land so I thought what better to enjoy my holiday weekend then soaking in pools and relaxing in sauna rooms… oh what joy it brings me! I decided upon visiting the massive Carolus Thermen Spa located at Passstraße 79, 52070 Aachen, Germany.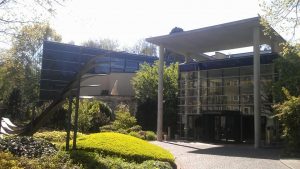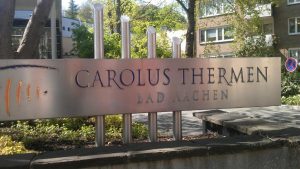 After figuring out exactly how to commute to the spa once I made it to Aachen (I got a little turned around finding the bus #34 which is the best option to drop you off right down the street from the spa), as soon as I walked into the lobby I Knew I was in for a treat.  For the price of 12 Euro you can relax in the pool area for a few hours which was my original plan. Nevertheless, I knew I'd be doing myself a dis-service as a sauna and bath-house loving globe-trotter if I didn't splurge an extra 10 Euro to enjoy the glorious indoor and outdoor saunas as well. Needless to say, it was Worth it! However, one must not be shy if they are going to partake in the sauna area of this fascinating spa.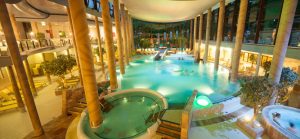 Clothing is not allowed in the various sauna rooms including a meditation area, a range of sauna temperate rooms and a huge outdoor swimming pool. Once I tapped my bracelet to enter the sauna section I was greeted by a naked woman in the shower who could see my confusion once I saw a naked male patron walk out the shower to grab a towel and then enter in the main area of the sauna. I attempted to converse with her to ask, "sooo the saunas are shared with male and female guest?" She smiled, grabbed a towel and showed me what the set-up was like. There is a dining area of restaurants, a couple relaxation rooms with nice, big cozy reclining chairs and books to read through, foot spas and fancy styled sauna areas that would give my beloved Spaland in Busan, South Korea a run for it's money!
So once I ventured to the outdoor sauna houses and strolled around on my own, I was slightly taken aback to see so many males walking around so freely. Not that it was a bad sight at all, just a little shocking at first lol ;-).  After I entered my first sauna and saw several women relaxing as well with the men, I became more at peace with the environment. It surely wasn't my Korean style saunas of yesteryear in Busan that offered cute little shorts and shirts to wear in the communal sauna and relaxation rooms but it was such a gorgeous and relaxing environment it totally made sense.
It felt like the times of Adam and Eve in the gardens. I even sat (with my towel nevertheless) out in the outdoor tepee looking structure with a nice warm fireplace. This place had Everything to set your mind at ease! Once I ventured back indoors, I let my feet soak in the warm foot spa and chatted it up a little bit with some nice Asian girls.  At first I thought they were Korean until I overheard the language and realized they were Chinese.  We sat aback and took in the views in the glass walkway as people walked outside and whipped off their towels with such free determination.  It was an experience for the record books indeed, one that I wouldn't mind having again while I'm still here in Germany ;-).