By Nicole Brewer
"This is what heaven must look like" stated my fellow classmate studying International Humanitarian action here in Germany with me. Well I most certainly agree. Yesterday seven bus loads of university students around Germany trotted over to Holland to admire the glorious flower fields and annual parade that transcended down the streets throughout the region May 3rd, 2014.  The undeniably gorgeous gardens of Keukenhof boasts over  7 million tulpis and other bountiful flower displays throughout the park.  A trip to Holland would not be complete with out visiting what is stated to be the most beautiful spring garden in the world per Visit Keukenhof.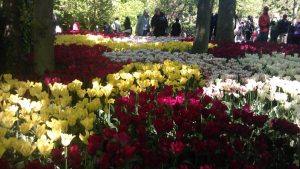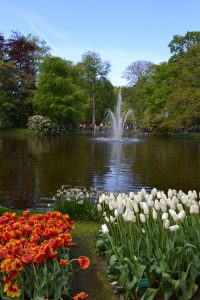 I'm very excited to had the opportunity to see these spell-bounding spring gardens in person while studying in this region, along with a couple of classmates.  We managed to take in most of the parks settings, viewing the varied floral arrangements and swains in the lakes before heading over with the mass crowds to witness the Flower Parade!  The gardens play host to various flower shows such as an orchid show, Japanese garden and educational displays as well as exhibitions about flower bulbs.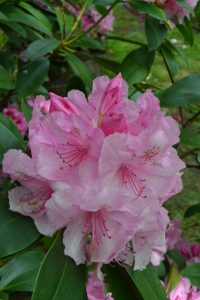 While the weather was a tad bit chilly, it was awesome to see the floats and cars decked out in huge, colorful flower displays go down the city streets of Lisse, just between The Hague and Amsterdam. Shortly after the parade ended, we had a quick bite to eat at the Wilhelmina cafe. I enjoyed a scrumptious plate of fish and mashed potatoes, giving me just enough sustenance to finish my trek through the glorious gardens before heading back to Germany with our student tour group.  Check out the stunning images I was able to view while trotting to Holland globe-trotters. Enjoy!