By Nicole Brewer
I recently had the opportunity to stay at the elegant Anantara Al Jabal Al Akhdar resort here in Oman. Anantara Al Jabal Al Akhdar Resort is nestled on top of the "Green Mountain" Jabal Akhdar, a hiking treasure trove of a destination for the outdoorsy types. Anantara Jabal Akhdar boasts being the highest five star resort throughout the Middle Eastern region. With it's dynamic sweeping views and luxurious accommodations, it is a resort like no other that deserves an array of eyes laid upon it from around the globe.
The resort is home to 115 luxurious rooms, including deluxe canyon view rooms, garden pool villas and even several cliff pool villas. I stayed in a deluxe canyon view room with a glorious balcony to take in the sweeping mountain views at sunset and sunrise. My suite featured a mini bar, an espresso machine, huge LED TV, internet access, a massive separate bathtub and even a yoga mat.
The staff thought of everything to make your suite feel as cozy as home, including a special selection of bath crystal salt and a soap menu of luxury soaps like cedar wood and ginger flower. The rooms all have traditional Omani styled features, from the decorative lights to the wooden furnishings.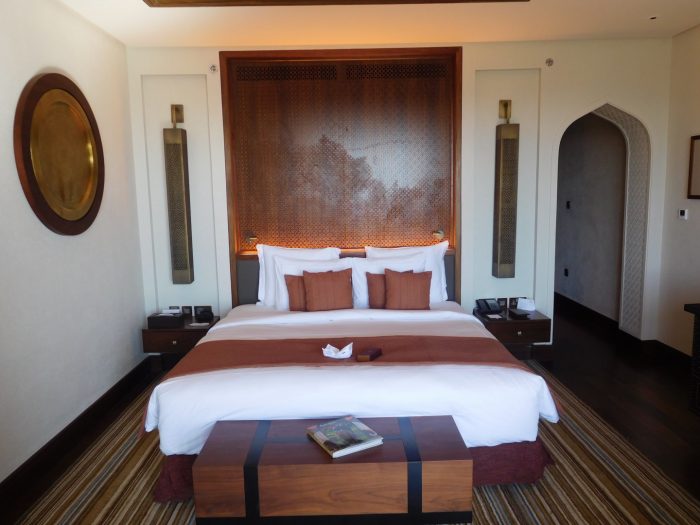 One of the things that I loved about Anantara Al Jabal Akhdar was the host of facilities that are available for all in the family. I was quite impressed to see that they not only have the Asfour Kids Club for the little ones, but also a separate Jabal Teens Club for teenage children. They took to heart that it's indeed a holiday for all in the family, with allowing young kids their own space for play and a cool hang out spot for teenagers including board games, pool tables and even a Xbox.
The resort also is home to several fine-dining restaurants as well. I delighted on decadent dishes at the all day dining venue Al Maisan for breakfast, which features several live cooking stations. The location is perfect for viewing the canyon and beautiful aesthetic of the resort setting. It also has the Al Burj Lounge which offers coffees, teas and a light menu of Spanish tapas. My favorite restaurant however was Bella Vista, which overlooks the stunning infinity pool. It features a huge selection of Italian favorites like gnocchi and the most divine tiramisu.
For those that want to immerse themselves even more into the dining experience, the resort also offers Spice Spoons. This gives you the opportunity to immerse yourself in the local Omani heritage and cuisine. Guests are taken on a visit to the Nizwa souk, a private tour of the chef garden and allowed the chance to learn a series of traditional dishes.
Additional unique activity experiences include a hike on the Jabal Activity Wall! This was one thrilling experience that I will Never forget. Guests can explore the Hajar mountain range with trained professionals, either going by foot, using ropes and harness or by propelling down the mountainside with the highly trained professionals going step by step with you. If you are brave enough, you can also descend down upon the Via Ferrata steel cables as well. Enjoy stunning views while abseiling down the majestic mountainside.
If pampering luxury is more your speed, then don't fret as Anantara Jabal Akhdar is host to an amazing spa that is rooted in Thai philosophy with a touch of Middle Eastern delicacies as well. The Anantara spa boasts five luxurious spa treatment rooms, a private hammam, a beauty salon, aroma sauna room, salt steam rooms and private indoor relaxation bed chambers. I absolutely Loved the experience showers, which consisted of a relaxing color show and soothing sounds of nature like rainfalls after my pampering massage by the masseuse.
I completely recommend a stay at the luxurious 5 star resort Anantara Al Jabal Al Akhdar. They know how to make their guests feel like royalty in the most glorious setting. I hope to have more globetrotters come visit me here in Oman because beauty indeed has an address here and one of them is at Anantara Al Jabal Akhdar Resort! Enjoy GTs and as always, happy globetrotting.
***Disclaimer: Please note I was provided a free stay at Anantara Al Jabal Al Akhdar Resort for an unbiased review. All opinions and statements are my own.***