By Nicole Brewer
Last weekend I had the pleasure of globetrotting to Ras Al Khaimah, UAE for the first time GTs. I've visited the Emirates on numerous occasions, but this was a first in order to have a weekend escape at Al Wadi Desert, a Ritz-Carlton Hotel. I must say that it was indeed worth the hour venture outside of Dubai to soak up the luxury offered at this 5-star resort in Ras Al Khaimah.
Al Wadi Desert, a Ritz-Carlton partnered hotel, is located in an incredible desert oasis. The luxurious resort features 101 private villas, each adorning its own private pool, sun beds, and loungers. Al Wadi Desert is the perfect option for a family retreat or a couples weekend getaway. I thoroughly enjoyed luxuriating by the stunning infinity pool, while watching the game such as an Arabian oryx passing by in the wild.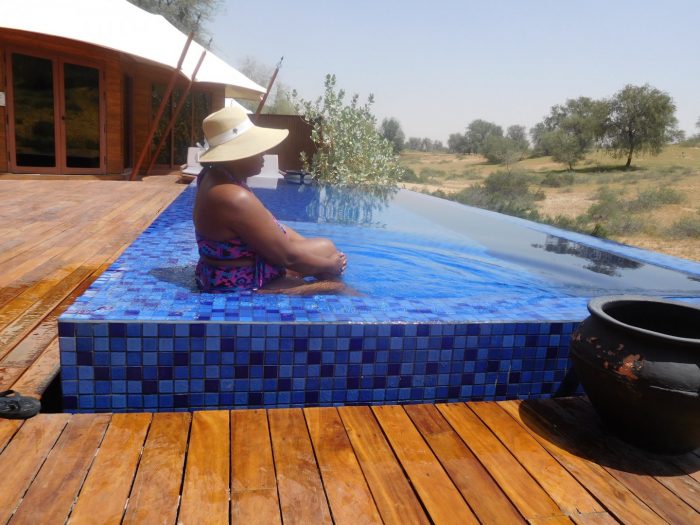 My villa featured a huge soaking tub for relaxing in the evenings after a full day out and about around the resort facilities. The Bedouin-inspired tented villa also boasts fantastic woodwork around the exterior and deck, complimentary Wi-Fi, a huge living area and an incredibly relaxing king bed. The 2723 SQ FT villa can accommodate up to 3 adults or 2 adults and 2 children.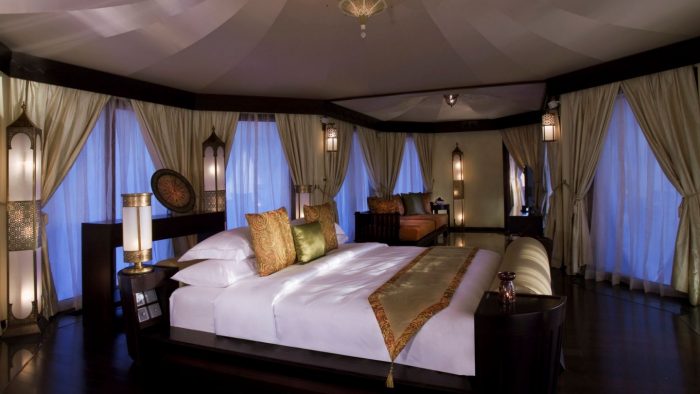 The resort also offers a host of amenities and activities for those that want to unwind or enjoy nature that is inhibited throughout the area. I experienced one of the Most relaxing spa experiences ever called "The Rainforest." It consisted of moving through 14 rooms of calming baths, saunas, hammams, foot baths and a soaking pool area. I followed up The Rainforest with a soothing Balinese massage. It was the ultimate way to relax in this pristine setting.
I was also pleasantly delighted by the selection of food at the dining establishments throughout Al Wadi Desert, Ras Al Khaimah. A massive breakfast buffet was available daily at Al Waha restaurant, including international and Arabic delights of fruits, vegetables, and pastries.  The resort also offers amazing dining options such as having your meal on the sand dunes or at the Tower with private dining looking out over the desert. I had a great Indian meal at the exclusive Safran restaurant, overlooking a waterhole with desert animals enjoying the breeze from the nearby stream.
The list of activities available at Al Wadi Desert was ongoing. I enjoyed a walk around the horse stables viewing the rare breeds that were available for riding. Children can also have an exhilarating ride on a pony around the stables. The desert oasis of Ras Al Khaimah also offers a nature reserve filled with activities including archery, bike riding, bird watching, nature walks with handy guides, and a family friendly falcon show! Al Wadi Desert, Ras Al Khaimah a Ritz-Carlton Hotel is the perfect choice for a relaxing getaway from its big brother Dubai, being located only 45 minutes away. I highly recommend a stay here globetrotters for your next venture to the area.
***Disclaimer:  A portion of my stay was complimentary in exchange for a review. All thoughts and opinions are my own.***