By:  Chantal Blake
Located in The Pearl, Doha's premier residential and commercial development, Marsa Malaz Kempinski sits like a regal throne fit for royalty. As an ultra-luxury resort on a secluded island, it exceeds the imagination in its variety of services and detailed aesthetic. Both artistry and attention are evident in unique characteristics like clustered oyster shell-shaped chandeliers, brass plates adorned with Arabic calligraphy, and an enormous exotic fish tank in a staircase base.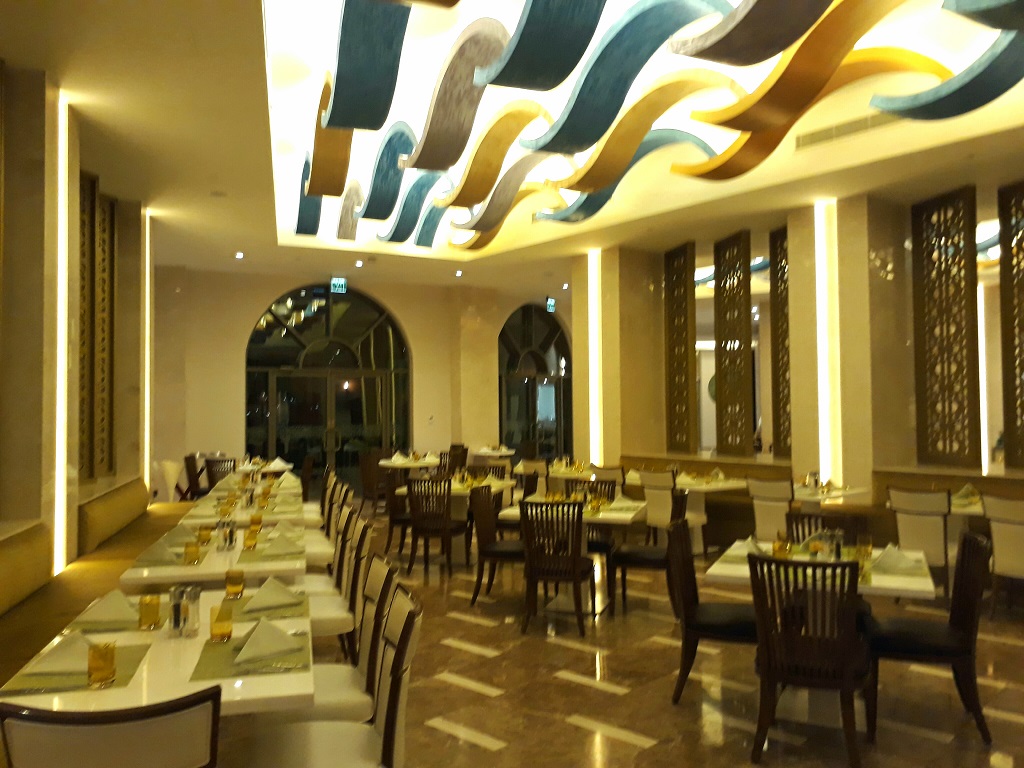 Most fascinating to me was meeting the brand's signature Lady in Red or Ms. Rawan, in my case. She greeted my family and led us to Sawa Restaurant where we were aptly put in the Executive Chef's hands. Mr. Vinon prepared a custom vegan meal, as per our dietary preference, and took us around the world in five courses, showing the truly international range of the restaurant's offerings.
While the ingredients of each dish were familiar, the flavors and presentation were not. Each course was like being reintroduced to an old friend in an exciting new way. Far Eastern dishes on the menu included Spicy Maki Rolls, Garlic Roasted Edamame Beans (the best I've ever had, by the way), and Soya Marinated Tofu. Europe was just as present on our palate with a Smoked Eggplant and Avocado Timbale (my favorite dish of the evening), Quinoa Risotto, and Braised Sauerkraut, a German favorite as stated by my server Mr. Rene. Mr. Vinon gleamed with pride when he shared that the cabbage for this dish was grown on the grounds in his garden.
The only hint of Indian cuisine, which is usually over-represented in regional vegetarian options, was the Cilantro and Green Pea Soup. At first my shallow soup bowl had only a dollop of fresh tomato chutney in its center, but then my server slowly poured the creamy coconut-milk based broth until it swallowed the tiny red island. It was richly delicious and savory.
Many chefs and food enthusiasts confess that their greatest challenge in accommodating vegan diets is dessert. However, Mr. Vinon wowed us by serving three options: a safe seasonal fruit salad, an extraordinary pineapple carpaccio with fresh berries, and an indulgent dark chocolate mousse. I intentionally saved room for this course and left feeling sinfully full. My recompense the next morning was a light breakfast of tea, nuts, and fruits, but I was still sated by the previous night's feast and didn't mind one bit.
With many thanks to Marsa Malaz Kempinski for hosting my meal.
All opinions are my own.