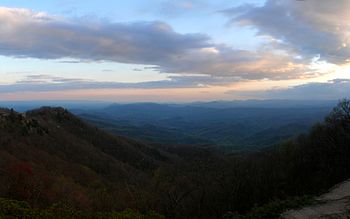 By Nicole Brewer
When many think of North Carolina, they mention Charlotte or Raleigh. However, tucked away in the Blue Ridge Mountains is a quaint little town called Blowing Rock that will blow tourists away with its Southern charm. While there not be as many things to do or places to see in Blowing Rock as there are in its big brother cities, that does not take away from its charm and sophistication. If you are looking for a different kind of getaway while visiting the Blue Ridge Mountains in North Carolina, then consider a stay at one of these unique boutique hotels in the area.
Have a Family Friendly Stay at Alpine Village Inn Hotel 
The family owned Alpine Village Inn is a quaint gem of a hotel in Blowing Rock. The affordable hotel prides itself on southern hospitality and cleanliness that will have you recommending Alpine Village Inn to your friends after a stay here. It features a relaxing gazebo with rocking chairs, views of the surrounding mountains, and a beautiful country garden. Rooms offer a fireplace, antique furnishings with decorative quilts, and a jacuzzi for soaking after a long day.
Classic Style at Affordable Prices at the Green Park Inn
The Green Park Inn is perfectly situated for getting to the Blue Ridge Parkway. The Green Park Inn is near many attractions and adventure activities such as skiing, hiking, and golfing. It has played host to numerous famous guest such as Annie Oakley and Calvin Coolidge. The hotel features a complimentary breakfast daily, a fitness center, and two conference spaces for hosting events. Room amenities include traditional-styled furnishings that are proudly made in America, flat screen TVs, and high-speed internet.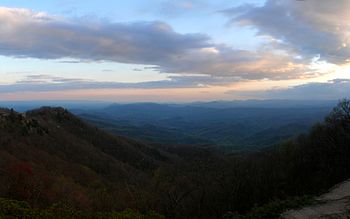 Near sunset, looking southeast over the foothills region from the crest of the
Blue Ridge at Blowing Rock. Photo credit: Wikipedia)
Old-School Hip Designs Abound at Cliff Dwellers Inn
Have a rocking good time at this 60s themed inn. The Cliff Dwellers Inn is a star standout in Blowing Rock due to its hip designs. It gives access to 469 miles of scenic mountain meadows, allowing guests to enjoy nearby activities such as zip lining, horse-back riding, skiing, and golf. The hotel features an observation deck and storage facilities for ski equipment, kayaks, and even bicycles. Rooms include fireplaces, flat screen televisions, and jacuzzis for relaxing after a fun-filled day out playing sports.
Retreat to Family Friendly Hillwinds Inn
Located in downtown Blowing Rock, the Hillwinds Inn is a great location for families. The pet-friendly hotel is near numerous galleries and shops. It features a complimentary continental breakfast served daily at the Inn's Swedenborg Lodge. The lodge features a flat-screen TV, two fireplaces, and gorgeous décor with hardwood floors and an outdoor patio. Room amenities include traditional furniture and large living rooms. One of the suites also includes a temperature-controlled wine refrigerator and a jacuzzi.
Countryside Charm Available at Ridgway Inn
The Ridgeway Inn is situated near the Blue Ridge Mountains and offers numerous amenities including boutiques, galleries, and award-winning dining. The hotel offers a daily complimentary continental breakfast at the inn's Wauhonhasee Lodge. Rooms feature TVs and high-speed internet. Guest can choose between two cottage options which include a jacuzzi, a fireplace, and a private sundeck for lounging.
**This is a sponsored post opportunity via Hipmunk with their #HipmunkHotels Project. The content is my own.**