By Nicole Brewer
It's that time of year again GTs! I'm so excited to be counting down the days until I trot back to USA for summer vacation. It's been a long semester in Oman and am patiently (well maybe not so patiently) awaiting the time until I am reunited with my family. Once the end of June approaches, I will be venturing to Europe for 2 weeks trotting around Greece and Turkey with my business partner Renee, who is meeting me from Australia. We may even get a chance to link up with other globetrotters from the iluv2globetrot travel community too!
After spending a bit of time in Europe, then I will Finally be heading back to Atlanta to visit my family. I had a great time staying in Savannah last summer with my mom and as mother day approaches back in USA, I'm ultra excited to have recently purchased our mother/daughter summer trip flights to Florida!
White sandy beaches and cold drinks await my mother and I in gorgeous Miami, Florida in August. I'm in the process of researching possible Florida vacation packages  for our time there. Initially we considered doing a cruise but it dawned on me, why not just enjoy the beauty that this gorgeous state has to offer. You don't always have to leave the country for a good time and luckily my mother agree with me.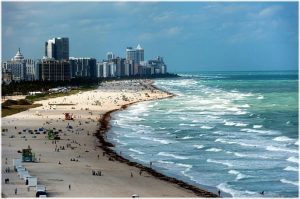 Adventure 
I'm sure we'll find plenty of things to do other than lounging on the beach during our time in Florida. With escapes available like swimming with the dolphins and going on a tour of the Everglades by plane! Hopefully my mom is up for seeing the mangroves and alligators in the cypress swamps!  I'm totally looking forward to hitting Miami this summer for the first time and with my mom at that for a much needed mother daughter trip.
Dining
I'm sure we'll spend a considerable amount of time on South Beach, hopefully we'll run into some celebrities like Robert DeNiro while checking out Nobu hotel and restaurant for some fine dining and fun under the sun! We can't spend all of our time laying on the beach (or can we that will be determined at a later date lol).
Mmm, also the thought of Cuban food makes me happy so would love to dine at local staples like Puerto Sagua or the Havana 1957 Cuban Cuisine on Espanola Way, which features delicacies such as their speciality Especialidad de la casa or roasted chicken in a Cuban gravy. While many will be trotting off to Cuba for the first time soon on a cruise or tour, I'll be enjoying some Cuban eats right in Florida.
Hotels
Now in the final phases of planning our Florida escape, the Really fun part for me boils down to where to stay? Everyone that follows I Luv 2 Globe Trot knows I love a good luxury hotel or resort. I know there are plenty of options in Miami Florida from Eden Roc to Lowes Miami Beach Hotel. I will run a few more ideas past my mom and see where the wind takes us soon. Ahh, Miami Florida can't wait to see your beautiful beaches this summer!