By Nicole Brewer
Two weekends ago I had the pleasure of trotting to Bangkok, Thailand for the TBEX Asia travel conference. I was spoiled with Thai hospitality on numerous levels, at the conference and during my free time excursions. The massage that I received at Divana Med Spa Bangkok was divine and the meal that I ate at Oriental's Sala Rim Naam Restaurant was unforgettable.
I was fortunate enough to indulgence at RarinJinda Wellness Spa, which is one of Thailand's leading wellness spas with locations in Bangkok and Chiang Mai. RarinJinda Wellness Spa has been voted 1 of the 8 Best Luxury Spas in the World by Agoda travelers, as well as it received the distinction as the Best Luxury Destination Spa at the World Luxury Spa Awards 2012. So you know I was extra excited to get a treatment at such a renowned spa.
I visited the RarinJinda Wellness spa, which is located on the 30th floor in the Grand Centre Point Hotel at Ploenchit station in Bangkok. The spa offers a great view of the city and an even more welcoming feel to the relaxing atmosphere. The staff were exquisitely dressed and seated us before our treatments for a cool refreshing towel and fresh lime juice.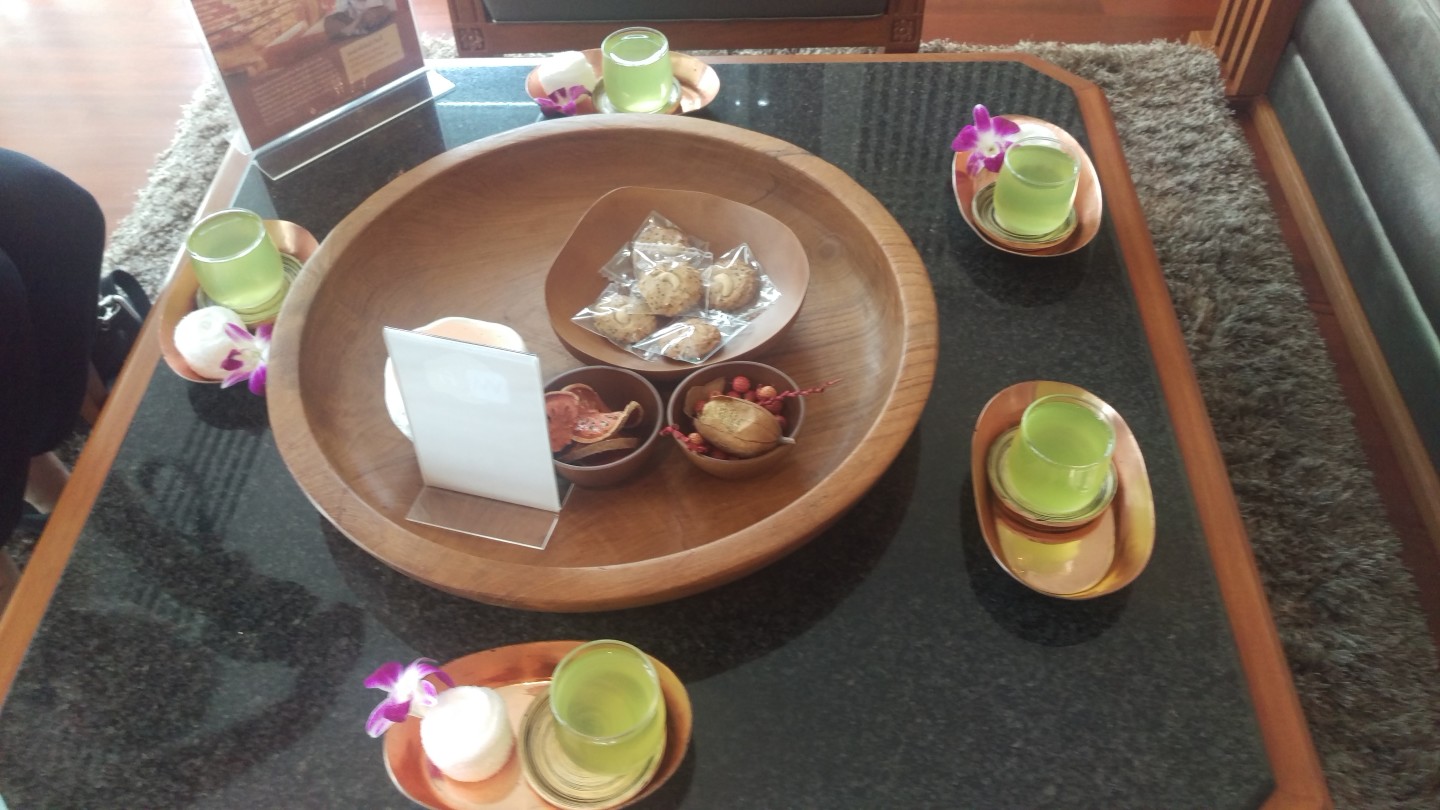 RarinJinda Wellness Spa offers a variety of massage packages and services. From hydrotherapy and steam sauna rooms to classical Thai massage, you will have your pick here. We were offered the infrared sauna treatment, in which we were able to sit in a sauna room with infrared heaters that emit infrared lights for an enriching experience for our skin, as the radiant heat is absorbed into your skin.
After the relaxing infrared sauna room and a quick shower, we moved on to experience the new  Siamese Himalayan Salt Therapy package in the three-sided Himalayan Salt Room. We laid on the floor in the traditional Thai style after changing into the comfy outfits that were provided for us in the prior room, then for an hour had a masseuse to relax our weary muscles. Be prepared for a bit of stretching and bending, which was obviously necessary in my case as I could surely feel the sensation in my joints and limbs. You will experience the benefits of Spleotherapy after receiving treatment in the Himalayan salt room.
We were escorted back to the lobby area after our massage treatment to delight on a traditional Thai snack of mango and sticky rice, that came covered with a touch of coconut cream. When I tell you that it was so good. I am indeed a fan of this Thai delicacy and totally recommend it if you are trotting to the region. In the end, I can advise that you will have a splendid massage experience at RarinJinda Wellness Spa if you are heading to Bangkok or even Chiang Mai globetrotters. Enjoy and as always, happy globetrotting.
***Disclaimer: I was offered an opportunity to review RarinJinda Wellness Spa as part of a TBEX blogger day trip. All opinions expressed are my own.***