By Nicole Brewer
This past weekend was incredible in Bangkok, Thailand. I attended the TBEX Asia travel conference and was able to not only network but fellowship with various heavy hitters in the travel blogosphere and travel writing industry. I heard from greats like Tim  Leffel and my award winning photography friend Lola of GeoTraveler's Niche. It was a great opportunity to learn from experts in the field, as well as network with travel related companies and brands.
I was fortunate enough to partake in some spa relaxation during my little down time as well. I thoroughly enjoyed having a signature spa experience at Dii Wellness Med Spa, which is apart of the Divana spa brand. The luxurious spa is located within one of the prime shopping malls in Bangkok, the Central Embassy, which plays host to top brands like Alexander McQueen and Gucci.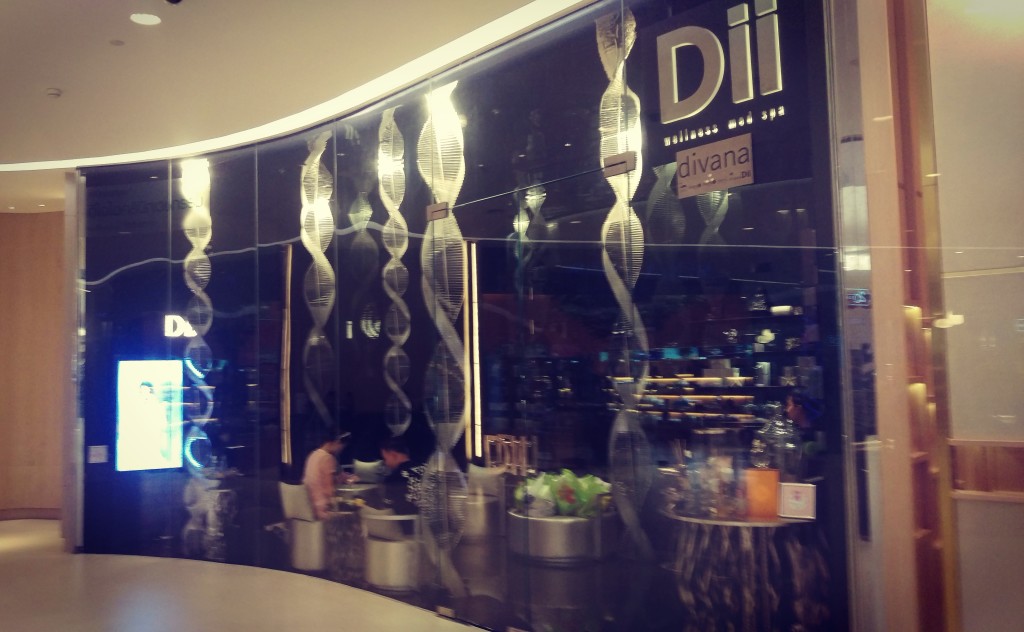 As soon as I entered the Divana Wellness Med Spa, I knew that I was going to be in for a treat. It offers such a calming atmosphere and vibe, with cool funky designs. My new blogger friend Melinda and I were greeted in the traditional Thai style, with a smile, folded hands and Sawasdee Ka for hello. We proceeded to take a seat in the comfy seats, while an employee brought us fresh juice and cold refreshing hand towels. The drink was delicious and hit the spot, before we commenced to fill out the health form questionnaire.
After we wrapped up the formalities and paperwork, we were escorted to the back room for our massage package. I was at first wondering, why is this lady requesting for us to close our eyes upon entry into the back room (Uhh oh…what is about to happen?) lol. Nevertheless, it just added to the excitement of the experience. Once my eyes opened, I was just like wow. This is a first, a true experience of luxury and indulgence, with the gorgeous glowing lights in the ceiling which showed me that I was on my way to have an amazing Thai spa experience. Divana Med Spa is for sure one of the most luxurious spas in all of Bangkok, so I felt pretty darn blessed to be able to have this magical experience.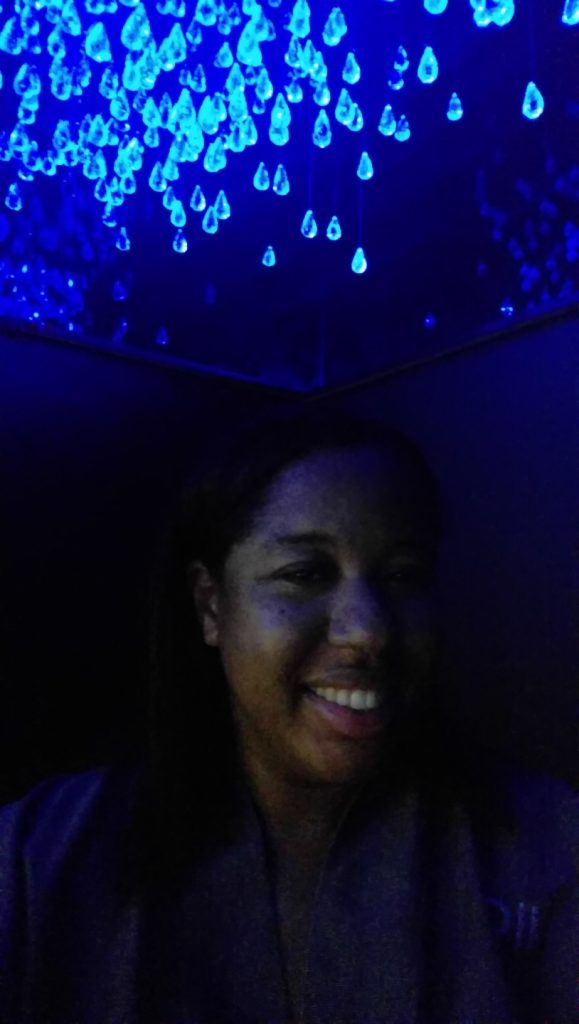 Divana Med Spa offers loads of divine spa packages to choose from in order to rejuvenate the skin and detoxify impurities, like the Empress of the Sea, which features Anti Age Golden Pearl Body Scrub; Ashiyu Foot Therapy; Radio Frequency Ultra Body Lifting Champagne Foam Anti Age Body Soak and a Dead Sea Purity Ocean Bath. It seriously doesn't get more luxurious than that! We were offered the signature spa package entitled Black Marine Airnergy. It features deluxe treats like Authentic Herbal Steam Black Jade Healing Therapy, Airnergy O2 Treatment 20 and the Ashiyu Foot Therapy.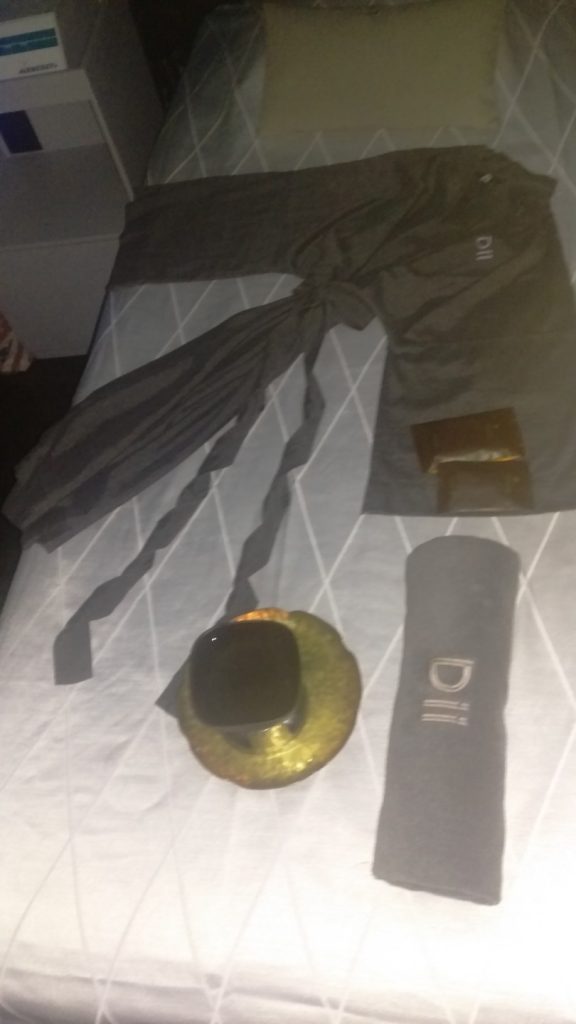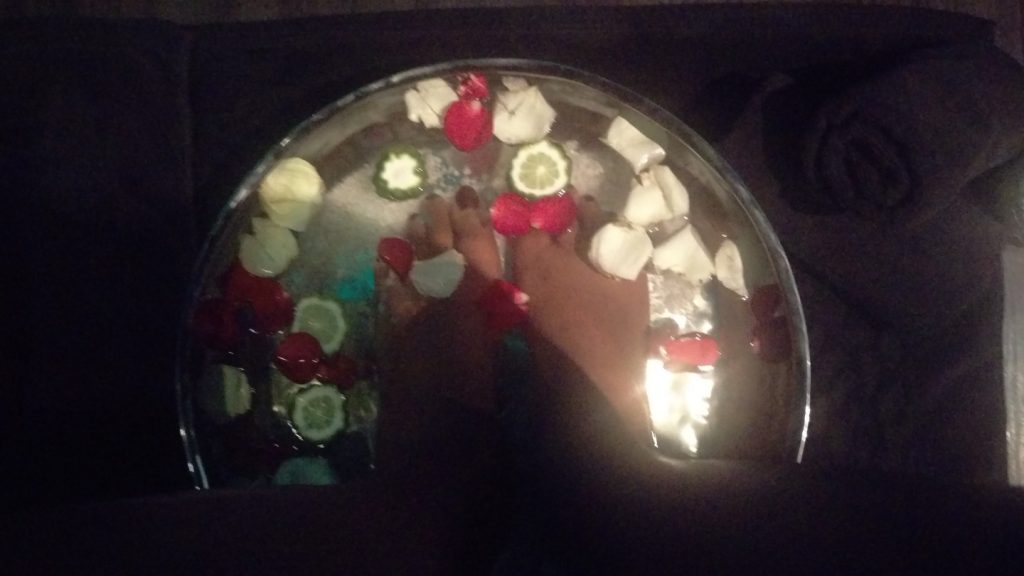 The experience began with a relaxing sea salt foot scrub and soak. My feet felt like butter after the massage and cleanse in the purifying water. When I tell you this was one of the BEST massages I have Ever received in life, I do not exaggerate. Seriously, like the best ever. Go figure I had to trot all the way to Thailand to get this level of service and comfort and it is totally worth it. After taking a calming shower and using the body care products provided in the suite, we proceeded back to the lobby area where we delighted upon fresh pineapple, cream and tea. I seriously can't recommend Divana Wellness Med Spa enough to globetrotters considering a trot to Thailand…heck I may have to return back sooner rather than later in order to indulgence in this experience again ;-). Enjoy GTs and as always, happy globetrotting.
***Disclaimer: I was offered a review spa package treatment via Divana Wellness Med Spa Bangkok. All opinions expressed are my own.***