Have You Ever Stuffed a Chicken??
By Nicole Brewer
August 22, 2012
Last weekend here in Busan, South Korea I enjoyed another excellent opportunity to immerse myself into the Korean culture.  Seeing as how I don't eat beef or pork my food eating options in South Korea are pretty limited since this is one red meat eating country! Nonetheless, I absolutely Love a famous chicken dish that is popular here during the summer months called Samgyetang, which is chicken ginseng soup.  The volunteer group mannam international has been hosting bi-weekly cooking classes that will last through September.  I jumped at the chance to attend the most recent class where I had the chance to cook my all time favorite Korean dish Samgyetang!
Samgyetang is an extremely healthy chicken soup that entails stuffing a whole chicken with rice, ginseng and other healthy components.  Traditionally Samgyetang is ate during Sambok.  Sambok is when people eat especially nutritious meals to cool off during the hottest period of summer. Sam means the number three in Korean.  Sambok refers to the three hottest days of summer.  This period goes through a month's time generally every 10 days between July and August.  The days fluctuate every year since it goes according the lunar calendar.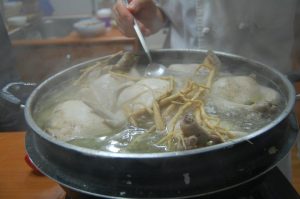 According to Visit Korea, Koreans are most interested in foods that help restore stamina weakened by the scorching heat. On the extremely hot or as my Korean co-workers refer to as "dog days" of summer (ironic since they do like to eat dog here,) it is common according to Eastern Medicine to eat very warm foods such as Samgyetang to help stimulate the blood in the hot weather.
It was loads of fun stuffing a chicken with my bare hands! The chef was a Korean cook that works at a huge restaurant chain here in Busan.  It was pretty interesting because he spoke very little English thus needing to have a translator during the session. Nonetheless, things went off without a hitch! We made spicy cucumbers, another form of kimchi as the side dish that was scrumptious also.  Below are the instructions for the chicken ginseng soup.  If you want to beat the "Hot Summer", hot hot summer days (ahhh good old K-pop). I suggest you stuff that chicken and dig into some healthy Samgyetang!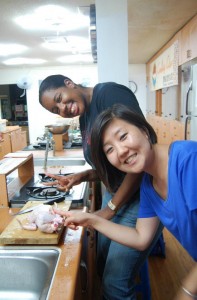 Samgyetang
1 whole chicken, 3 chestnuts, 5 pieces of garlic, 3 pieces of fresh ginseng(hong-sam), 1 hedysarum (hwan-gi) or instead you could use rosemary leaves), 3 Chinese dates (dae-chu), 200g( 2-3 table spoonful) of glutinous rice (chap-ssal), salt, pepper.
1. Wash the glutinous rice and let it sit in water for about an hour or 2. While preparing the chicken you can boil the water in a deep pot.
2. Cut the tail of the chicken, the fat and wash the chicken with the running water even inside the chicken.
3. Wash the fresh ginseng with a brush, crack the chestnut (peel or buy the ones already peeled), and for the Chinese dates, take out the seeds (or use as is and take them out when eating).
4. Inside the chicken's tummy, stuff the chicken with glutinous rice 1st (smallest ingredients first), 2-3 Chinese dates. Then cut the ginseng into pieces similar in length to the dates and put in, and 4-5 pieces of garlic cut into halves to stuff the chicken.
5. After stuffing them all, try to close in the things inside, cross the chicken legs and sew the chicken with cotton thread.
6. Insert # 4 inside the boiling water and with the hedysarum (hwan-gi) in the pot, boil it with the medium heat for about 30-40 minites.
7. When inside the chicken's rice is cooked, it is fully cooked. Season them with salt and pepper and add sliced green onion on top to serve.