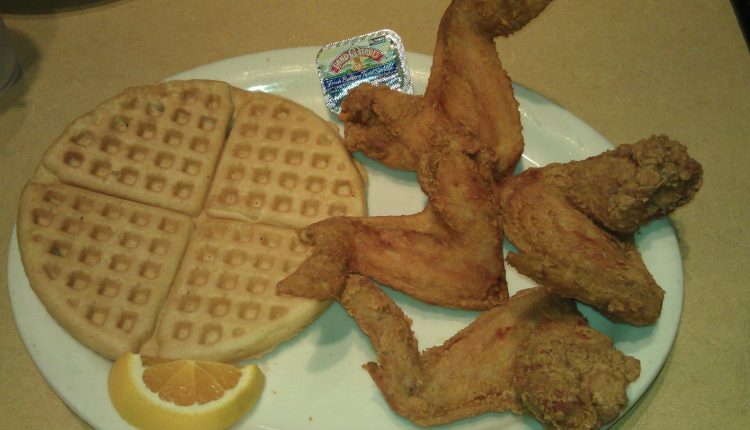 By Nicole Brewer
It's been a great summer vacation thus far and I'm enjoying time at home with my family and friends tenfold! It's a little strange being "home" at times but believe me I've been feeling the love from my family here in Atlanta, GA.  I've managed to eat some fabulous home cooked meals and have dined at delicious restaurants here in the Atlanta area.  Not long ago my sister and I checked out Gladys Knight and Ron Winans Chicken and Waffles restaurant in Lithonia, GA.  Some may not be familiar with the tasty concept of eating chicken and waffles together, but trust me when I say it's a divine and genius concept.
If one likes chicken and they like waffles, then they Must try Gladys Knights' Chicken and Waffle here in Atlanta Georgia.  These were some of the most tasty and scrumptious chicken wings I have Ever had the pleasure of tasting (drooling as I think about them).  Also the waffles were soft, moist and sizable.  I think you could hear a pin drop as my sister and I ate the flavorful dish…so you Know it was good because who has time to talk when you're dining on good eats!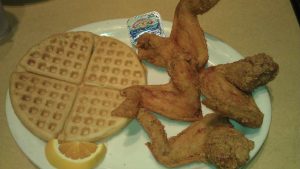 One must accompany the whole meal with a huge class of famous southern sweet tea.  The traditional way the sweet tea is made is by using warm water when mixing the sugar and tea to make it that much more Sweet! I Loved the decor of the restaurant as well. As a fan of Soul/R&B/Hip Hop music, I delighted at the pics of those who dined before me at the establishment such as Nas and others.  Globe-trotters, if you ever get the chance to come to Atlanta make sure you trot your way over to Gladys Knight and Ron Winans' Chicken and Waffle house…you Won't be disappointed!!