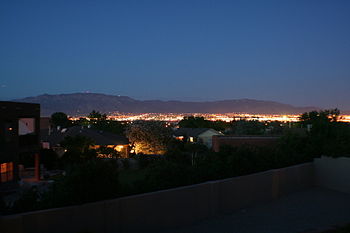 By Nicole Brewer
Albuquerque, New Mexico's largest city is home of the Indian Pueblo Cultural Center, ABQ BioPark Zoo, and so many more cultural things to do and see. It is a perfect blind of old and new for tourist visiting the area. While there are plenty of hotels in Albuquerque to choose from, check out this list of the best boutique hotels in the region if you are planning an escape to the Duke City.
Getaway to the Chic Hotel Andaluz Boutique Hotel
Hotel Andaluz is conveniently located near top Albuquerque attractions such as Albucreepy Downtown Ghost Walk and KiMo Theatre. The luxury boutique hotel boasts a four-star dining restaurant, library, and complimentary newspapers. Rooms feature amenities like views of the Sandia Mountains, environmentally-conscious furniture, allergy free carpets, and some rooms feature a claw-foot bathtub for a relaxing soak after a long day in the high desert.
Feel like a Native at Nativo Lodge Hotel in Albuquerque 
Located by attractions like Cliff's Amusement Park and La Luz Hiking Trail, Nativo Lodge hotel allows tourist to re-experience traditional Native American culture. This unique hotel is designed to pay homage to Native Americans designed with past styles in place. It features modern conveniences such as the Spirit Winds Café, an indoor and outdoor pool, as well as a fitness center. Room amenities include designer toiletries, free Wi-Fi, and amazing mountain views from your balcony.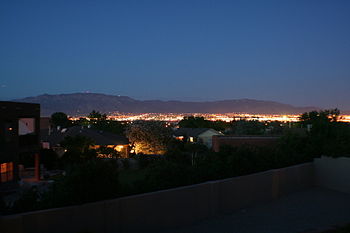 Dusk in Albuquerque, New Mexico, taken from westside over toward the Sandia Mountains in the east. (Photo credit: Wikipedia)
Enjoy a Relaxing Getaway to Hotel Albuquerque at Old Town 
The luxurious Hotel Albuquerque at Old Town is situated on Rio Grande Blvd in the heart of Old Town near the Albuquerque Museum. Hotel amenities include in room massages, a pool, and even a nightclub playing the latest tunes. Rooms feature premium bedding, blackout drapes, and complimentary Wi-Fi. Unwind after a day out sightseeing at the hotel's cantina. You will not be bored with a stay at the Hotel Albuquerque at Old Town.
Have an Elegant Stay at MCM Elegante Hotel in Albuquerque
With a stay the MCM Elegante Hotel in Albuquerque, guests can enjoy an affordable getaway while in New Mexico. It is conveniently located just steps away from adventure and sites like the ABQ Trolley tour and local craft beer shop La Cumbre Brewery Company. MCM Elegante features complimentary breakfast with made to order omelets daily, an indoor poo, and a fully equipped fitness center. The spacious rooms include amenities like free Wi-Fi access, premium bedding, and a refrigerator (upon request).
Your Home Away from Home at the Clubhouse Inn Albuquerque  
Centrally located in downtown Albuquerque, the Clubhouse Inn is the perfect affordable choice for a stay in Alburquerque. Being in the heart of downtown, Clubhouse Inn is a great choice for visiting institutions such as the Indian Pueblo Cultural Center, loads of museums, and Old Town Plaza for shopping and fun. Hotel amenities include a fitness center, an heated outdoor swimming pool, and gas grills where families can enjoy a bbq. Guest can customize their rooms to their pleasing by conjoining rooms for bigger families. They include free high speed internet and are pet-friendly so bring your favorite canine along.
**This is a sponsored post opportunity via Hipmunk with their #HipmunkHotels Project. The content is my own.**