By Nicole Brewer
Greetings globetrotters! I hope all is well and that you are having a happy holiday season! A couple weeks ago I had the pleasure of visiting Lebanon, a country that has been on my list the past few years to visit since I've resided in the Middle East. I must say that Beirut and the neighboring cities that I visited did not disappoint one bit! Here is my round-up of the amazing time I had in Lebanon with my recommendations of places to visit, sleep and more.
Where to stay in Lebanon
After getting several recommendations from globetrotters in the iluv2globetrot travel group, I decided to stay at the 35 Rooms hotel in the Hamra district of Beirut. After arriving late the first night, I was able to check in to my room close to midnight and made sure to get a good night's sleep before my first full day in Beirut. Sadly enough, however, I woke up to some of the worst pain I've ever had in my leg and had to be rushed to the hospital. By the grace of the nice workers at 35 Rooms, they had a staff member take me to the American University of Beirut using the car that the hotel provides to pick up and drop off guest. I'm forever grateful for the kindness of the staff there, who later made sure to ask if I was doing better in the coming days.
35 Rooms in Beirut has coined themselves as "the trendiest hotel in town." It does have a cool and funky design to their rooms, with a graffiti wall decorating each guest room with different designs. The hotel features 24-hour reception, a babysitting service at request, a LCD TV, daily cleaning and laundry service. It's also in a great location in Hamra right off of Baalbeck Street.
What to do in Lebanon
I decided to do several day tours during my time in Lebanon. On day 2 I ventured to Anjar, Baalbeck, and Ksara with Viator tours. One of the things I loved about my visit to Lebanon was seeing the rich historical places.  I was picked up in the morning by the guide straight from my hotel and we started the journey to Baalbeck. The old ruins there are immaculate including the beautiful complex of Roman temples and buildings that made up the Roman city of Heliopolis.
Then we moved on to Anjar, the 8th-century Ummayad ruins which too were a sight to see. I thoroughly enjoyed the quaint little town and shopping quarter, where I was serenaded by a local singer who played an Oud instrument. We then went to have lunch nearby before going wine tasting at the Ksara caves, which is one of Lebanon's oldest wineries.
Day 3 was just as incredible as the second day, with a visit to Byblos, Jeita Grotto, and Harissa again with the Viator team. Byblos, which is recognized as one of the oldest cities in the world is the main reason I decided to visit Lebanon. The vast ruins are just stunning to witness in person the Crusader Castle.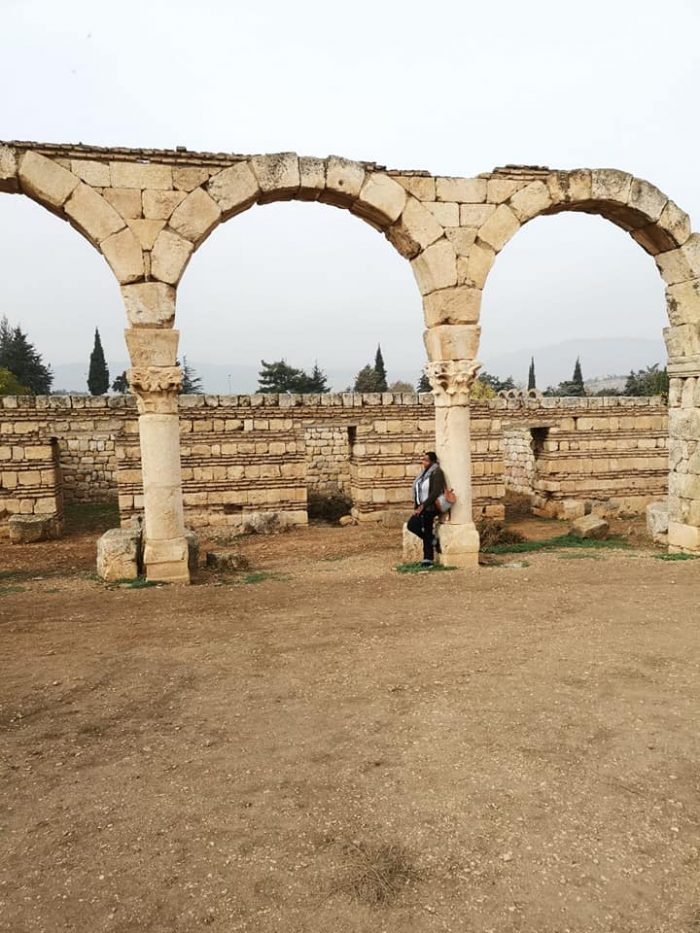 Unfortunately, during the visit to Jeita Grotto, it is noted that tourists are not allowed to take pictures. However, I had such a great time checking out the stalagmites and stalactites in the caves there, as well as doing the boat ride on the glowing blue waters underground. We ended the day with a visit to Harissa, to see the Virgin Mary Statue. Lastly, we had a hearty lunch at a beautiful restaurant. I enjoyed fresh seafood with a great tour group.
On my last full day, I decided to go wine tasting in the Bekaa wine region with Living Lebanon, a great local tour company that I found in an online search. Wine tasting was the perfect way to end an action-packed long holiday weekend escape to Lebanon. We visited three wineries including Chateau Kefraya, Domaine des Tourelles, the oldest commercial winery, most famous for their arak, which is a local Lebanese favorite alcohol. Lastly, we visited Chateau Heritage, a gorgeous family-run winery, which was my favorite out of the bunch. Here we sampled well over 10 wines, which were all absolutely delectable.
Overall I had such an amazing time in Lebanon that I highly recommend a visit here GTs in your travels. Have you been to Lebanon? If so, where else do you recommend globetrotters visit there? As always, happy globetrotting!