By Nicole Brewer
The other weekend I enjoyed an incredible escape to Dubai while staying at the Nassima Royal Hotel. I was able to complete a few first during my time, including going on my first helicopter ride with HeliDubai and trying the first Jamaican restaurant located there, the newly opened Ting Irie located in the Manzil area of Dubai.
Ting Irie boasts a gorgeous atmosphere and offers valet parking, home delivery and live music in the lounge area. As soon as you walk into the establishment, you feel a sense of calm and relaxation. Not only is the decor cheerful, but the staff match the scenary with their bubbly personalities. Once we were seated, we were offered both the al la cart and brunch menus. The extensive selection of cusinies was refreshing and thus I opted to order off of the brunch menu so I could sample several of the delectable dishes.
I thoroughly enjoyed every dish that I selected. I started with the pumpkin kale salad that was one of the most flavorful salads I've had in a long time. I then moved on to the jerk chicken shawarma sandwich, which was probably my favorite out of everything I sampled. It was pure Fire! Living in the Middle East, I'm a huge fan of shawarma sandwiches so I really enjoyed the fusion of the Jamaican and the Middle Eastern delight that they offered on the menu.
After that my big plate dishes came out which included the awesomely named O.G. fried chicken and Spitfiyah jerk chicken. Both were very succulent and juicy, coming with an array of sauces from mild to hot for your dipping pleasure.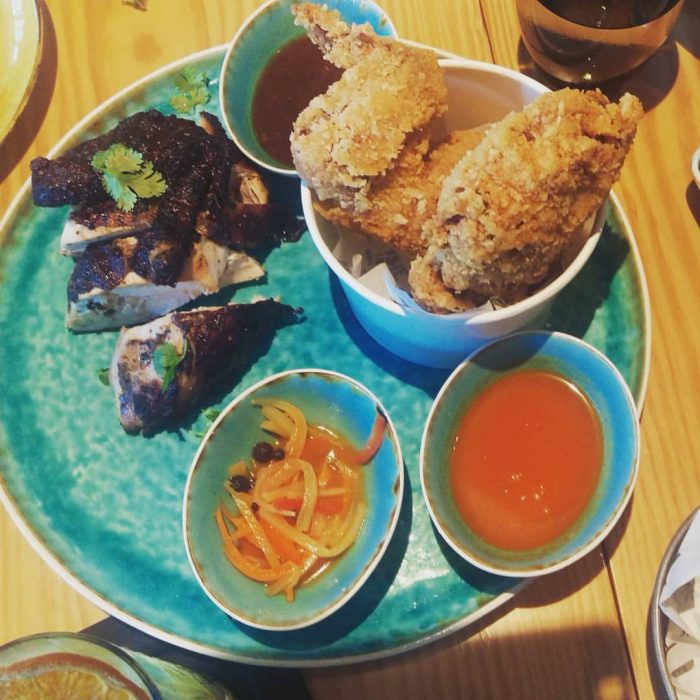 Last but certainly not least came the sampling of scrumptious desserts that they offered. My favorite was the massive funnel cake with ice cream. We also had some of the butter cookie french toast that melts in your mouth with every bite. Other options included fruit and tings as well as warm cornmeal pone. You seriously couldn't go wrong with anything that you chose on this menu!
Another special touch that I thought made Ting Irie standout was the attention to detail and family vibe that the restaurant offered. Over across from our table I noticed there was an area for kids to play games, draw and write on the chalk board while their parents dined on the tasty food. Even when my friend's phone was on her last leg, the waitress made sure to go get a USB for her to recharge. Now that's a great touch to add to the customer dining experience, who doesn't want to take pics of this beautiful food! Thanks again Ting Irie for a great dining experience in Dubai. GTs, I can totally recommend it on your trot to the region.