 By Nicole Brewer
A few weeks back I had the pleasure of trotting to Savannah, Georgia with my mom. I looked forward to exploring a new city that I had never trotted to before. Savannah has such a rich history in American culture, especially in African American culture in particular. During our weekend there we enjoyed learning about this history on the hop on, hop off trolley rides around the city.
While in Savannah, we had the pleasure of staying at The Brice, a Kimpton Hotel, which is located at 601 East Bay Street. The Brice is a cosmopolitan and chic hotel. Guest can enjoy great southern hospitality with a stay here. I was quite impressed with the hotel staff and loved the uniforms that the bell boys wore with their denim shorts and white polo shirts. The staff at The Brice went out of their way to make our stay an enjoyable experience to be had at this lovely establishment.
It's located in the heart of downtown Savannah, being only a short walk from the famous river street, which plays host to loads of delicious restaurants and boutique shops.  The gorgeous decor of not only the suites but the lobby and onsite Pacci Italian Kitchen really blew both my mom and me away. The lobby was decked out with stunning oil paintings, antique furnishings and more. They also added a special touch with complimentary daily happy hour between 5-6pm in order to mix and mingle with other guest at the hotel.
We were fortunate enough to return back to the hotel to check-in just in time for the happy hour. The weekend that we stayed however, their was a huge storm so the power went out for a bit. Therefore, guest got even happier by spending time at the bar at Pacci Restaurant having drinks even though food could not be served at that time. Shortly down the road was B. Matthew's Eatery, which was able to come and deliver food to our room, which was really sweet as they do not typically deliver but said they had a special relationship with The Brice so made an exception for us. The food was superb and we were totally grateful we didn't have to trek into the downpour rain for delicious food.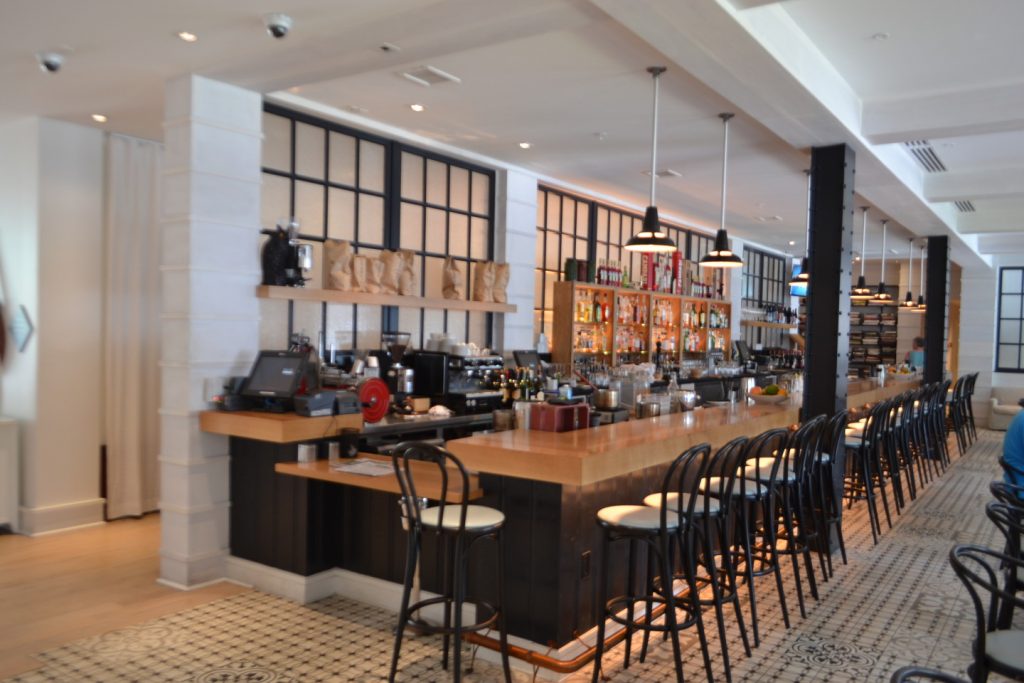 We enjoy the nice, huge cozy beds that were afforded to us in our sizable suite. We had a full on living area, ice delivered to our room upon arrival, a fine selection of amenities and snack options in the room. We also had a great view of the lake from our suite. We were so pleased by the beautiful suite, we had a difficult time leaving after the weekend wrapped up.
The next morning we got an early start and headed to the pool area to take a short dip before check out. The Pacci Restaurant located in the hotel offered a delicious breakfast option, with some of the Best down home creamy grits I've ever consumed. I totally can't recommend the food enough here.  A stay at The Brice Hotel in Savannah, Georgia comes highly recommended by this globetrotter due to its great location, friendly staff and amazing beauty that it offers.
**Disclaimer: I was offered a media rate in exchange for this hotel review. The views and opinions expressed in this review are my own.**