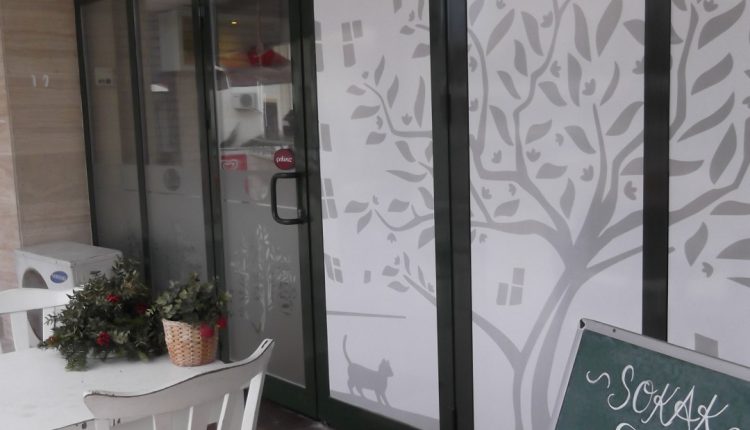 By Chantal Blake
In Ankara, the food culture is alive and well. Everything from fine dining to fast food is at your fingertips. But if you want a taste of true traditional cooking and you don't have a Turkish family of your own, then a visit to Sokak is a must. Tucked in the center of Bilkent 2 Park Sitesi, Ayşe Cesur has opened her kitchen to the public. After years of working in hotel restaurants, she's returning to her roots and sharing the Slow Food philosophy with her customers one meal at a time.
In contrast to fast food, Sokak's menu is dynamic. Seasonal produce grace the menu as they are ripe and locally available. Primarily using Turkish produce supports farmers, their land, and the planet we collectively share. Instead of flying imported foods thousands of miles, your meal's carbon footprint is significantly reduced when eating regionally sourced foods. Ayşe proudly shows us her tiny, local bananas and ears of corn. Distancing herself from the appalling amount of waste generated in large-scale restaurants, the joy of cooking is returning to her. She can now feed others with conscience while her own soul is fed by connecting to her guests and sharing her love of traditional foods.
The décor of Sokak is simple, organic, and rustic: glass bottles, wooden platters, pottery serving dishes, and silverware. In the place of decorative cut flowers and salt and pepper shakers, they are fresh potted herbs and dried seasonings labeled in jars. Instead of laminated, printed menus, a chalkboard displays the day's offerings. Painted white walls, chairs, and tables brighten the dining space even on a cloudy day. The mood of the space is peaceful and cheery.
I received my meal in several courses, just as my hand-written menu indicated. We began with a platter of chickpea hummus and muhammara, a roasted pepper dip, with herbed garlic bread. Next came the beetroot kisir, a cold bulgur wheat salad dressed with olive oil, fresh herbs, and green onions. Interestingly in Turkey, the celery root is used in cooking, as opposed to the stalks, and we enjoyed it simmered with carrots in olive oil and sprinkled with fresh dill. For our main entrée, we had cabbage leaves stuffed with rice pilau topped with a mild, tomato-based sauce. And lastly, a delicious baked pumpkin dessert drizzled with sesame seed paste, garnished with green mint leaves.
Like most Slow Food restaurants, the menu is not exclusively plant-based. Ayşe's most popular dishes are slow-roasted lamb shanks and mantı, dumplings stuffed with spiced meat, but she notices the popularity of vegetarianism and makes it a point to always have something available for vegan guests. Expecting my family's visit, she was able to dive headfirst into her veggie repertoire and what she produced certainly did not disappoint. Being many miles from home myself, Sokak is a pleasant and welcoming refuge from the fast life zipping around us. Before I leave, I hear Cat Stevens' familiar voice reminding me that "it's a wild world" and today, his words are even more evident. But not today Mr. Stevens, at least not at Sokak.
*My visit was hosted by Sokak, but all opinions are my own.*