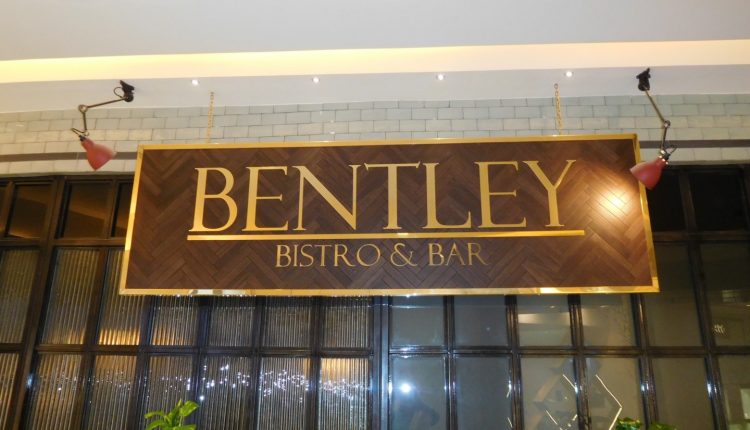 By Nicole Brewer
If you are trotting to Abu Dhabi soon, then I can highly recommend having a fine-dining experience at the award winning Bentley Bistro & Bar, which is located in the luxurious Galleria Mall on Al Maryah Island. They offer an expansive selection of French-inspired food with hours from 9am through 2am in the morning. Since I was in Abu Dhabi during the EID holiday, there was a host of families and friends enjoying family fun at Galleria Mall,  which has a ton of high end designer brands and high quality dining options like Bentley Bistro & Bar.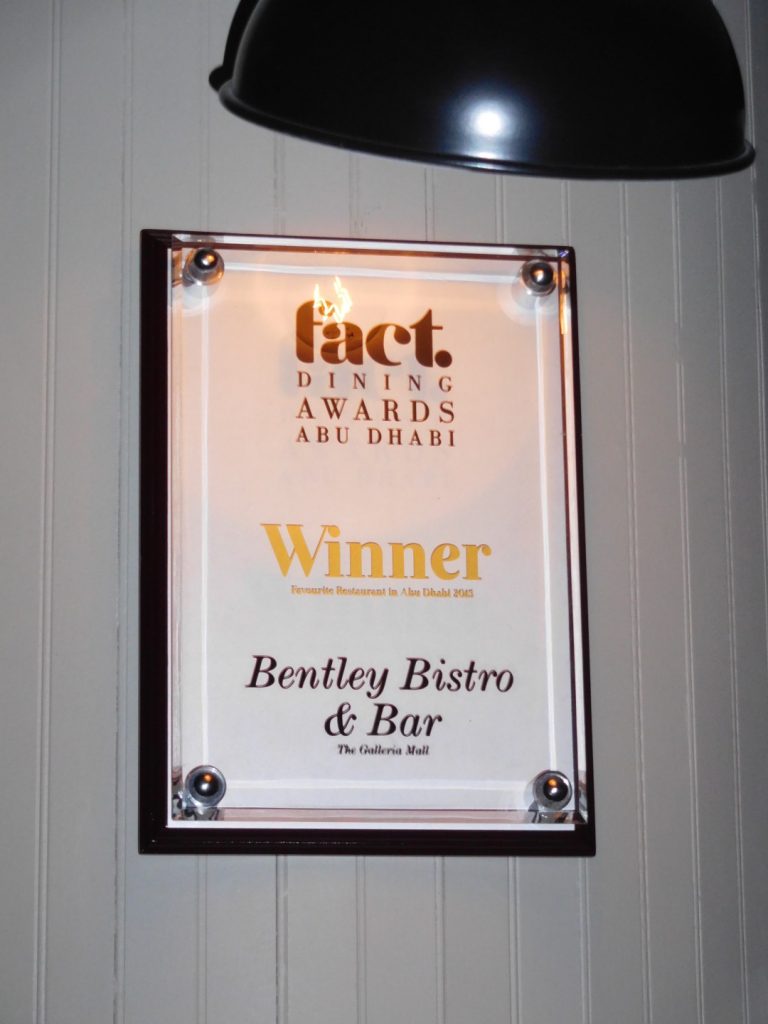 I was thoroughly impressed with both the atmosphere and staff at Bentley Bistro & Bar. My waitress was a pleasure to speak with and she was equally excited to talk with me about her travels to USA. I was greeted at my table with a mini blackboard with "Welcome Nicole"  in chalk, which of course brought a smile to my face.  As I perused through the menu, I was greeted by the manager, who gave me several suggestions to help with my choices.
I opted for the popular signature appetizer, the no rice Risotto with potatoes and mushrooms. It was for sure a different option for me, as I love risotto of the rice variation, but I would indeed recommend it for those that like a creamy dish topped with loads of mushrooms and cheese as I enjoyed the unique taste. I would be remiss to not mention the flavorful breads that came complimentary with my meal as well. I absolutely loved the bread that came stuffed with chocolate and berries!
Next up was my main course, which again I had a difficult time deciding with the array of choices that ranged from beef wellington, a rack of lamb to garlic-chilli jumbo prawns, tomato and fennel compote with feta (this one was a strong contender). Nonetheless, I decided to order the roasted red snapper which came with buttered saffron potatoes, prawns  and clam veloute which my lovely waitress recommended.
I must say I was beyond happy with my final decision. The red snapper was so flavorful and fragrant. Also, the saffron potatoes just melt in your mouth. The prawns were an added bonus to this marvelous meal. I seriously had a moment as I ate it lol. On the side of my main course, I delighted upon the fresh broccolini as well which was a great accompaniment.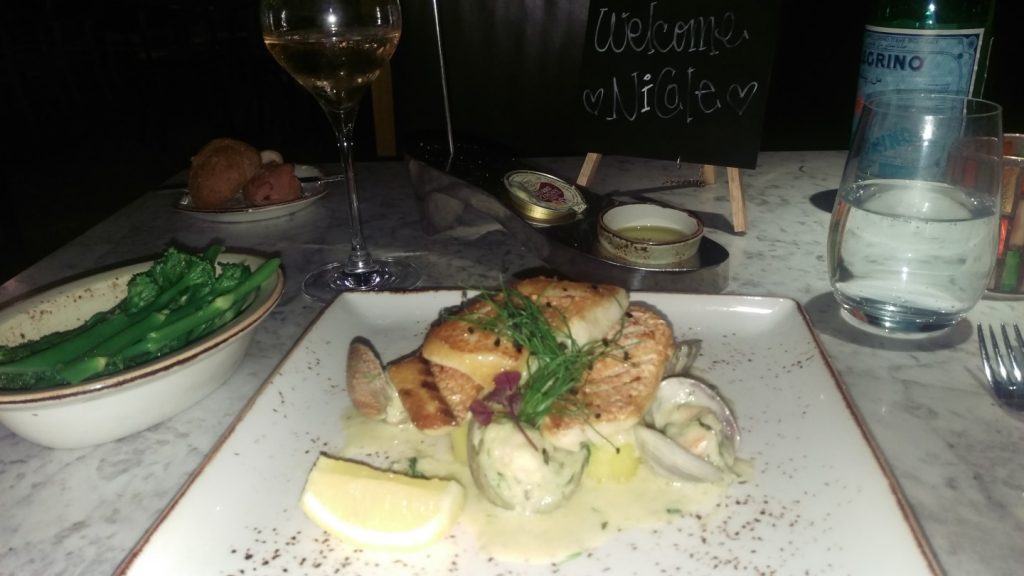 I did not think I could eat any more after this divine main course meal, but to my surprise the chef decided I could not complete my meal until I tried their famous, towering "sweet taste of Bentley," which usually comes in a set for 2 to 4 people. I noticed that the table right across from me delighted upon this towering sweet treat as well and they were a party of 4. Therefore, my eyes were huge when I saw this treat coming toward my table as well.
Hey, who could pass up on such tempting treats like Valhrona Manjari chocolate fondant, honeycomb raspberry & violet ice-cream ;-). This was seriously my favorite of the bunch. Additional choices on the tower included a strawberry macaron, a chocolate tart and an Apple Tarte Tatin. I had to go for another walk around the glorious Galleria Mall to walk off this magnificent feast! I cannot recommend Bentley Bar & Bistro enough for any globetrotters trotting to Abu Dhabi in the near future. Enjoy GTs and as always, happy globetrotting.
**Disclaimer: I was offered a restaurant review opportunity with Bentley Bar & Bistro Abu Dhabi. All views and opinions are my own.**