By Nicole Brewer
I recently globe-trotted to Prague via an eight hour overnight bus ride with an amazing student travel company called Studifahrten that I found while studying here in Germany. This marks the third weekend getaway I've taken with them and lets just say that Prague did not disappoint! It was a fabulous rendezvous, well worth the pained, achy legs that came with sitting for such an extended period of time with my 5'10 statue on a bus ;-).   I've made great new globe-trotting friends during the journey, dined at fabulous (and reasonably priced) establishments as well as visited gorgeous architectural feats and art exhibitions. Check out my list of things you Must do while visiting Prague!
1. Visit the John Lennon Memorial wall and Restaurant
I absolutely Adored the John Lennon Pub &  Restaurant! It had the cutest decor, which included walking through a Yellow Submarine tunnel upon entry. We had a delicious lunch in the outdoor garden, which was well equipped with blankets if you had a chill and a smoke out area for the smokers. Once you entered into the restaurant, you were taken back in time with an old school telephone booth greeting you near the bar as well as out of sight pictures of the man himself John Lennon.  Also, the busy memorial wall is not be missed as well.
2.  Take a stroll on the Charles Bridge
A visit to Prague would not be sufficient if one doesn't venture across the Charles Bridge, which has great city views of the architecture, river front and fantastic artistic works by artist sketching every few feet apart.  It was fabulous to see all of the stunning statues of biblical greats along the way.
3. Museums – The Tim Burton Exhibit!
This one speaks for itself! Come on, I mean it's Tim Burton of "Beetlejuice" and "Edward Scissorhands" fame! My childhood came right to life in front of my eyes seeing sketches and drawings on napkins and even modern 3D characters built of metal and wire wow! I was beyond excited to see these works at the Prague City Gallery.
4. Watch the puppet show at the Astronomical Clock in Old Town Square
Viewing the puppet show that occurs every hour on the hour is a necessity as well when one trots to Prague.  Nevertheless, I was not Totally impressed but can at least say I saw it lol. Make sure you watch your pocket book however as we were told this is a prime location for pickpockets to run a muck.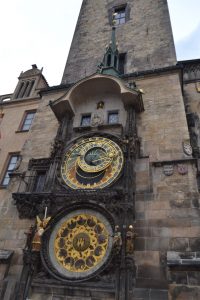 New friends and myself checking out the puppet show at the Astronomical Clock.
5. View the infamous "Dancing Building" designed by Frank Gehry
Of course as the big architecture fan that I am, my visit had to include a stroll to see some of the awe-inspiring buildings that were designed in the region. I've gotten some Frank Gehry designs under my belt in Germany but it was just as fabulous seeing the "Dancing Building" after walking the streets aligned with various Art Deco and Art Nouveau buildings to see this cool, futuristic structure in Prague! Globe-trotters, you should for sure trot here. You'll be glad you did!