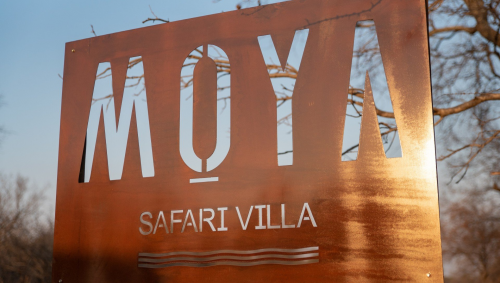 By Nicole Brewer
Greetings globetrotters! I hope 2020 is treating you all as great as it started off for me. Just a week ago I returned back from a fabulous stay in Cape Town and Hoedspruit, South Africa which is located shortly outside of Kruger Park. It was amazing to return to my short term home of Cape Town from 6 years ago when I was a graduate student interning at Sonke Gender Justice institute and writing my thesis. It was also exciting to visit Kruger Park for the first time while enjoying a relaxing stay at Moya Safari Villa. Moya in Zulu translates to "spirit" and I must say that the spirit of these luxury villas is upbeat, relaxing and beautiful.
Accommodations 
One of the things that set Moya Safari villas apart is that each suite's decor is unapologetically African in design. The amenities are locally produced and the rooms are beautifully adorned with woven textiles and crafts. Each of the six luxury suites has there own unique charm. Three of the suites are located inside of the main villa and three are freestanding structures of their own on the grounds. With names like Amanzi which means Water and Umhlaba which means Earth, the Moya team thought of every little detail to embody the African experience. I was fortunate enough to stay in suite 5 which is called Nthaba which means Mountain.
My suite included amenities such as a huge, comfortable king-sized bed, adorned with a flowing mosquito net. Also, a stand-along chalet, wireless internet, it's own private deck and both indoor and outdoor showers. One of my favorite past-times after a day out in safari was coming back and lounging in the deep seat tub. You all know I love a luxurious bath and this one was no different than some of the best I've experienced while globetrotting.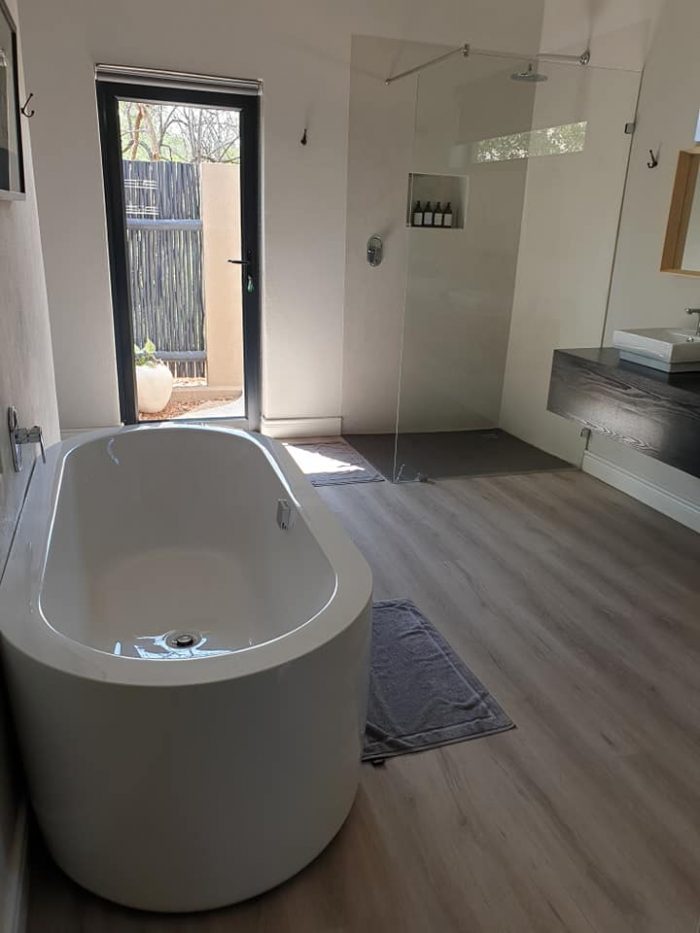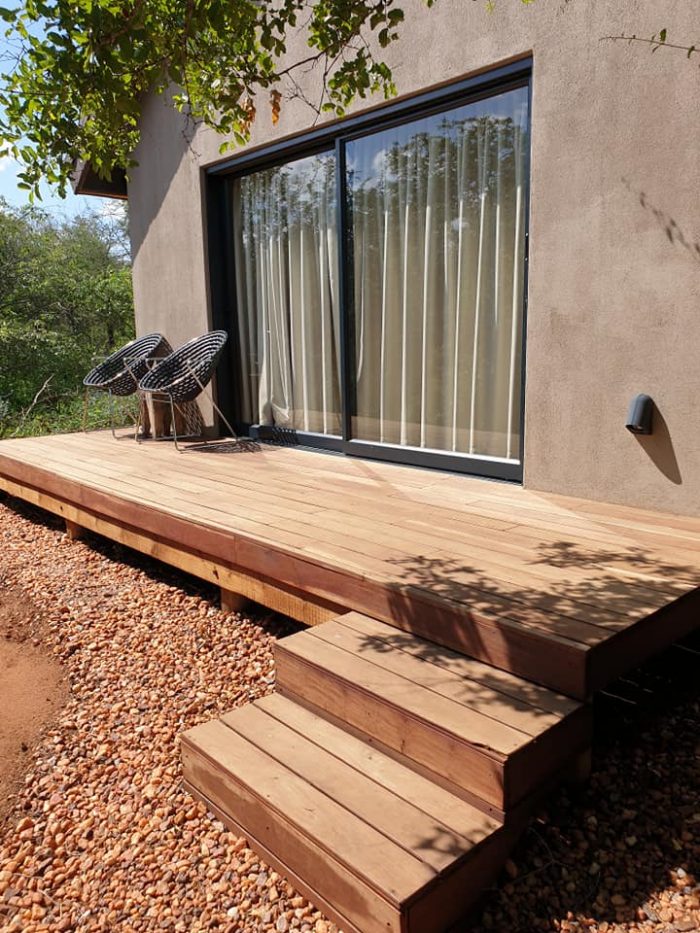 The main villa also has a cozy, relaxing vibe which I thoroughly enjoyed lounging in. The huge sitting area in the living room was great to mix and mingle with other guests, as well as to chat with the local staff who kept smiles on their faces. You could relax and watch the massive flat-screen TV, over a cool beer or glass of wine which was offered for sale near the dining room in the bar area.  The decor follows a traditional African aesthetic which is pleasing to the eye. You also have the option to lounge by the pool to unwind if your heart desires to do so.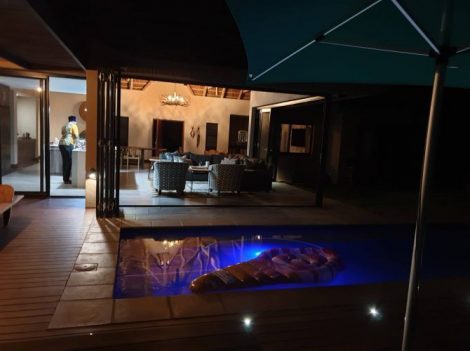 Fine Dining
One of the things I truly miss about being at the Moya luxury safari villas is the delicious home-cooked meals that I delighted upon daily.  The friendly staff ensured that when I was ready to have breakfast, even before my 5 am departure that food was ready to eat or pack from my day out on my safari to Kruger Park. Breakfast included fresh yogurt and fruit cups, finely decorated, with eggs and vegetables made to order.
My dietary restrictions were taken into consideration as well, as I don't eat red meat but only fish and/or poultry. So on the evening of the traditional South African braai, they made sure that a chicken option was available for me and the others who had similar restrictions. Dinners consisted of three-course meals of a delicious appetizer such as soups, a main dish and a sumptuous dessert, including my favorite local dish malva pudding, presented in a gorgeous way.
Activities 
While Moya Safari Villa is ideally located for those looking to explore the massive Kruger National Park, it also offers an array of more than 20 activities to do locally in and around Hoedspruit. Guests can opt for full-board including safari or even 3/5/7 day all-inclusive safari packages which include a sundowner cruise, a visit to Kruger Park, a visit to Wildlife Rehabilitation Centers and Community Projects, such as the dynamic Nourish project that I had the honor of visiting, located just over 30 minutes from Moya.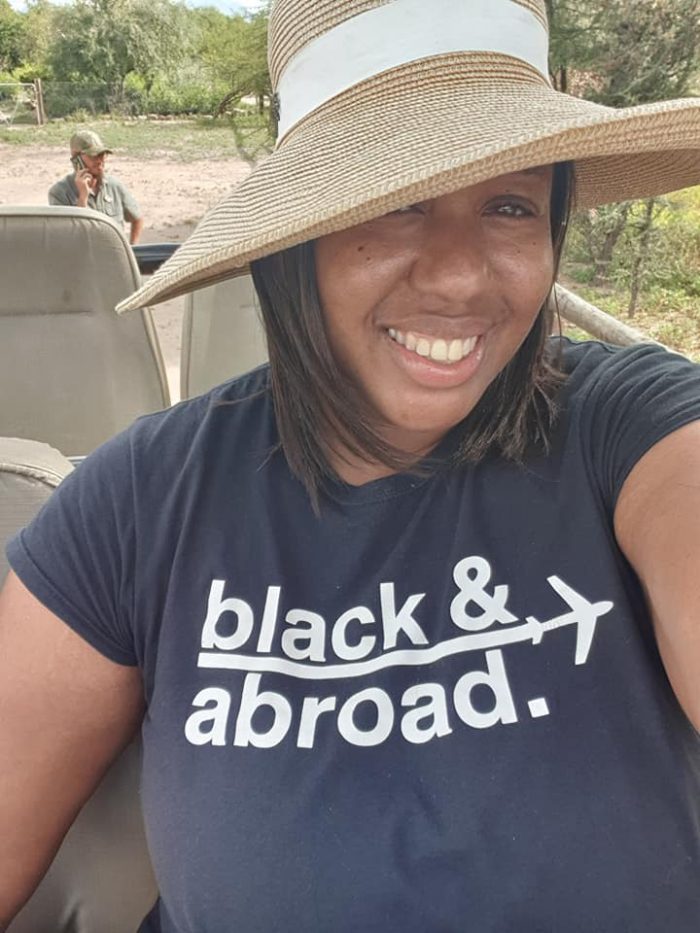 The goal of Nourish is focusing on conservation to fight poverty. Outside of seeing the Big 5 at Kruger, meeting locals on the ground doing the work at Nourish was surely one of the highlights of my trip. The main goal is providing opportunities to locals in order to combat the issue of poaching. If locals have the opportunity to make an income through traditional activities such as selling goods at the local shop on the Nourish community grounds or growing vegetables on the grounds' gardens, then the likelihood of being recruited to poach animals such as rhinos for their horns goes down drastically. The team at Nourish is on the ground doing the work, assisting kids with an onsite daycare, school classes and several activities for adults to partake in as well.
I Highly recommend a stay at Moya Safari Villa in Hoedspruit, South Africa if you are planning to visit the neighboring Kruger National Park. You won't regret it at all.
***Please note that I was offered a stay in exchange for a review. All views and opinions are my own.***