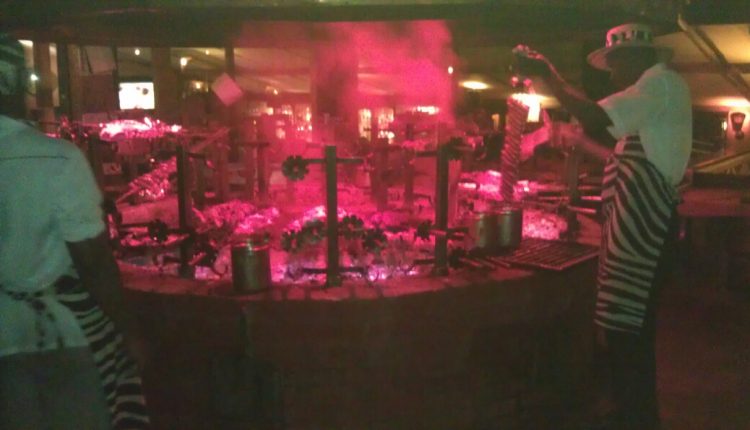 By Nicole Brewer
Do you crave the abundant aroma of beef, chicken, ostrich and more? If you're a meat eater then Carnivore restaurant is for you.  They also have a desirable array of choices for the none meat eater but with a name like Carnivore you Have to know what the main line up will entail.  I personally haven't ate red meat in over 6 years. Nonetheless, with it being one of the top 50 restaurants in the world I would be remiss to not visit this decadent establishment while I globe-trotted to Kenya!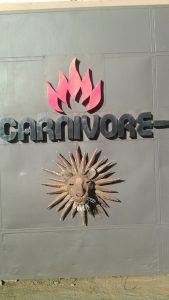 Carnivore is a gem of a restaurant hidden just behind the Nairobi airport.  Upon walking up tp the establishment I noticed a cute pub that is apart of the Tamarind grouping entitled Simba Saloon. How can that name not make one smile and take on the phrase Hakuna Matata as it reminds you of the Lion King.  The decor of Carnivore itself is luscious and green with an open air sitting area.  For those that want to take in the all you can eat meat buffet, their is an outdoor corridor seating area just before the main area where the servers present skewers upon skewers of meat for the carnivore eaters' delight.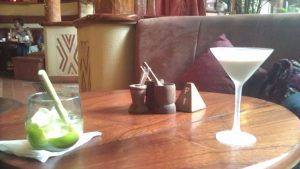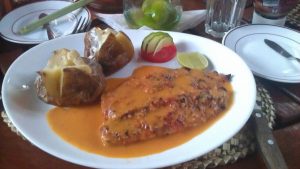 The other volunteers and myself decided to order from the a la carte menu as none of us were too keen to pay the (not so) hefty fee of around $40 for a meat buffet.  I ordered some of the most succulent fish with a divine tamarind gravy sauce that I've Ever ate before *dreams of said fish* with a side of buttery baked potatoes. I most certainly can't forget the classic Kenyan drink the Dawa which means medicine in Swahili.  It's accented with honey and fresh lime juice which is said to cure any illness. All of us left the restaurant with full bellies and smiles.  We noticed the waiters waltzing by with skewers of the most interesting meats you can find on a menu to the flagged tables.  Maybe someday I'll venture back and be brave enough to try the Ostrich burgers which I heard are mouth-watering.  I have to give Carnivore 5 stars for the dish and dawa drink I had.  It'll leave you globe-trotters wanting more! Happy trotting.