By Nicole Brewer
Greetings globetrotters! The other weekend I had a fabulous time in Bahrain, mostly due to staying at the gorgeous Ritz Carlton Bahrain hotel. The Ritz Carlton Bahrain offers a great selection of dining options, from Cafe Venissa who offers an array of Italian dishes transporting you to Venice, to Plums which is a sophisticated steakhouse that features contemporary and modern designs. Plums features culinary delights with an artistic flair by Chef de Cuisine, Yann Bernard Lejard.
I was greeted by a nice staff member and was seated in my seat, while being told a little about this chic establishment. Chef Yann Bernard Lejard took me on a fine dining experience that he coins an #experimence (experience + experiment).  The 10 courses  moved from liquid, to earth, crustacean, roots, abyss, poultry, meat, milk, fruit and lastly ice. It was lovely to have a front row seat of the artistic chefs at work decorating the delicious cuisine. My first course was an interesting foie gras dish that had an entire presentation as a burner was brought out to combine the foie gras to make a puree combined with mushrooms. I really enjoyed this dish and delighted upon it while the next courses were presented in a timely fashion.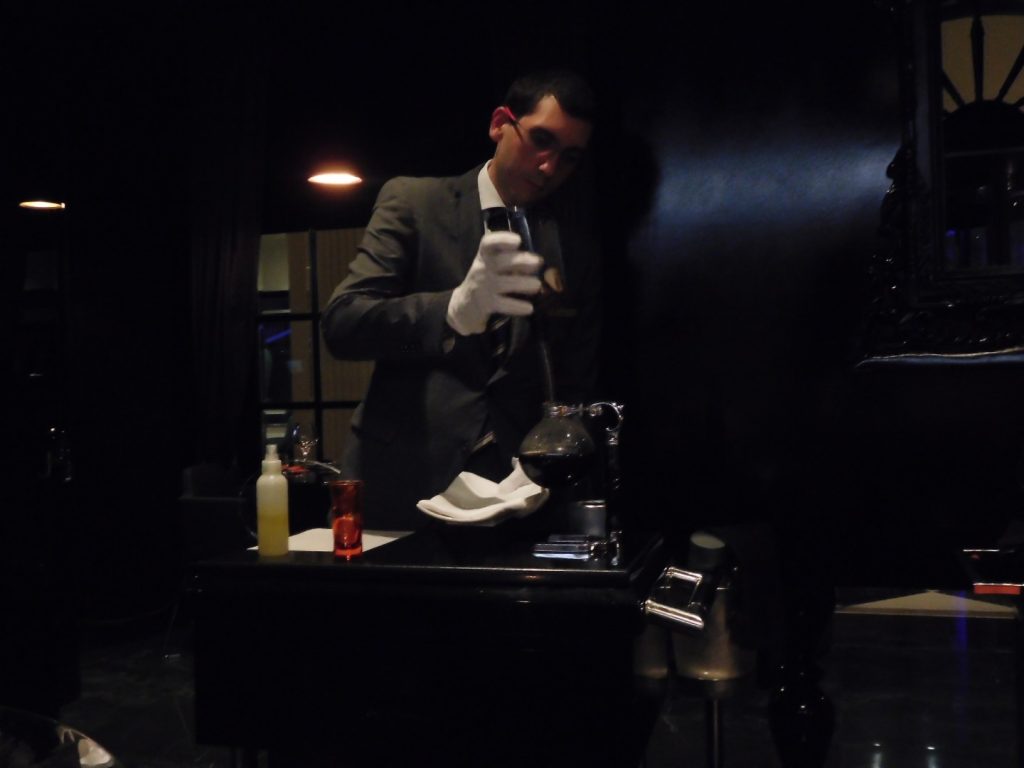 The next course in the set was earth. This consisted of a fancy display of chalets, caviar, mushrooms and truffles which I had to eat with tongs. I was extremely delighted when the dish came out in one of the most unique presentations I had ever seen. This trend was kept up as the meal continued to get more and more unique to add to the fine dining experience of this experiment. The third course of crustacean was just as delicious and beautiful as it was made up of succulent lobster pieces in a bright green lobster sauce with scallops.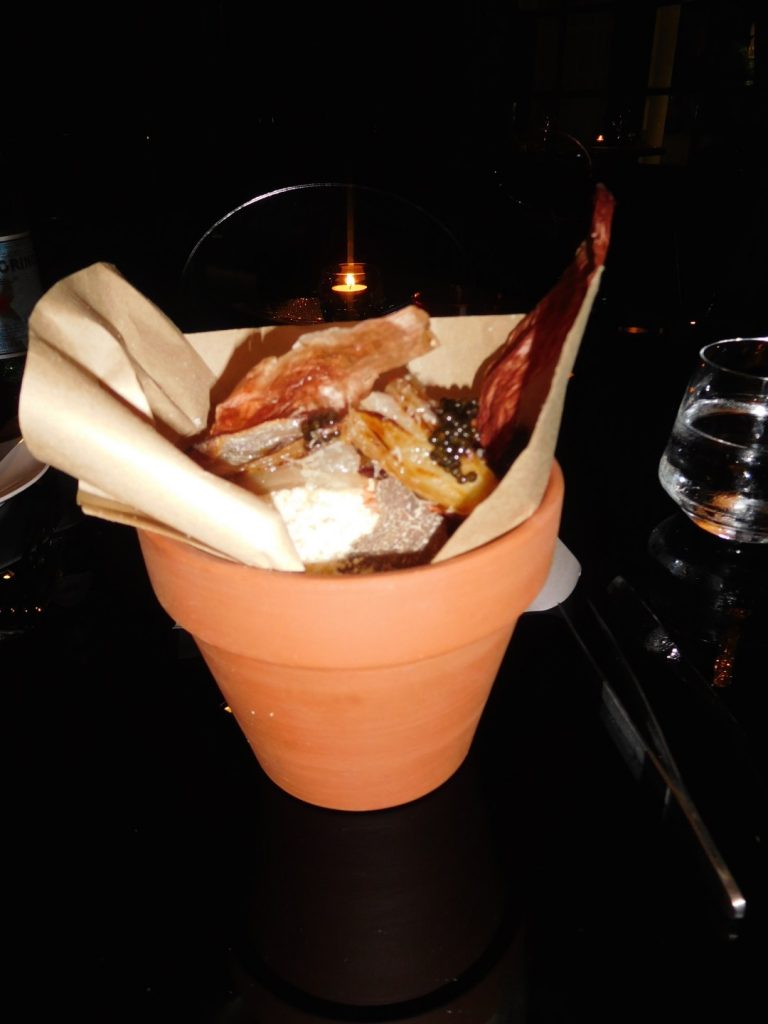 Next up in my experiemence was Roots, which was made up of beet root roasted in the oven in a chili sauce that originates in the South of France. It also consisted of black pepper, butter and oil. I only took a bite or two of this dish in order to keep up the stamina needed to complete all 10 courses of this Amazing meal! The fifth course was Abyss, i.e a succulent cauliflower that came out still smoking in a scrumptious black oil. Now this one, I had to finish the dish as it was so flavorful and good.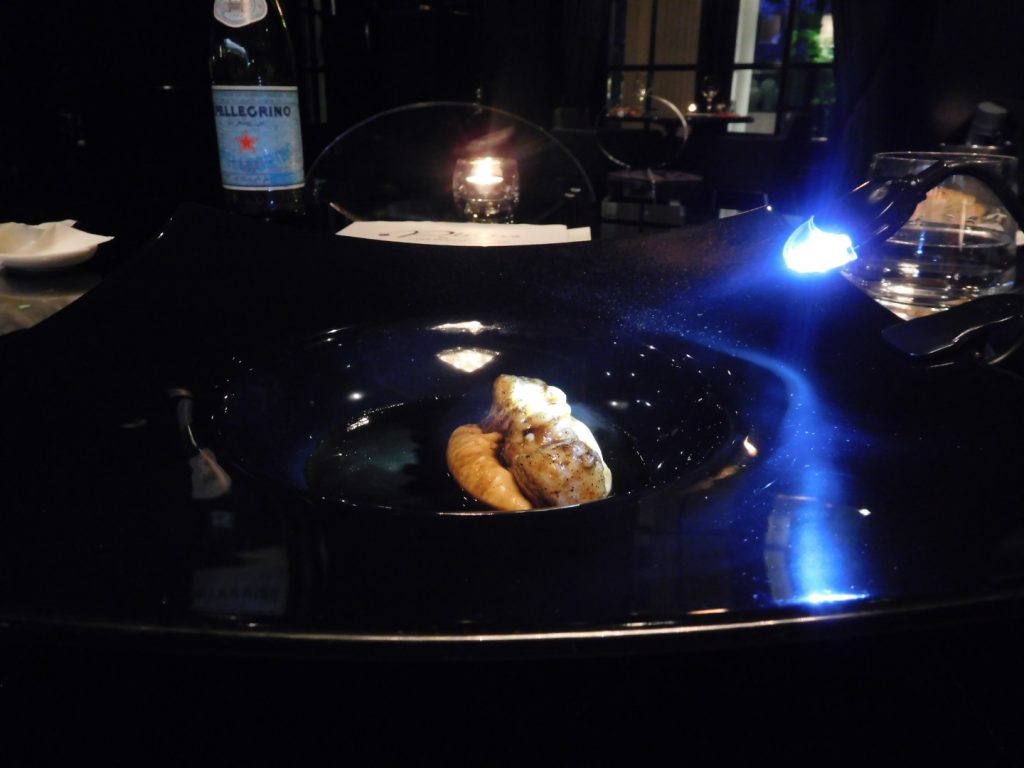 The 6th portion of my experimence meal was poultry. Here I dined on succulent duck that was presented on a plate with hot stones and mushrooms. It was cooked slowly for 40 minutes at 65 degrees and it surely tasted as such as the morsels melted like butter in my mouth. It was difficult to decide if the 6th or the upcoming 7th dish of veal was my favorite of the night. Since I do not eat beef (which I'm sure made the chef slightly upset as this is his speciality), he substituted meat in the 7th course with veal over beef. The veal was absolutely divine as it came out with huge bone fragments and decadent truffle sauce. My mouth is watering as I think about it now :-).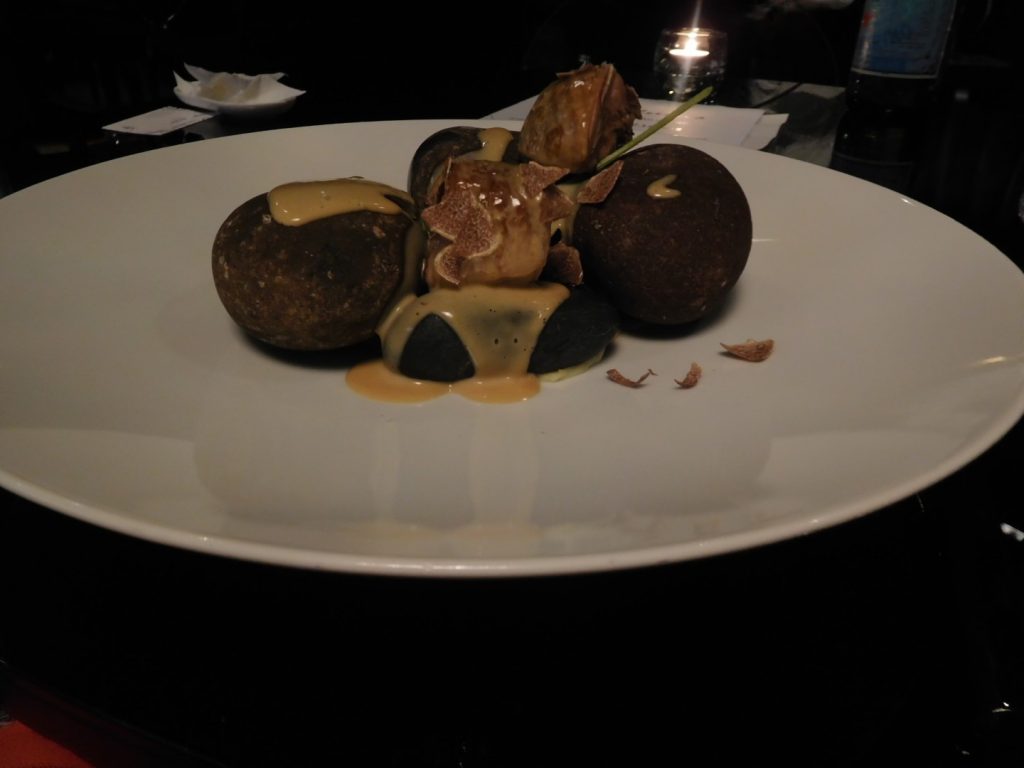 The 8th course was milk, which was a bit of dairy including French goat cheese. It was accented with rye bread, a plum tomato and cranberry sauce which was a great way to round out the meats portion of the meal. Once again I was only able to nibble on this portion as I had to save room for the final 9th and 10th courses. The 9th was fruit which was a beautiful presentation of strawberries, ice cream and white tree branch. The 10th was one of the most stunning desert platters that I have ever seen to make up ice. The ice course came out in an Asian style tray still smoking. It was with chocolate and mandarin sorbet covered in foam. I will always remember this luxurious meal as to date it is the fanciest fine-dining experience ever. Enjoy globetrotters, be sure to squeeze in a meal at Plums in the Ritz Carlton if you get a chance to trot to Bahrain.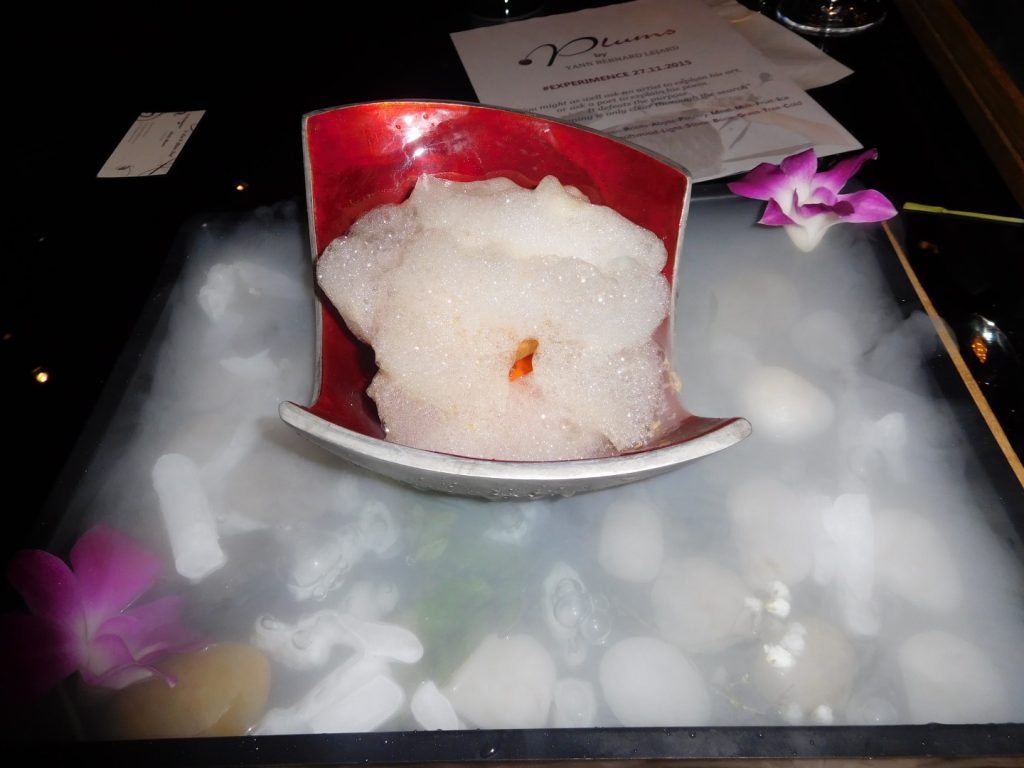 ***Disclaimer: I was offered the opportunity to review Plums restaurant at the Ritz Carlton Bahrain hotel. All views and opinions are my own.***