By Nicole Brewer
Greetings globetrotters! I'm still recovering from trotting to Thailand the other weekend, heading right back to work after landing at 4am on a Sunday then doing it all over again the following weekend heading to Dubai. TBEX Asia travel conference in Bangkok Thailand however was totally worth it. I gained a great deal of knowledge to help us take I Luv 2 Globe Trot to the next level, while managing to have some fun with fellow travel bloggers in the blogosphere.
One of the pre- TBEX tours that I signed up for allowed me dine at the exclusive Oriental's Sala Rim Nam Restaurant, which is located right across from the waterfront of the Mandarin Oriental hotel. We rode a traditional boat from the Mandarin hotel side over to the Oriental's Sala Rim Nam Restaurant. A few of my fellow blogger friends and I dined on authentic Thai cuisine, which included several courses and superb traditional Thai performers, dance and classical music.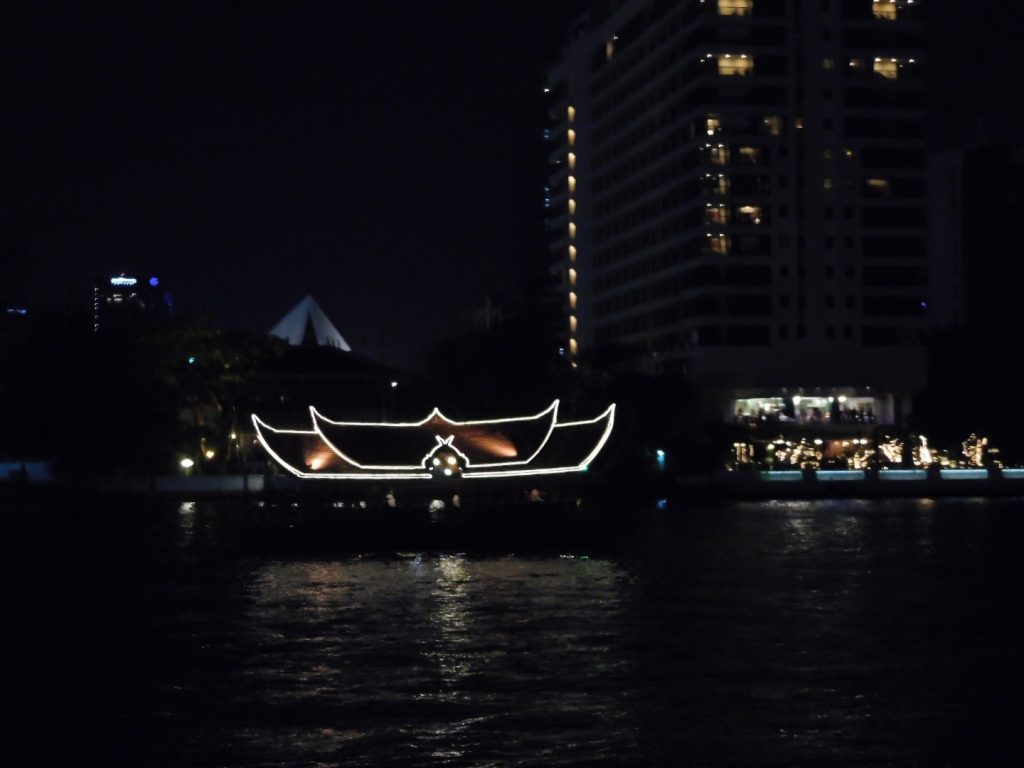 I commenced my meal with a beverage but of course. The drink menu was massive, but my eyes perked up once I saw the champagne mojito option. I love mojitos and champagne, so I figured this would be a great combination and something new for me try in Thailand. It surely did not disappoint. We noticed that the meal included a set menu with numerous courses. The first course included steamed prawns with fresh salad, with chili lime sauce wrapped in rice noodle. It looked so delicate and cute that I didn't want to dismantle it but I had to do it. The huge prawns were moist and delicious, along with the chili sauce it had just enough kick and flavor. Additional dishes of the first course included deep-fried herbed crabmeat with minced chicken and fresh pineapple topped with minced chicken and peanut. I would have never thought to put these items together, but I am sure glad that the Thai did because they were absolutely delicious!
For the next course, the main dishes were served. There were so many great, flavorful dishes to sample. We started with the herbed pomelo salad with huge grilled blue river prawns. This was an interesting combination, as I don't think I ever had pomelo and it had a sweet taste that faired well with the prawns to my surprise and delight. Next I tried the baked sea bass, topped with delectable herbs and a side of jasmine rice. This was indeed my favorite of the evening, followed by herbed chicken with lemongrass and galangal soup. This was so sumptuous when I dipped my jasmine rice in it to pair together. One of the final pairings for the main course was a hearty bowl of stir-fried vegetables that came drenched in oyster sauce, mmm good.
Last but certainly not least was the dessert. I barely had room left after this commanding meal, but I made a little room to sample the sweet treats of course :-). The dessert platter consisted of water chestnut rubies soaked in chilled coconut milk; assorted fresh fruit like watermelon; rambutan sorbet and Royal Thai petits fours. Let's just say, that this meal was beyond incredible and I will remember the experience forever.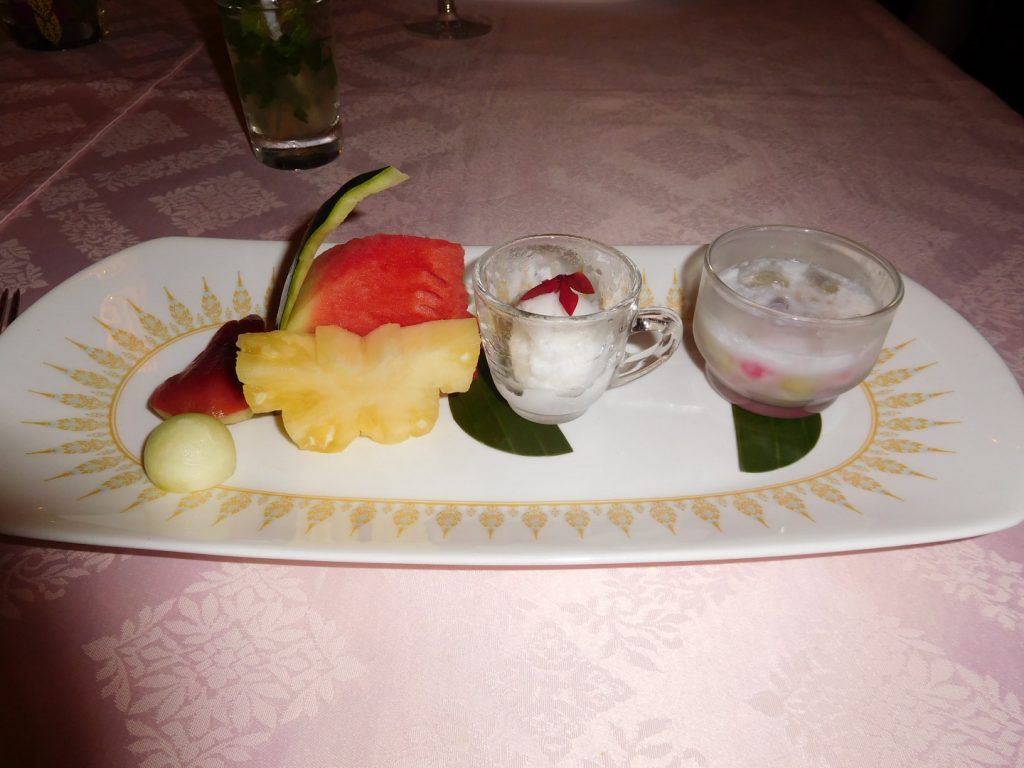 Throughout the final courses, we enjoyed various sets of Thai traditional dance by some gorgeous ladies and gents. The elaborate customs were spellbinding and I enjoyed the moves that they displayed, as well as the classical music. One of the final performances included a traditional Thai drum set and fight moves from the men. I want to thank the gracious people at Oriental's Sala Rim Nam Restaurant for an unforgettable meal and experience!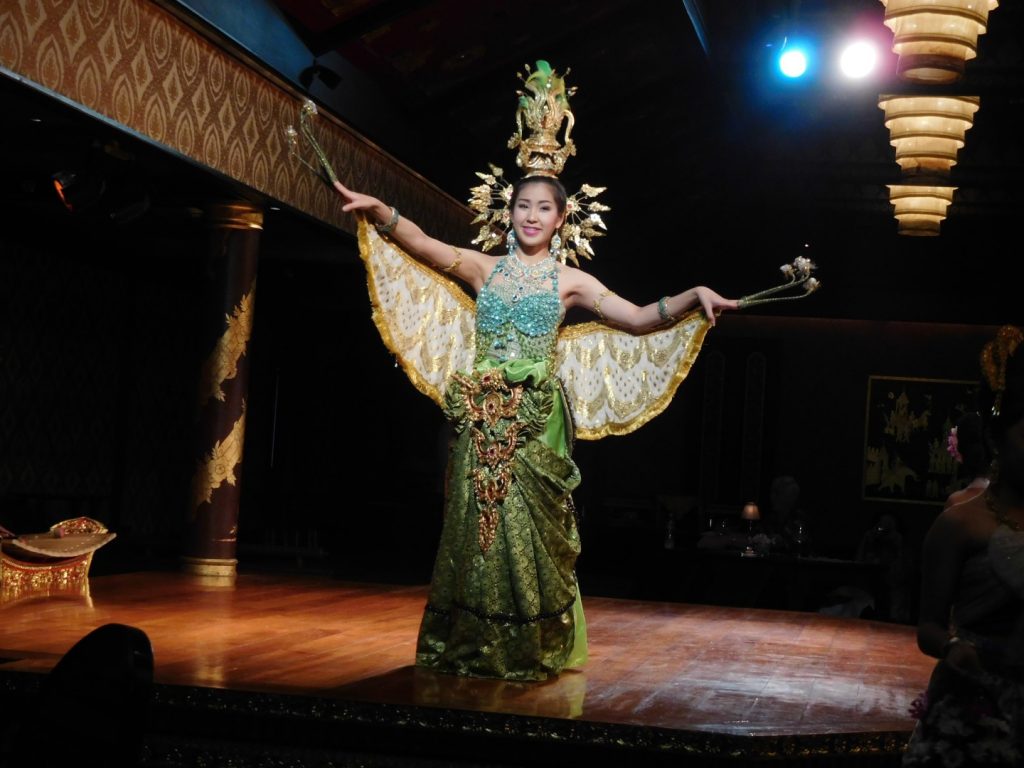 ***Disclaimer: I was offered an opportunity to review Oriental's Sala Rim Nam Restaurant as part of a TBEX blogger day trip. All opinions expressed are my own.***