By Nicole Brewer
This past weekend I had the pleasure of trotting to Dubai for the Cirque Du Soleil Varekai performance. During my weekend escape to the City of Gold, I stayed at the Nassima Royal Hotel on the famous Sheikh Zayed Road. This 5 star luxury hotel is apart of the Preferred group of hotels and resorts. Nassima Royal was recently awarded the "Service Excellence of the Year for Dubai" and it was easy to see why.
The service was exquisite here from check-in through the remainder of my time. I was pleasantly delighted when I was escorted to my suite to see the high-tech and modern room. One of the features that stood out for me were the digitally operated windows for opening and closing the blinds. The views from the 32nd floor of this high rise were incredible, being able to see the Burj Khalifa tower from a distance was an added bonus, on top of the luxurious bedding and room decor!
Now globetrotters you all know I Love a good bath tub, the suite here for sure did not disappoint. The full tub here is just what a globetrotter needs after a day of globetrotting and exploring. I was amazed to see upon my arrival images displayed in the lobby for the Thursday night hip hop event on the cool wall fixtures. Nevertheless, this awesome tub won my heart over the beats of hip hop tunes my first night here.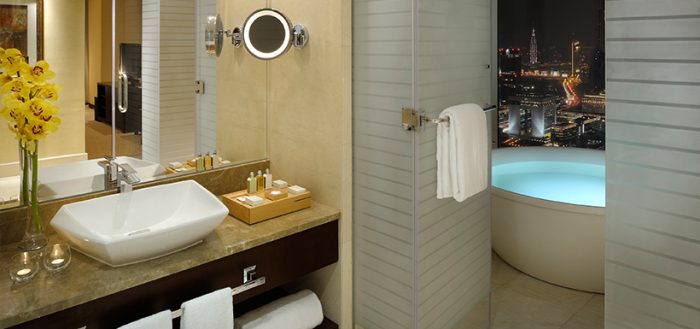 Nassima Royal Hotel offers a host of amenities including concierge assistance, onsite babysitting services, full service Spa Zen (which smelled divine by the way), a wellness center and the Allure Beauty Lounge. I enjoyed some time lounging by the outdoor pool located on the seventh floor of the hotel. It has an outdoor bar located right next to the pool lounge area. Staff made sure to assist when needed and brought treats to help cool off such as juicy slices of watermelon while families and singles alike laid by the pool unwinding.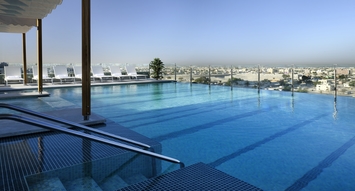 Nassima Royal Hotel also features several decadent fine dining and entertainment choices as well. Restaurants and lounges on site include Lebanese dining at Sultan Basha; Tre Bar and Lounge located on the 50th floor; the trendy Tresind; Movida Dubai which features bars and 5 dance floors; and Celsius which offers daily buffets of breakfast, lunch and dinner. The breakfast selection at Celsius was ample and filling, so much so that I skipped out on lunch after my hearty breakfast of freshly made omelettes, fruits and bread.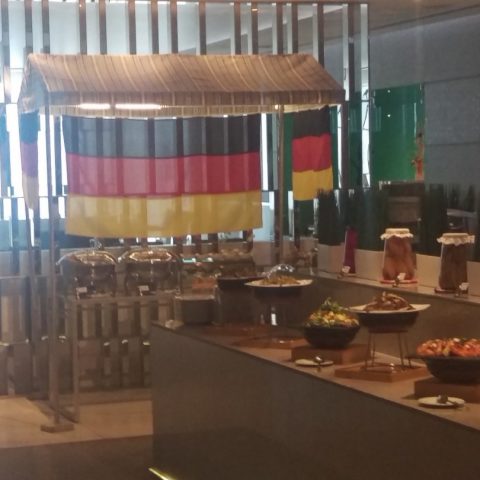 If you are interested in a little additional pampering during your stay in Dubai, the Nassima Royal Hotel also offers several packages that will leave you feeling like royalty indeed. Check out the stay like royalty package in order to spoil yourself during your visit to Dubai by staying in the luxurious Royal Suite. Also, an exclusive offer is the Love is in the Air package, where you can enjoy perks like a romantic display in the room with rose petals and a complimentary bottle of sparkling wine and chocolate platter in your room. Whether you are planning a romantic escape to Dubai with a partner or taking a solo escape of indulgence, then  I can highly recommend a trot and stay at the Nassima Royal Hotel globetrotters! As always, happy globetrotting.
***Disclaimer: Please note I was provided a free stay at the Nassima Royal hotel for review. All opinions and statements are my own.***