By Nicole Brewer
Greetings globetrotters! I hope you all are well and rested where ever you are around the globe. I've been readjusting to being back in Oman after my fabulous winter vacation in Southern Africa last month. I had a marvelous time on the Rovos Rail train excursion from Pretoria to Durban. At the end of my journey, I hopped over to Namibia in order to hit one of my bucket list destinations Sossusvlei!
Sossusvlei is one of Namibia's top tourist destinations and there is no wonder why! Namib-Naukluft National Park is the largest conservation area in Africa. It is around a 5-hour drive from the capital city of Windhoek. I am forever grateful for the car service company I found HP Transfers. Quintin my driver was a true champ driving me to Sossusvlei and camping out until my return back to Windhoek. Sossusvlei is home to some of the largest red sand dunes in the world, Sesriem Canyon, Dune 45, Big Daddy and Deadvlei. I must say that climbing up Big Daddy was everything that I hoped for. It was indeed not an easy feat, but after some determination and water I made it up with the help of my guide.
I stayed at the Sossusvlei Lodge which is located near the entry gate to the Namib-Naukluft National Park. The lodge has 45 luxury accommodation units offering amazing views and a private patio deck. The spacious accommodations were perfect for unwinding and getting away from it all. The decor was stunning and the bathroom with its huge soaking tub was my favorite part in order to loosen up after excursions such as climbing Big Daddy and quad biking.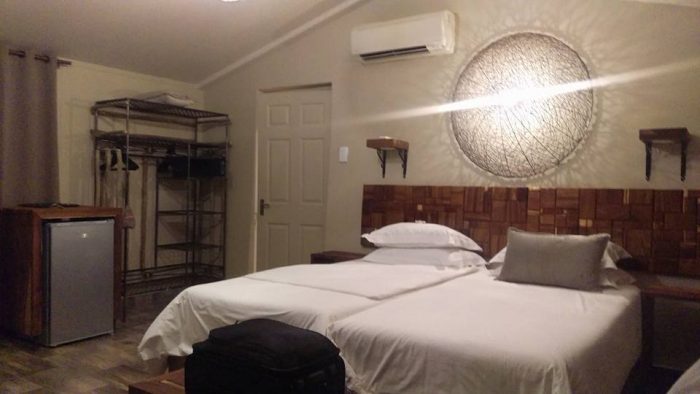 The lodge also offered facilities including a sparkling pool, bar, sundowner deck, beer garden and an al fresco terrace. The nightly dinners were absolutely exquisite as well with an overwhelming array of meats to choose from made directly on the grill, from boar and wildebeest to ostrich. For sure a meat lovers paradise, which sadly I'm not anymore but I'm sure plenty of you GTs would enjoy.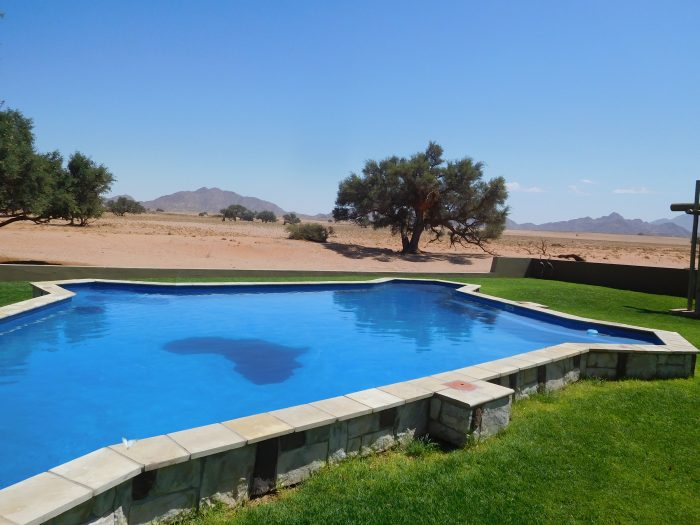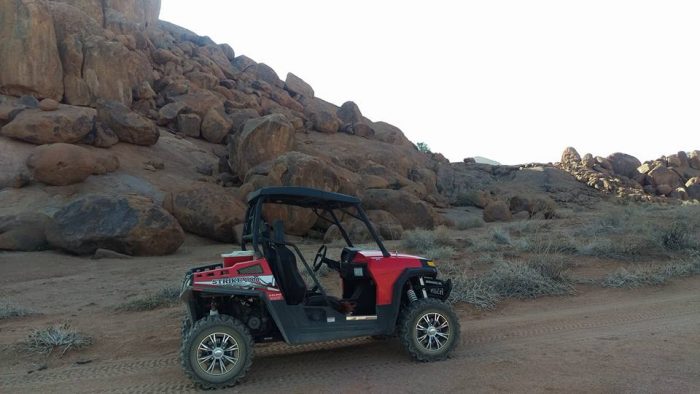 The Sossusvlei Lodge Adventure Centre also provides a host of exciting activities including sundowner rides in a jeep, quad buggy nature drives, hot air ballooning, scenic flights, and guided excursions to Deadvlei and Sossusvlei. I spent my last evening on the sundowner drive, which I immensely enjoyed seeing the glorious sunset out in the bush.
So yes as you can see globetrotters, I had a fabulous time in Namibia and can highly recommend a visit to Sossusvlei! Namibia is far from a shit hole and I really hope that more people opt to visit African countries to dispel this myth for themselves. My winter break in South Africa and Namibia will go down in the books for one of the best vacations ever.  Check it out for yourselves GTs. Have any of you ever been or desire to go? Share your thoughts below in the comments. Thanks and as always, happy globetrotting!