Your Galapagos Island adventure awaits
By Nicole Brewer
So it seems that Galapagos Day just recently passed (February 12th), which cements the birthday of the legendary philosopher of the theory of evolution Charles Darwin. In the midst of researching papers and studying for grad school I decided to look more into these majestic islands out of curiosity for a different kind of globe-trotting adventure.  I would love to see the infamous tortoise, one maybe similar to the pet tortoise of Darwin ;-).
Now you all know that I'm one to typically plan my own globe-trotting trips but it seems that the best way to view the gorgeous island would be t take a cruise, which I haven't had the luxury to do in years.  I first investigated Celebrity Cruises options which offer all inclusive vacation packages including food, drinks (open bar oh yeah) and shore excursions such as a tour of  the historical Quito which includes a visit to Middle of the World Park and the Colonial City Center. Nevertheless, as a 5 star cruise option it's a little pricey so I'll recommend this for the balling globe-trotters (not I at the moment nevertheless).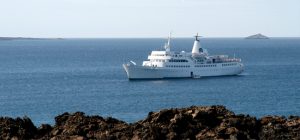 So I found that another plausible option could be with SilverSea Expeditions.  They offer many ocean view suites with your own private balcony. Now that would be an excellent way to celebrate Valentine's Day with your sweetie.  You'd be able to party with other globe trotting friends on this amazing luxurious ship.  The Galapagos offers views of some of these most awe-inspiring animals such as migrant birds, of course the tortoises and iguanas.  So on top of enjoying the luxuries of this cruise ship you can also take in the beautiful wildlife Or even learn about conservation efforts at the Charles Darwin Research Station.
The last option that I looked into is with Voyagers Travel.  I have come to terms with the fact that my dream vacation to the Galapagos will not come particularly cheap so I must save up for it.  Nevertheless, after looking at these options it is no wonder why when you consider the luxury and fun that awaits in these pristine island waters.  Overall it will be worth the trek to see the wildlife, pirate caves and to sail around the archipelago at night and witness gorgeous views on the deck of a stunning cruise ship during the day.  Ahh, one of these days I will pull of this amazing globe-trot adventure cruise.  Until then, later globe-trotters.